Aleppo siege: 20,000 Syrians gather at Turkey's border as Europe urges leaders to use €3 billion to offer asylum
Most families are sleeping without shelter, despite night-time temperatures plunging close to zero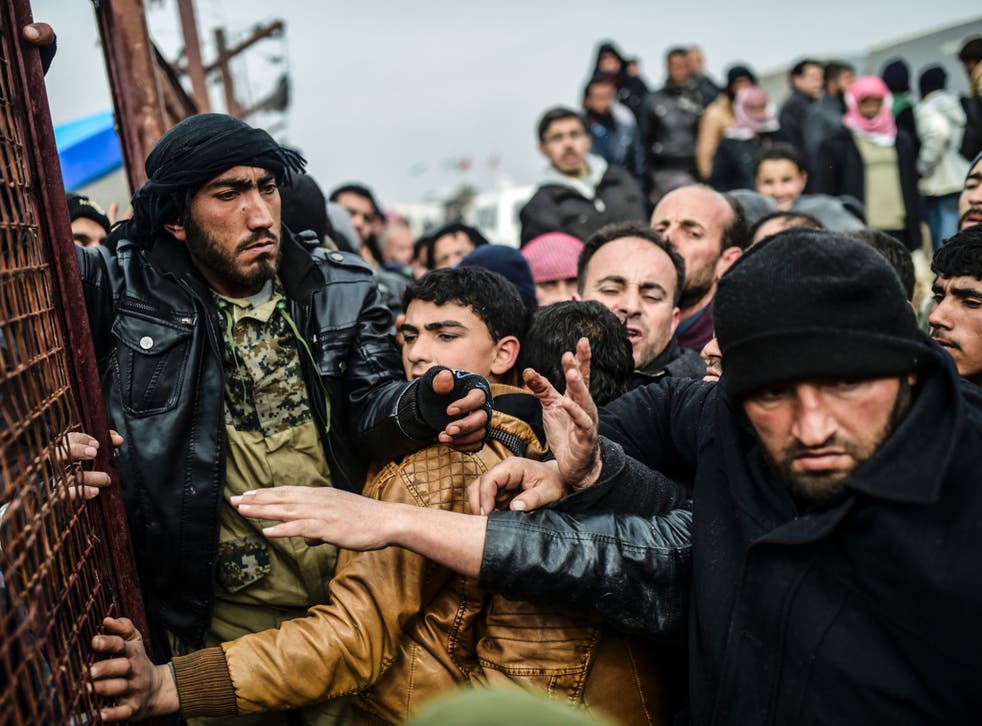 Europe has urged Turkey to open its border to tens of thousands of Syrians fleeing an offensive by Syrian government troops – backed by Russian bombardment – in the northern province of Aleppo.
Aid agencies have warned that an estimated 20,000 people are waiting at the Bab al-Salam border crossing near the Turkish town of Kilis, but Turkish officials said the number could be up to 35,000. Many of them are sleeping in the open. Tens of thousands more are said to be on the move after being forced from their homes.
The EU foreign policy chief, Federica Mogherini, called on Turkey to open the crossing on 6 February. She said a €3bn (£2.3bn) aid deal with Ankara to stem the flow of refugees to Europe was "aimed exactly" at making sure that Turkey could provide safe asylum for Syrians.
However, Turkey's deputy minister for EU affairs, Ali Sahin, told The Independent on Sunday that Turkey was providing "every kind" of humanitarian aid needed by those who had fled, and added: "It will be better to settle them on the Syrian side of the border."
He accused Russia of seeking to undermine the "integrity of Europe" by driving the civilians from their towns and villages. Moscow, he said, "targets not only Turkey's security but Europe's as well".
Turkey, already home to more than two million Syrian refugees, has faced huge pressure from the EU and the US to prevent the transit of jihadists such as those from Islamic State (Isis). In recent months, only limited numbers of Syrians have been allowed to cross.
Dalia Al-Awqati, director of the Northern Syria Programme at the charity Mercy Corps, warned that conditions for those waiting at or near the border were highly challenging. Most families were sleeping without shelter, she said, despite temperatures plunging close to zero.
"Humanitarian agencies are having a difficult time reaching everyone," she said. "Because the situation is so fluid, it is very difficult. We have seen tens of thousands on the move in the past few days."
She said the situation continued to deteriorate in Syria. "In the past year, we have seen an intensification of the fighting and a shrinking of humanitarian spaces that can be considered safe," she said. "They are between a rock and a hard place."
In pictures: Russian air strikes in Syria

Show all 19
Forces loyal to President Bashar al-Assad have made a series of important gains in Aleppo province over the past week. On 3 February, they succeeded in severing the main supply route into the rebel-held Aleppo, Syria's second city.
Heavy fighting is continuing in the area to the north of the city. Analysts said that, thanks to help from Russia and Iran, Syrian government forces were within a few miles of totally encircling the city.
An estimated 400,000 people live in the half of the city controlled by various rebel factions that include the al-Qaeda affiliate Jabhat al-Nusra. They fear the area will soon become the latest place to be subjected to siege warfare offering the choice of either surrender or being starved into submission. Hundreds of thousands are thought to be subject to the sieges by a mix of regime forces, Isis and rebel opposition groups.
While the offensive around Aleppo was one of the issues that helped to stall the peace talks in Geneva in recent days, an end to the sieges and ready access to humanitarian aid was two of the main demands of the main opposition group, the High Negotiations Committee.
Mahmoud Hassan, a human rights and civil society activist from Aleppo, said that prices in the city had risen dramatically in recent days in anticipation of a siege.
Speaking via Facebook from the al-Sakhour district in eastern Aleppo, he said that the area was being subjected to "relentless" bombardment. He said: "We are being bombed by planes, by rocket launchers and by artillery. Of course, people are very frightened. Some have already left, others are planning to do so."
Regaining control of the whole of Aleppo, an opposition stronghold since 2012, would be a huge victory for Damascus, both strategically and symbolically. This increasing confidence was highlighted by the Syrian foreign minister, Walid al-Moualem, when he said that Damascus would resist anyone who launched a ground incursion into its territory. "Those [who do so] will return to their countries in coffins," he said, adding that no ceasefire would be possible unless borders were sealed. The comments appeared to be aimed at Saudi Arabia and Bahrain, with both states saying they are ready to participate in any ground operations in Syria that the US-led coalition fighting Isis in Syria and Iraq decided to mount.
Both supporters and opponents of President Assad believe that government forces talking hold of Aleppo could herald the beginning of the end of the five-year uprising against him. Mr Hassan offered a gloomy prediction for those still hoping to topple the Syrian president: "If Aleppo is lost, the revolution will be completely extinguished."
Join our new commenting forum
Join thought-provoking conversations, follow other Independent readers and see their replies