All eyes on François Hollande as first-round victory leaves Nicolas Sarkozy on brink
Socialist candidate favourite to claim win in second-round run-off against President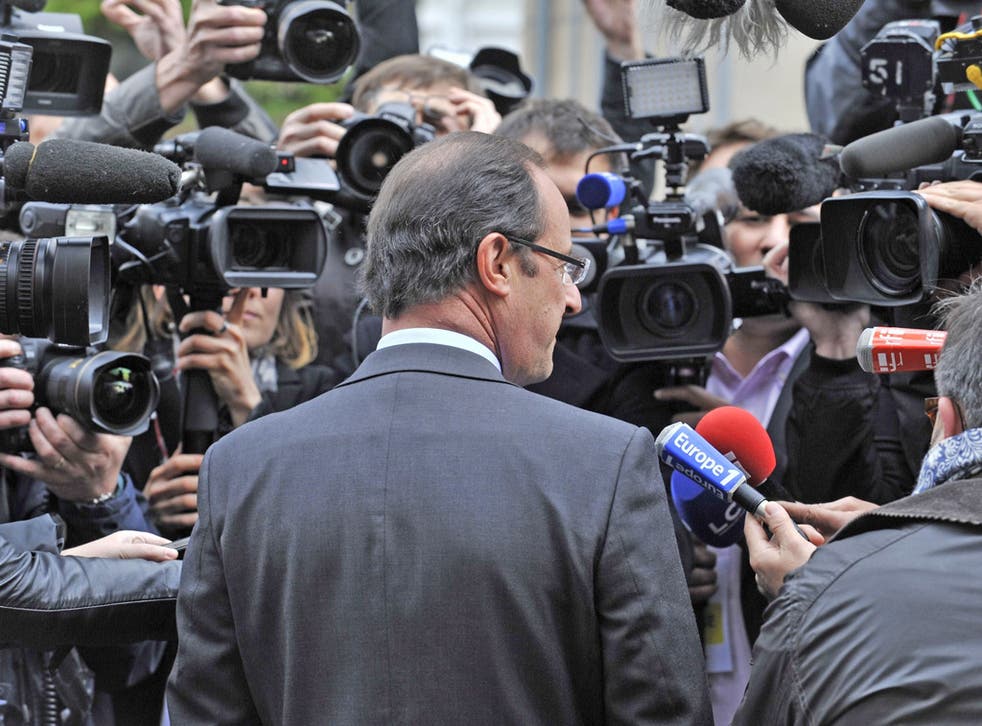 The Socialist challenger François Hollande narrowly topped the poll in the first round of the French presidential elections last night and now seems likely to become the first left-wing occupant of the Elysée Palace for 17 years.
Mr Hollande scored an estimated 28.6 per cent in the 10-candidate first round, pushing the President Nicolas Sarkozy into second with 27 per cent.
However, the National Front candidate, Marine Le Pen, shook the foundations of mainstream politics in France by scoring an unexpectedly high 19 per cent – smashing her father's first and second-round far-right records of 2002. The hard-left candidate, Jean-Luc Mélenchon was fourth with 10.8 per cent. In other words, one in three French voters chose candidates who seek to overturn the national and European political consensus.
President Sarkozy, whose personal unpopularity dominated the campaign, is the first head of state to come second in a first-round poll since France switched to presidential politics 50 years ago. Even a barn-storming performance by Mr Sarkozy in TV debates with Mr Hollande in the next two weeks seems unlikely to save his presidency in the two-candidate, second round on 6 May.
In a speech to ecstatic supporters in his fiefdom in Tulle, south-west France, Mr Hollande said: "I am now in a position of strength to be the next President of the Republic...This vote is a disavowal of the policies, and the personal behaviour, of the outgoing candidate, whose campaign in recent weeks has finally served the interests of the National Front."
Mr Sarkozy, his voice wavering with emotion, told supporters in Paris that the result was a "vote shaped by economic crisis, reflecting the suffering and anguish of people confronted with a new world."
He attempted to up the ante by challenging Mr Hollande to a series of three debates – instead of the usual one – in which the "remaining candidates, without hiding, can reveal their courage and honesty".
Mr Sarkozy adopted a hard-right first-round strategy, suggesting French "identity" was threatened by immigration and Islam. This was calculated to take votes from Ms Le Pen and snatch poll position in yesterday's first round. Even a narrow win, his camp insisted, would allow the President to reverse the stubborn opinion polls which have pointed for weeks to an Hollande victory in the second round by 12 to 14 points.
That strategy now lies in ruins. The President's camp drew some comfort, however, last night from the fact that the overall Left vote was less than forecast by opinion polls – 43 per cent instead of 46 per cent. Given the high score of the National Front, Mr Sarkozy, 57, can be expected to step up his anti-immigrant, and anti-Islamist rhetoric to try to snare the far-right vote in the days ahead. This, however, may alienate even further the supporters of the centrist candidate François Bayrou, who scored a disappointing 8.9 per cent. Many of Ms Le Pen's new voters come from blue collar industrial, and ex-industrial areas, in the east and north of the country. Some will turn to Mr Sarkozy in the second round. Many others may migrate to Mr Hollande, or not vote at all.
French voters turned out in large numbers, despite widespread complaints that the campaign had been dispiriting and evasive. More than 80 per cent of the 44,500,000 electors voted. This was slightly lower than the exceptional first-round turn-out in 2007 but higher than in 2002 or 1995.
The implications of the election go well-beyond the frontiers of our largest continental neighbour. With the European economic crisis deepening, and another euro crisis threatening, the choices made by the French President in the next five years could have a direct impact on the well-being of Britain and other developed countries. Mr Hollande, 57, has fought a nerveless but uninspiring campaign, refusing to be budged from his somewhat vague plans for fiscal discipline, higher taxes on the rich and EU infrastructure programmes to rekindle growth. If elected in two weeks time, he will face the criticism that he drifted home on a tide of anti-Sarkozy feeling and has no strong mandate to tackle the deep problems facing France and Europe in the next five years.
His moderate campaign and restrained language opened space for the Left Front candidate Mr Mélenchon, whose anti-capitalist, anti-Brussels, anti-US rhetoric united the usually fragmented French far left. Mr Mélenchon, 60, zoomed from 5 per cent to 17 per cent in the polls before deflating in the final days.
Ms Le Pen, 43, began, as promised, with a more socially left-leaning and less overtly xenophobic platform than the campaigns led by her father, Jean Marie, from 1974-2007. When Mr Sarkozy's hard-right rhetoric and Mr Melénchon's rise threatened to relegate her to a humiliating fourth place, she reverted to classic "Lepenniste" language to devastating effect. Following the killing spree last month of the Toulouse "scooter assassin", Mohamed Merah, Ms Le Pen suggested that "all Franco-Algerians" in France were a potential security risk.
Who I voted for – and why: The voters speak
Mathias Jung, 50, actor, voted for Hollande
"My heart said vote Mélenchon but my head said Hollande, to give him the biggest possible score in the first round and stop all chance of Sarkozy being re-elected. Hollande is soft but he is the only candidate who can beat the man who has dirtied France."
Jacques Fajner, 76, retired, voted for Sarkozy
"I didn't vote for him last time but he deserves a second chance to see if some of his policies can work. He has impressed me with some of his social ideas, especially the need to stop or restrict immigration."
Valerie Tribes, 40, lawyer, voted for Mélenchon
"Mélenchon is the only man who offers something new for the young and a cleaner, more democratic kind of politics. He can't win but if he gets a big first-round score, it would put pressure on Hollande to adopt some of his ideas."
Bohemond Josseran, 26, engraver, voted for Le Pen
"I voted National Front last time, not because I think they can govern France but because a high score for them could shake the present system."
Sophie Merigue, 26, railway worker, voted for Hollande
"François Hollande may not be the most exciting candidate in the election but he has the character and strength to be president and he can rid us of Sarkozy."
Najma Charles, 42, voted for Bayrou
"Bayrou is the only honest candidate, the only one who talks about the difficulties ahead and the efforts we need to make. I also like his proposals for reviving the fortunes of 'Made in France'."
Why world knows result before France
As most of France waited yesterday for the traditional announcement of projected election results at 8pm, a subversive battle was being fought out on the social media and through francophone websites outside France.
It is strictly illegal – with fines of up to €75,000 – for the media to broadcast, or even hint at, the likely result of the presidential election before the polling stations close in Paris and other large cities. Despite warnings that foreign media were subject to the law, the website of the main French-language Belgian TV channel, RTBF, posted "illegal" information yesterday from 4pm.
RTBF reported a large swing to the Socialist candidate François Hollande in several of the French "overseas" territories in the Caribbean and the tiny islands of St Pierre and Miqeulon near the Canadian coast, which voted a day early on Saturday. The Belgian site also reported that two exit polls showed Mr Hollande leading President Sarkozy by 27 per cent of the vote to 25 per cent.
The information was rapidly picked up and relayed by Facebook and Twitter. Mr Sarkozy said last week that any attempt to prevent leaks to the new media would be like trying to build an electronic "Maginot Line". Other candidates, including Mr Hollande, said it would be anti-democratic for late voters in big cities to know the likely outcome before they had cast their ballots.
Join our new commenting forum
Join thought-provoking conversations, follow other Independent readers and see their replies