Emmanuel Macron and Angela Merkel agree changing EU treaties 'no longer a taboo'
'We need more pragmatism, less bureaucracy and a Europe that protects our citizens,' French President tells German Chancellor on his first day in office
Lucy Pasha-Robinson Comments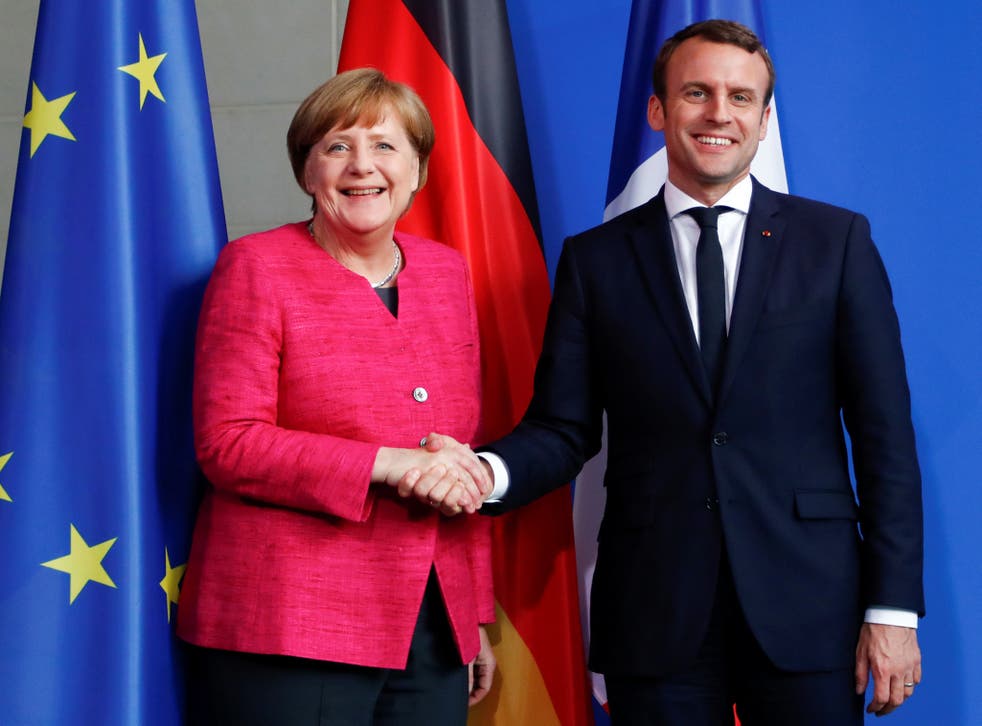 French President Emmanuel Macron has pledged to work closely with German Chancellor Angela Merkel to implement EU reforms, telling a press conference in Berlin changing EU treaties was "no longer a taboo."
Mr Macron said he wanted to create better protection for Europe's workers and create a "common roadmap" with the German leader, on his first foreign visit since becoming President.
Speaking in Berlin with Ms Merkel, he also dispelled the idea circulating in German media that he was in favour of turning national debts of eurozone countries into eurozone debt.
"I am happy that we can work together on a common roadmap for the European Union and the Eurozone. In the past, the subject of treaty change was a French taboo. It will no longer be the case," he said.
"There are several areas in which we can cooperate in the short term. Common asylum policy, posted workers and bilateral trade. All these will have an impact on our citizens. We need more pragmatism, less bureaucracy and a Europe that protects our citizens."
The two met some hours after Mr Macron appointed Edouard Philippe as his new Prime Minister.
Ms Merkel said the visit was an "honour" and a sign of the deep friendship between the two European powerhouses.
World news in pictures

Show all 50
"We each represent the interests of our own countries, but the interests of Germany are naturally closely tied to the interests of France," she said.
"Europe will only do well if there is a strong France, and I am committed to that."
Both leaders said they were comfortable with the idea of changing European treaties, if necessary. However, Ms Merkel said a roadmap must first be conceived.
"First we need to work on what we want to change, and then if it turns out it needs a treaty change, then we're prepared to do that," she said.
The visit to Berlin continued a tradition of French presidents making their first foreign trip to Germany.
The visit signalled Mr Macron's intentions to move rapidly on campaign promises to revive support for the beleaguered EU by reforming and strengthening it.
In a nod to German concerns, Mr Macron said at the joint news conference that he had never pushed for jointly issued eurobonds and does not favour European countries taking joint responsibility for old debts.
"I have never defended (the idea of) Eurobonds or the mutualisation of existing debt in the eurozone," he said.
Additional reporting by agencies.
Register for free to continue reading
Registration is a free and easy way to support our truly independent journalism
By registering, you will also enjoy limited access to Premium articles, exclusive newsletters, commenting, and virtual events with our leading journalists
Already have an account? sign in
Join our new commenting forum
Join thought-provoking conversations, follow other Independent readers and see their replies