Angela Merkel on course to win her fourth term as German Chancellor
Ms Merkel is set to extend her chancellorship to 16 years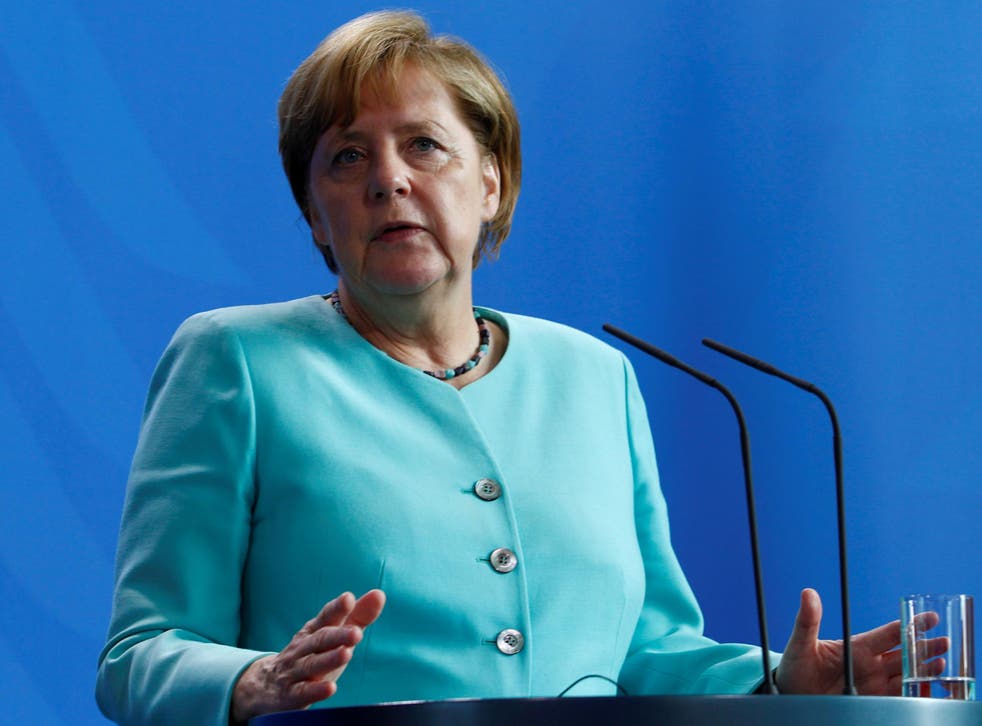 Angela Merkel remains the overwhelming favourite to win next month's German federal elections to the Bundestag, according to all polls.
Ms Merkel's Christian Democratic Union (CDU) party and their Christian Social Union (CSU) allies in Bavaria are polling at around 38 per cent of the vote, with the closest opposition, the centre-left Social Democratic Party (SPD), trailing on 24 per cent – according to two of the latest polls by firms Civey and INSA.
The centre-right liberal Free Democratic Party (FDP), Ms Merkel's preferred coalition partners, are also set to comfortably secure a place in the German parliament this time around, giving the Chancellor options should her party fall short of a majority by itself.
Accordingly, nearly half of all voters, 45 per cent, believe the result of the German elections are now a foregone conclusion, despite a month of campaigning still to go, according to another poll by Allensbach.
The SPD's new leader Martin Schulz initially saw a poll surge when he took charge of the party in March, drawing level with Ms Merkel in some surveys. His honeymoon period did not last long, however, and the SPD has crashed back to its weak performance, typical of recent years.
If Ms Merkel wins on 24 September she will be set to have been Chancellor for 16 years by the next elections in 2021 – double the maximum terms of two US presidents and longer than the premiership of Tony Blair.
Despite Ms Merkel's overtly pro-refugee policies, the populist right has failed to make significant inroads. Alternative für Deutschland (AfD) are polling in the high single figures or at around 10 per cent, depending on which pollsters are to be believed.
In a bid to fire up his supporters Mr Schulz on Wednesday pledged to remove all US nuclear weapons bases from German territory were he elected as Chancellor.
CDU politician Jens Spahn has meanwhile criticised young Berliners for speaking English to one another in bars and cafes, arguing that by adopting the language they are showing a metropolitan disdain for those who do not speak it.
World news in pictures

Show all 50
The Civey poll had topline figures of CDU/CSU at 38 per cent; SDP 24 per cent; FDP 9 per cent; Linke 9 per cent; AfD 8 per cent; and Grune 8 per cent.
The INSA poll had topline figures of CDU/CSU at 38 per cent; SDP 24 per cent; FDP 9 per cent; Linke 9 per cent; AfD 10 per cent; and Grune 7 per cent.
Join our new commenting forum
Join thought-provoking conversations, follow other Independent readers and see their replies