Angela Merkel hits out at British isolationism
The Prime Minister originally saw Germany as an ally on the issue of calling for a freeze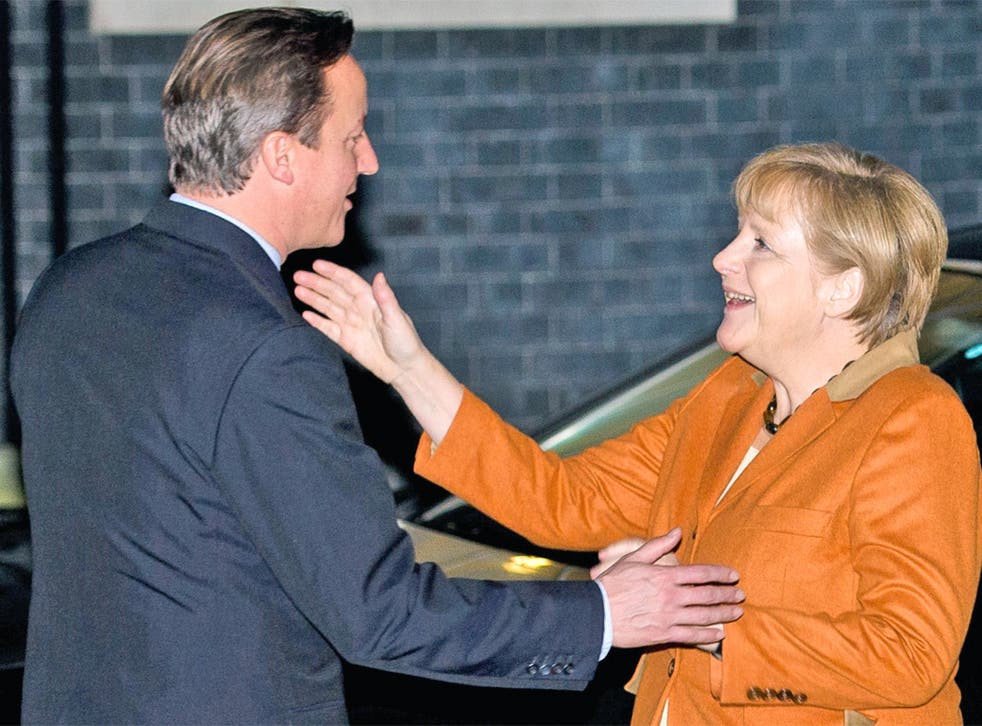 Angela Merkel delivered a warning against British isolationism yesterday as the German Chancellor flew to London for talks with David Cameron aimed at breaking the impasse over European Union spending.
The two leaders are at odds over the EU's budget for 2014-2020, which Britain thinks should effectively be frozen, with only an inflation-linked increase. Germany supports a small real-terms rise in spending and believes the issue of minor importance compared with the eurozone crisis.
Speaking at the European Parliament ahead of the Downing Street meeting, Ms Merkel took a swipe at British voices – including a growing and vociferous minority of Tory MPs – pressing for the UK to leave the EU. Ms Merkel dismissed a suggestion from the Ukip leader Nigel Farage that Britain should have a "simple amicable divorce" from Brussels.
She replied: "I want a strong Great Britain inside the European Union. I cannot imagine a Europe without Britain. You can be very happy on an island, but being alone in this world doesn't make you any happier."
Ms Merkel invoked the memory of the Second World War as she added: "I come from Germany. The UK was with us when we were liberated from National Socialism. We still have British soldiers in Germany. I can't imagine that the UK would not be part of Europe."
Last night's Downing Street working dinner took place two weeks ahead of a summit in Brussels where EU leaders will try to find common ground following a European Commission call for a five per cent increase, taking the budget to around €1trn (£800bn). There are growing doubts whether agreement can be reached at that summit.
Mr Cameron has denounced the Commission's proposal as "ludicrous" and insists Britain is taking the hardest line of the 27 member states by supporting a real-terms freeze.
More than 50 eurosceptic Tories added to the pressure on Mr Cameron last week by defying the party whips and demanding a cut in EU spending.
The Prime Minister originally saw the Germans as allies on the issue after they were among signatories to a British-inspired letter two years ago calling for a freeze.
Since then Ms Merkel has changed position to favour a small rise to help struggling economies in Eastern Europe. Berlin has also ceded ground in an effort to increase the chances of a budget deal, thus enabling the EU to move on to issues such as tackling the eurozone crisis. Its change of tack has added new tension to the relationship between the two leaders.
Ahead of the talks, Mr Cameron said he would press the German leader to "stick to" her initial position. Meanwhile, Ms Merkel's allies are exasperated at what they view as an unrealistic British stance. Before flying back from a three-day visit to the Middle East for last night's meeting, Mr Cameron said: "I look forward to my conversation with Angela. We always have good, frank, open conversations and I will be making that argument with vigour."
Join our new commenting forum
Join thought-provoking conversations, follow other Independent readers and see their replies