Angela Merkel ignites furious political row by becoming first post-war German leader to visit former Nazi concentration camp at Dachau
Visit by Chancellor smelt off, say critics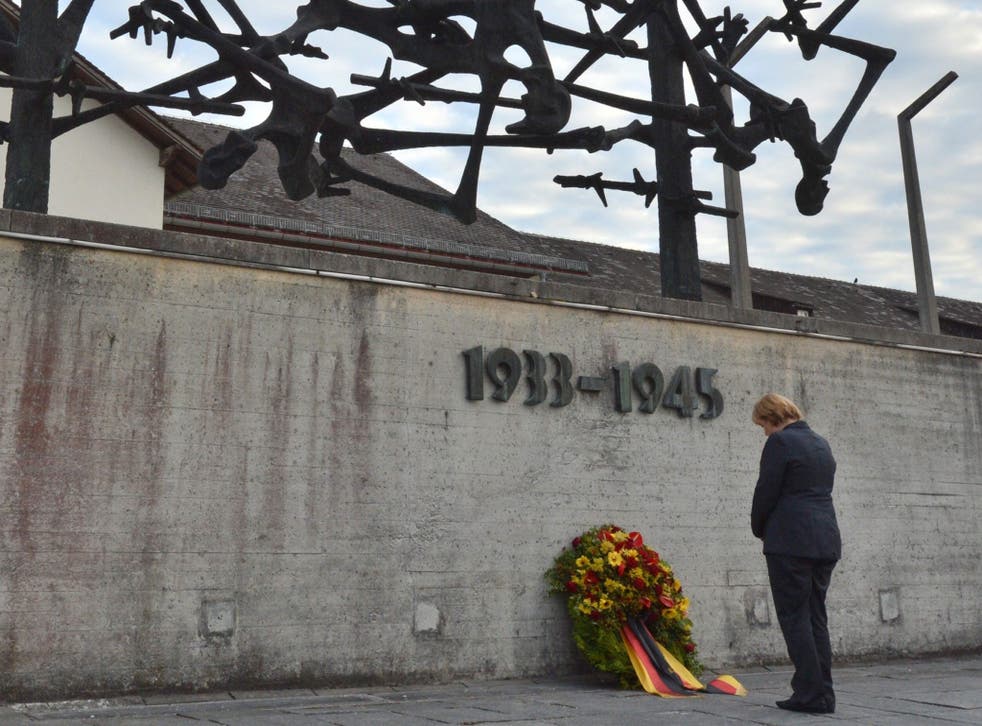 Chancellor Angela Merkel has ignited a furious political row by becoming the first post-war German leader to visit the former Nazi concentration camp at Dachau and then went on to address a campaign rally for her conservative party in a noisy beer tent at a nearby fair.
Ms Merkel, who faces a general election on 22 September, had been invited to speak at a Bavarian conservative rally in the town of Dachau outside Munich. She agreed to spend an hour at the site of the town's infamous Nazi concentration camp where 41,500 people were murdered, before her campaign appearance.
But the combination of political rally and concentration camp tour, billed by the Chancellor's office as "the first visit by a German leader to Dachau" invoked savage criticism from politicians, commentators and historians.
Renate Kunast, the Green Party parliamentary leader said Ms Merkel's timing was "tasteless and impossible." She added: "Anyone who takes such places of horror seriously, does not visit them during an election campaign."
Wolfgang Benz, a leading German historian who specialises in Holocaust research said that "by laying a wreath and expressing condolences just before going off to a beer tent", Ms Merkel had given the impression that she was casual about concentration camps. Germany's liberal Sueddeutsche Zeitung joined scores of other critics and said the timing of the Chancellor's Dachau visit smelt a "bit off".
"It is the right place at the wrong time," remarked Der Spiegel magazine online.
However the criticism was not shared by Jewish community leaders. Dieter Graumann, the head of Germany's Central Council of Jews said that Ms Merkel's Dachau visit helped to underline the fact that Nazi terror did not just occur in camps outside Germany but "among us".
Charlotte Knobloch, a Bavarian Jewish leader said the visit sent a "convincing, impressive and moving message." Previous chancellors have visited Nazi death camps outside Germany.
Ms Merkel's tour of Dachau, which was the first Nazi concentration camp, included a meeting with Max Mannheimer, one of its few remaining survivors. More than 200,000 people including Jews, homosexuals, Roma and political prisoners were imprisoned, forced to work and used for medical experiments at Dachau which opened in 1933. It was liberated by US troops in April 1945
The Chancellor was shown the camp baths and a room where prisoners were stripped of their clothing and identity and henceforth referred to only by numbers. Ms Merkel said her visit was accompanied by feelings of "shame and dismay".
She added: "What happened in concentration camps is inconceivable."
Ms Merkel's coalition of conservative Christian Democrats and liberal Free Democrats has been criticised for failing to be more vigilant in the pursuit and condemnation of the far right. The neo-Nazi, National Democratic Party holds seats in two states in eastern Germany. Repeated attempts to ban the party have failed on purely legal grounds.
In 2011, it emerged that a three-man gang of German neo-Nazi killers had systematically murdered immigrant workers and carried out devastating nail bomb attacks. Police had assumed that the attacks had been carried out by rival immigrant gangs. The trial of those accused of the murders is currently under way in Munich.
Politicians and police have also been accused of being blind to the threat posed by neo-Nazis.
Join our new commenting forum
Join thought-provoking conversations, follow other Independent readers and see their replies