Angela Merkel makes Palestinian girl facing deportation from Germany cry on TV
The Chancellor's stroking and explanation that Germany couldn't tell asylum seekers 'you can all come' did not appear to be comforting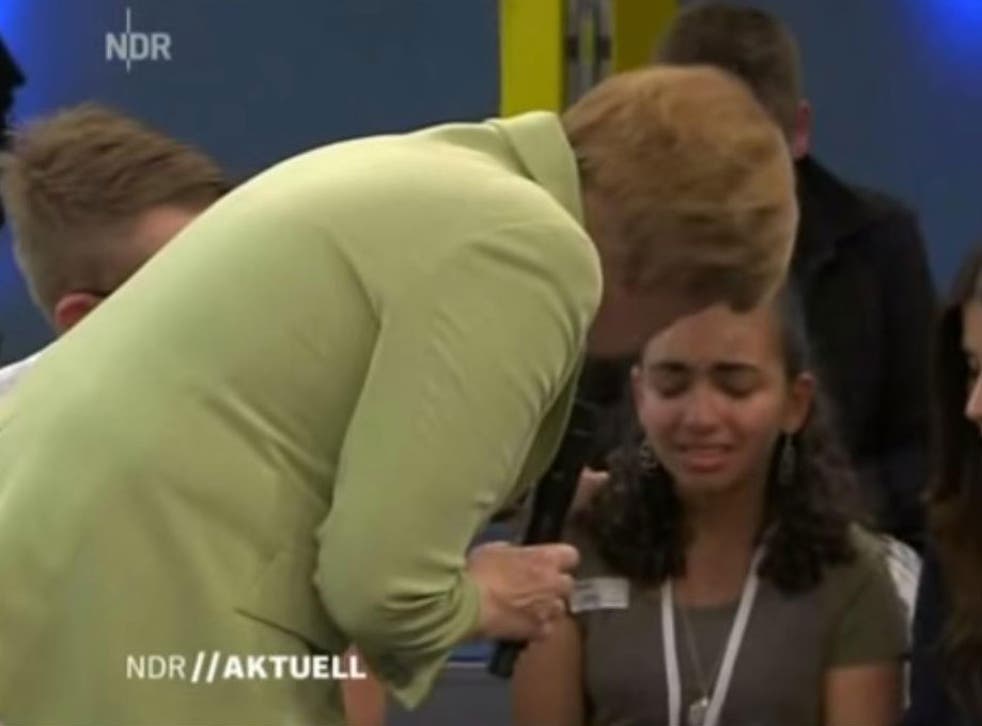 Angela Merkel has been heavily criticised after appearing to make a Palestinian refugee cry by telling her she could not stop her family's possible deportation.
The girl was among a group of school pupils gathered in the city of Rostock on Wednesday for an appearance by the German Chancellor.
Named as Reem, she said she had been in Germany with her family for four years after they moved from a refugee camp in Lebanon but could be deported at any time because they had only been granted temporary right of asylum.
"As long as I don't know how long I can stay here, I don't know what my future will be," Reem said, in fluent German.
"I really want to study in Germany - it is unfair to watch while other people can enjoy life and you can't enjoy it with them."
Having expected a routine question-and-answer session for the government's Gut Leben in Deutschland (Living Well in Germany) programme, Ms Merkel appeared momentarily thrown by the change of direction.
"I understand that, however I have to… sometimes politics is hard," Ms Merkel said.
"You're a very nice person but you know that there are thousands and thousands of people in Palestinian refugee camps in Lebanon and if say 'you can all come,' and 'you can all come from Africa,' and 'you can all come,' we just can't manage that."
As the Chancellor went on to defend her government's asylum policy and push to speed up the decision process, she noticed that Reem had started crying and abruptly broke off.
"Oh, come," she said, walking over to the teenager and starting to stroke her shoulder. "You did really great."
Telling the presenter that she wanted to comfort Reem, she told her that she knew she was having a "difficult time".
Ms Merkel's efforts seemed to have little effect as the student continued to cry while the television cameras zoomed in.
Footage of the encounter has gone viral in Germany, sparking the Twitter trends #merkelstreichelt, meaning "Merkel strokes" and #Empathie (empathy).
Viewers slammed Ms Merkel's administration as a "Regierung ohne Empathie", meaning "government without empathy" and claimed the Chancellor had "failed as a human on all fronts".
A government press release however, put a more positive spin on the incident, concluding: "After 90 minutes of lively discussion, all participants applauded each other and went home with lots of suggestions."
Join our new commenting forum
Join thought-provoking conversations, follow other Independent readers and see their replies