Anti-immigrant party gains power after Norway drifts to the right
Progress Party in government for first time since 1973 in Conservative coalition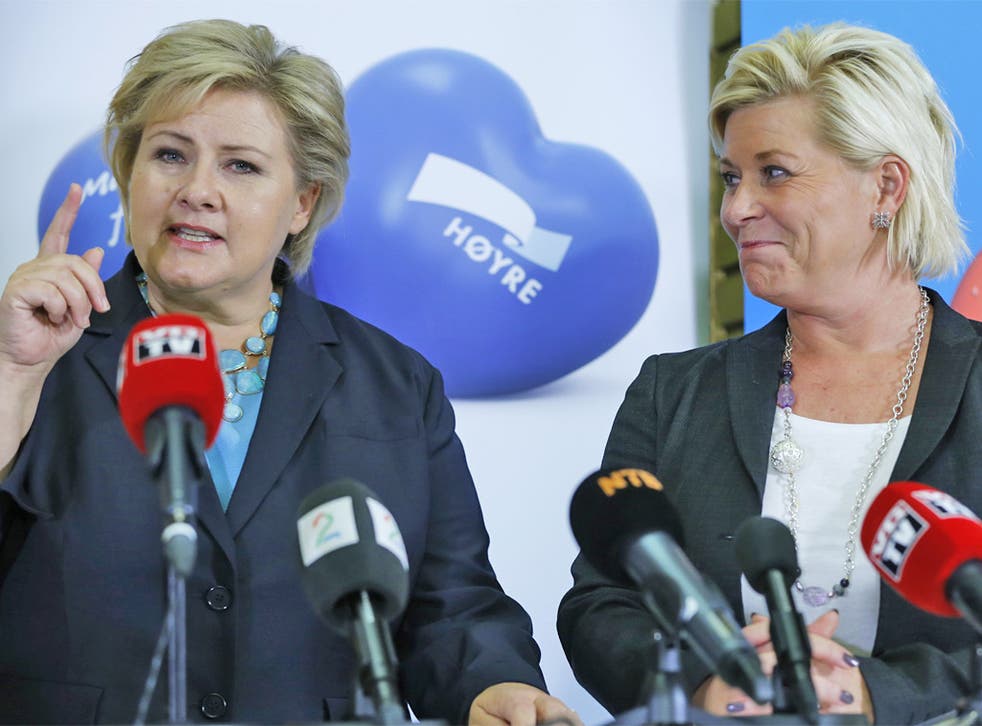 Norway's next Prime Minister has formed a right-wing coalition government with the populist Progress Party, despite fears that some of their policies could inflame anti-immigrant sentiment in a nation still healing from the attacks by neo-Nazi extremist Anders Breivik two years ago.
Erna Solberg, whose Conservative Party last month ousted Labour after two terms in government, has negotiated a minority coalition with the Progress Party, which since its founding in 1973 has been frozen out of power because of its radical views on immigration, tax and spending.
While Progress Party politicians have repeatedly denied that they are xenophobic, tightening the laws on asylum seekers and immigrants in Norway was a central plank of their campaign and a condition for their participation in the Conservative-led coalition government.
"We can't hide the fact that we are very pleased with the immigration issues here, we have got a fairly strong tightening," the Progress Party leader, Siv Jensen, said after signing a cooperation agreement on Monday night to become part of Norway's most right-wing postwar government.
Ms Solberg had hoped to form a four-party coalition which also included two centre parties, but those talks broke down. The two smaller parties have agreed to largely cooperate with the government in parliament.
Survivors of Breivik's massacre, however, told The Independent in September that they were concerned that the inclusion of the Progress Party in government could lead to a harsher debate on immigration issues.
"I think it will be bad for the society and especially for the multicultural values if the government is only consisting of the Progress Party and the Conservatives," Fredric Holen Bjørdal, a 23-year-old who survived Breivik's attack on a Labour Party youth camp to become an MP, said last month.
Liv Torres, secretary-general of the charity Norwegian People's Aid, said there were worrying signs in the cooperation agreement that asylum reception centres may be replaced with detention centres and migrants will have difficulties bringing family members to the country.
"It's probably going to mean a more restrictive policy towards asylum seekers," she said. "The rhetoric is going to be important because it's very important for everyone coming here to feel welcome and it's worrying when we see a lot of immigrants and asylum seekers' organisations are expressing worries."
Rune Karlsen, a political scientist at Oslo University, said any more radical policies would likely by tempered by the two centre parties which "are quite liberal on the immigration issue".
Progress Party politicians have been at pains to portray themselves as a libertarian centre-right party, and have toned down their rhetoric since Breivik's attacks, which left 77 people dead. Breivik – who was briefly a Progress Party youth member – was intent on wiping out the future generation of a party he blamed for the "Islamic invasion" of Norway.
Join our new commenting forum
Join thought-provoking conversations, follow other Independent readers and see their replies