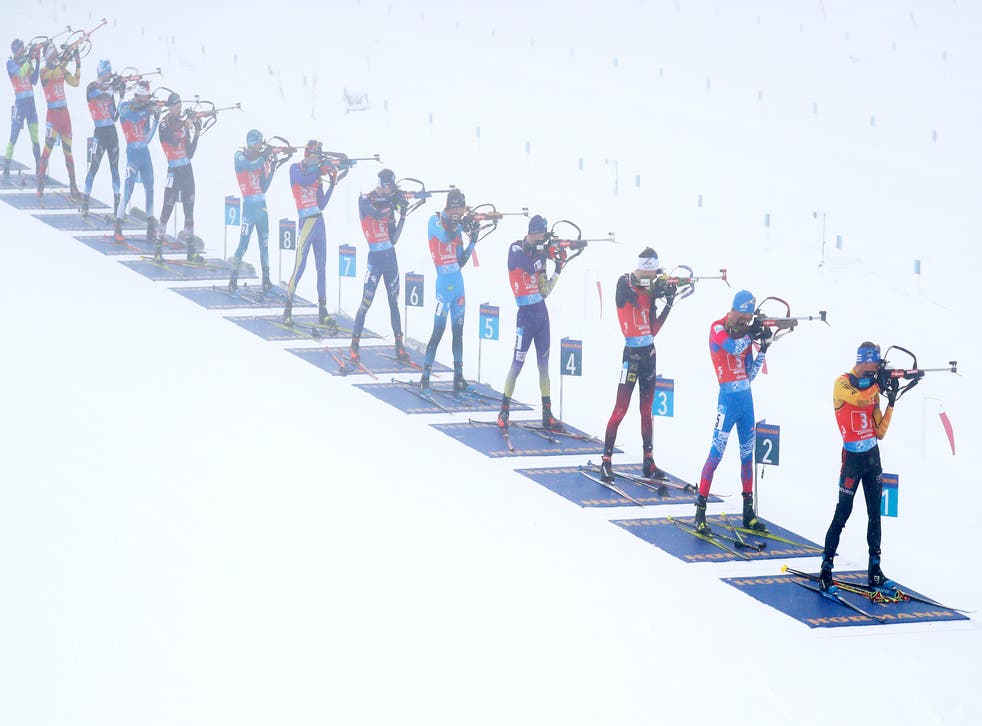 Here are the AP's latest coverage plans, top stories and promotable content. All Times EST. For up-to-the minute information on AP's coverage, visit Coverage Plan at https://newsroom.ap.org.
———————————————
NEW & DEVELOPING
———————————————
Adds: CAPITO -BREACH-TEXAS-ARREST, POLICE SHOOTING-WISCONSIN-KENOSHA, BUS-ROLLOVER-GRAND-CANYON, CHEMOURS-DUPONT-LAWSUIT, ISRAEL-PROTESTS, OBIT-GREGORY-SIERRA, OBIT-WALTER BERNSTEIN.
—————————-
TOP STORIES
—————————-
BIDEN FIRST DAYS — Inside the White House, President Joe Biden presided over a focused launch of his administration, using his first days in office to break sharply with his predecessor while signing executive orders meant as a showy display of action to address the historic challenges he inherited. But outside the gates at 1600 Pennsylvania Ave., there are signs everywhere that those crises are as deep and intractable as ever. By Jonathan Lemire. SENT: 1,040 words, photos.
EX-PRESIDENT'S CLUB — It's a club Donald Trump was never really interested in joining and certainly not so soon: the group of former commanders in chief who revere the presidency enough to put aside often bitter political differences and even join together in common cause. It's equally clear that the club's other members don't much want him — at least for now. SENT: 930 words, photos.
TRUMP IMPEACHMENT-RIOTERS — The words of Donald Trump supporters who are accused of participating in the deadly U.S. Capitol riot may end up being used against him in his Senate impeachment trial as he faces the charge of inciting a violent insurrection. At least five supporters facing federal charges have suggested they were taking orders from the then-president when they marched on Capitol Hill on Jan. 6 to challenge the certification of Joe Biden's election win. But now those comments, captured in interviews with reporters and federal agents, are likely to take center stage as Democrats lay out their case. By Alanna Durkin Richer and Colleen Long. SENT: 920 words, photos. WITH: CAPITOL-BREACH-TEXAS-ARREST — A 34-year-old Texas man is accused of taking part in the storming of the U.S. Capitol this month and posting violent threats, including a call to assassinate Democratic Rep. Alexandria Ocasio-Cortez of New York. SENT: 360 words, photos.
VOTING-ELECTION REFORMS -- Democrats plan to move quickly on one of the first bills of the new Congress, which would set federal election standards. The For the People Act would require states to offer early voting, same-day registration and the option of absentee voting for all registered voters. It also would put the job of drawing congressional districts in the hands of independent commissions and obligate presidents to disclose their tax returns. House Democrats say events leading up to and since the Nov. 3 presidential election have added to their sense of urgency, but Republicans say the bill represents federal overreach. By Christina A. Cassidy. SENT: 1,215 words, photos. Eds: This story has moved as the Sunday Spotlight.
RUSSIA-NAVALNY PROTESTS —Protests erupted in dozens of cities across Russia to demand the release of opposition leader Alexei Navalny, the Kremlin's most prominent foe. Police arrested more than 2,100 people, some of whom took to the streets in frigid temperatures. By Daria Litvinova and Jim Heintz. SENT: 675 words, photos.
OBIT-LARRY KING — Larry King has died at age 87 after a half-century in broadcasting that included interviews with presidents, movie stars and ordinary Joes. The Brooklyn-born King was a fixture on CNN from 1985 through 2010. He welcomed everyone from the Dalai Lama to Elizabeth Taylor. By Andrew Dalton. SENT: 1,545 words, photos, video. WITH: OBIT-KING-APPRECIATION — Larry King was always easy to poke fun at, particularly late in his career at CNN: the pinched look, guffaws and coke-bottle glasses, the suspenders and old-time microphone on the desk in front him. He was also easy to overlook, and to do that would miss his value. By Media Writer David Bauder. SENT: 750 words, photos; LARRY-KING REAX — Reaction to the death of Larry King. SENT: 420 words, photos.
———————————————————————
WHAT WE'RE TALKING ABOUT
———————————————————————
LOTTERY JACKPOTS-DRAWING — Someone bought a winning ticket for the $1 billion Mega Millions jackpot at a grocery store outside of Detroit. The winning numbers for Friday night's drawing were 4, 26, 42, 50 and 60, with a Mega Ball of 24. SENT: 490 words, photos, video.
UNIVERSITY MINI-SATELLITE — A cubical satellite small enough to sit on the palm of your hand is zipping around the world and sending data about radiation to the Louisiana students who designed and built it. SENT: 475 words, photos.
BIDEN-HEALTH APPOINTEE-LAWMAKER — A Pennsylvania legislator shared on Facebook an image mocking the appearance of the state's recently departed health secretary, Dr. Rachel Levine, a transgender woman who has been nominated to serve in the Biden administration. Rep. Jeff Pyle offered an apology without directing to Levine or other transgender people. SENT: 300 words, photo.
OBIT-GREGORY-SIERRA — Gregory Sierra, who had memorable roles in the 1970s sitcoms "Barney Miller" and "Sanford and Son," has died at 83 after battling cancer. SENT: 270 words.
—————————————————
WASHINGTON/POLITICS
—————————————————
BIDEN-EUROPE — British Prime Minister Boris Johnson is telling President Joe Biden that he's eager to forge a new U.S.-U.K. trade deal. The prime minister's office says the push for a new deal came Saturday in a broad-ranging phone call that touched on the global response to the coronavirus pandemic. SENT: 280 words, photo.
ABORTION BATTLEGROUNDS — Anti-abortion leaders who were elated a year ago when Donald Trump became the first sitting U.S. president to appear in person at the annual March for Life are feeling less buoyant now. A staunch supporter of abortion rights has replaced Trump in the White House, and President Joe Biden's fellow Democrats also now control both chambers of Congress. Tempering their disappointment over Trump's defeat is the hope that his legacy of judicial appointments and Republican-led state legislatures will lead to future court victories limiting abortion rights. SENT: 1,105 words, photos.
BIDEN-AGE — When Joe Biden took the oath of office as the 46th president, he became not only the oldest newly inaugurated U.S. chief executive in history but also the oldest sitting president ever. A look at how the country Biden now leads has changed over his lifetime and how his presidency might reflect that. SENT: 990 words, photos.
MYPILLOW-GUY — When Mike Lindell, better known to TV viewers as the MyPillow Guy, went to the White House last week to try to persuade Donald Trump to keep pushing bogus theories about the election, he came away disappointed. Unexpectedly, Trump passed him — and his claims about sabotaged voting machines — off on staffers. But the Trump true believer says he has something from Trump that softens that blow: the promise of an endorsement should Lindell run for governor in Minnesota. It's a prospect that sends shivers down the spines of some Republicans in the state and cuts to the heart of the national party's existential crisis. SENT: 990 words, photos.
IMMIGRATION-CONGRESS — Democrats to acknowledge that if anything emerges from President Joe Biden's bold immigration proposal, it probably will be significantly more modest. Their caution is evidence of the difficult road they face on an issue of paramount importance for minority voters, progressives and activists. SENT: 910 words, photos.
BIDEN-CANADA-MEXICO — Mexico's president says that President Joe Biden has told him the U.S. would send $4 billion to help development in Honduras, El Salvador and Guatemala. Hardships in those nations have spawned tides of migration through Mexico toward the United States. SENT: 810 words, photo.
CAPITOL-BREACH-THE-ROAD-TO-RIOT — Right-wing extremism has previously mostly played out in isolated pockets of America or in smaller cities. In contrast, the deadly attack by rioters on the U.S. Capitol targeted the very heart of government. It brought together members of disparate groups, creating the opportunity for extremists to establish links with each other. Experts say that potentially sets the stage for more violent actions. SENT: 845 words, photos.
2020-CENSUS — The U.S. Census Bureau is suspending efforts to create neighborhood-level statistics on the citizenship and age of residents, using 2020 census data. Friday's announcement is the latest rollback of Trump administration census-related initiatives that critics feared would be used to favor Republicans and whites during the drawing of state and local districts. SENT: 355 words, photos.
———————————————
VIRUS OUTBREAK
———————————————
VIRUS OUTBREAK — A year ago, a notice sent to smartphones in Wuhan at 2 a.m. announced the world's first coronavirus lockdown that would last 76 days. Life has largely returned to normal in the central Chinese city of 11 million where the virus was first detected, even as the rest of the world grapples with the spread of its more contagious variants. Efforts to vaccinate people are frustrated by disarray and limited supplies in some places. SENT: 730 words, photos.
VIRUS-OUTBREAK-BRITAIN — A major British doctors' group is saying the U.K. government should "urgently review" it's decision to give people a second dose of the Pfizer-BioNTech coronavirus vaccine up to 12 weeks after the first, rather than the shorter gap recommended by the manufacturer and the World Health Organization. SENT: 620 words, photos.
VIRUS OUTBREAK-ASIA — Sri Lanka's health minister who has faced criticism for consuming and endorsing a herbal syrup made by a sorcerer has tested positive for COVID-19. SENT: 360 words, photos.
VIRUS OUTBREAK-HONG KONG — Thousands of Hong Kong residents are locked down in an unprecedented move to contain a worsening outbreak in the city. SENT: 400 words, photos.
VIRUS OUTBREAK-TUNISIA — Tunisia is extending its virus curfew and banning demonstrations for three weeks as it tries to stem a rapid rise in infections. SENT: 500 words, photo.
Find more coverage on the Virus Outbreak on the featured topic page in AP Newsroom.
———————————-
INTERNATIONAL
———————————-
FRANCE-CHILD SEXUAL ABUSE — Amid a national French reckoning with sexual abuse of children by family members, President Emmanuel Macron has told victims: "We believe you. You will never again be alone." SENT: 260 words, photos.
MOZAMBIQUE-CYCLONE — The Mozambican port city of Beira breathed a sigh of relief as Cyclone Eloise caused less damage than feared as it passed through, but the danger of flooding remained in a region still recovering from a devastating cyclone two years ago. SENT: 400 words, photos.
YEMEN — Saudi Arabia says it has intercepted an apparent missile or drone attack over its capital, Riyadh, amid the kingdom's yearslong war against Yemen's Houthi rebels. The rebels deny involvement. SENT: 240 words.
PORTUGAL-EXPLAINING-PRESIDENTIAL-ELECTION — Portugal will hold a presidential election Sunday, choosing a head of state to serve a five-year term as the country suffers through a national lockdown and a worsening coronavirus outbreak. SENT: 365 words, photos.
ISRAEL-PROTESTS — Over a thousand protesters gathered in Jerusalem for weekly demonstrations demanding Israeli Prime Minister Benjamin Netanyahu step down over corruption charges, as smaller protests were staged at intersections and bridges across the country. SENT: 220 words, photos.
————————
NATIONAL
————————
LITHIUM-MINE-APPROVED-NEVADA —The Trump administration granted final approval for a proposed Nevada lithium mine in its last days, adding it to a list of energy and mining projects fast-tracked before President Joe Biden took office. The Democrat has already revoked permits for projects like the Keystone XL pipeline, but like the outgoing administration, he supports lithium mining. The mineral is a key component in rechargeable batteries, and boosting domestic production could lower the price tag on his climate plan, which includes rebates for electric vehicles. SENT: 850 words, photos.
BOOGALOO-ALOHA-SHIRTS — People following a violent movement that promotes a second U.S. civil war or the breakdown of modern society have been showing up at recent protests across the nation armed and wearing tactical gear. But the anti-government "boogaloo" movement has adopted an unlikely public and online symbol: the so-called Hawaiian shirt. SENT: 1,055 words, photos.
BUS-ROLLOVER-GRAND-CANYON — An Arizona sheriff's office has begun investigating a tour bus crash that killed one person and injured dozens of others, including five seriously, officials said. SENT: 340 words, photos.
POLICE SHOOTING-WISCONSIN-KENOSHA — An 18-year-old Illinois teen charged with fatally shooting two people during a protest in southeastern Wisconsin last year is prohibited from associating with known white supremacists under a judge's recently modified bail conditions. SENT: 380 words, photos.
——————————————
BUSINESS
——————————————
CHEMOURS-DUPONT-LAWSUIT — The Dupont Co. and its spinoff business Chemours have agreed to resolve legal disputes over environmental liabilities for pollution related to man-made chemicals associated with an increased risk of cancer and other health problems. SENT: 820 words, photos.
——————————————
ENTERTAINMENT
——————————————
OBIT-WALTER BERNSTEIN — Screenwriter Walter Bernstein has died. He was 101. Bernstein was one of the last victims of Hollywood's anti-Communist blacklist and for years could only find work by hiring "fronts," people willing to let him use their names for his scripts. In the 1970s, he would draw upon his experiences and receive an Oscar nomination for writing "The Front," starring Woody Allen. SENT: 1,000 words.
——————————————
HEALTH & SCIENCE
——————————————
MED-HEALTH INSURERS-COVERING FOOD — Food is a growing focus for insurers as they look to improve the health of the people they cover and cut costs. More plans are paying for temporary meal deliveries and some are branching beyond that to teach people how to cook and eat healthier foods. By Tom Murphy. SENT: 1,070 words, photos.
PUFFIN REBOUND — The commercial fishery for herring has suffered in recent years due to new restrictions, but those same rules could benefit puffins. Atlantic puffins, known for their colorful beaks and waddling walks, were once nearly gone from Maine, the only U.S. state where they nest. Now there are about 1,300 pairs, thanks to decades of conservation work. SENT: 430 words, photos.
——————-
SPORTS
——————-
BBN—AARON-ATLANTA HAMMERS — As Atlanta and the nation mourn Hank Aaron, some fans are calling on the team he played with and worked for most of his life to change its name from Braves to Hammers in his honor. SENT: 960 words, photos.
BBO--HALL OF FAME-CHARACTER CONCERNS — Baseball's Hall of Fame vote is announced Tuesday, with voters again weighing a candidate's character, suspicions of performance-enhancing drug use and now other concerns. The headline candidates are Curt Schilling, Barry Bonds and Roger Clemens. SENT: 1,250 words, photos.
——————————————
HOW TO REACH US
—————————————-
At the Nerve Center, Rob Jagodzinski can be reached at 800-845-8450 (ext. 1600). For photos, (ext. 1900). For graphics and interactives, (ext. 7636). Expanded AP content can be obtained from http://newsroom.ap.org. For access to AP Newsroom and other technical issues, contact apcustomersupport(at)ap.org or call 877-836-9477.