Asylum seekers' accommodation set on fire in suspected far-right arson attack in Germany
The former mayor of Tröglitz called the attack a 'lasting disgrace' on the town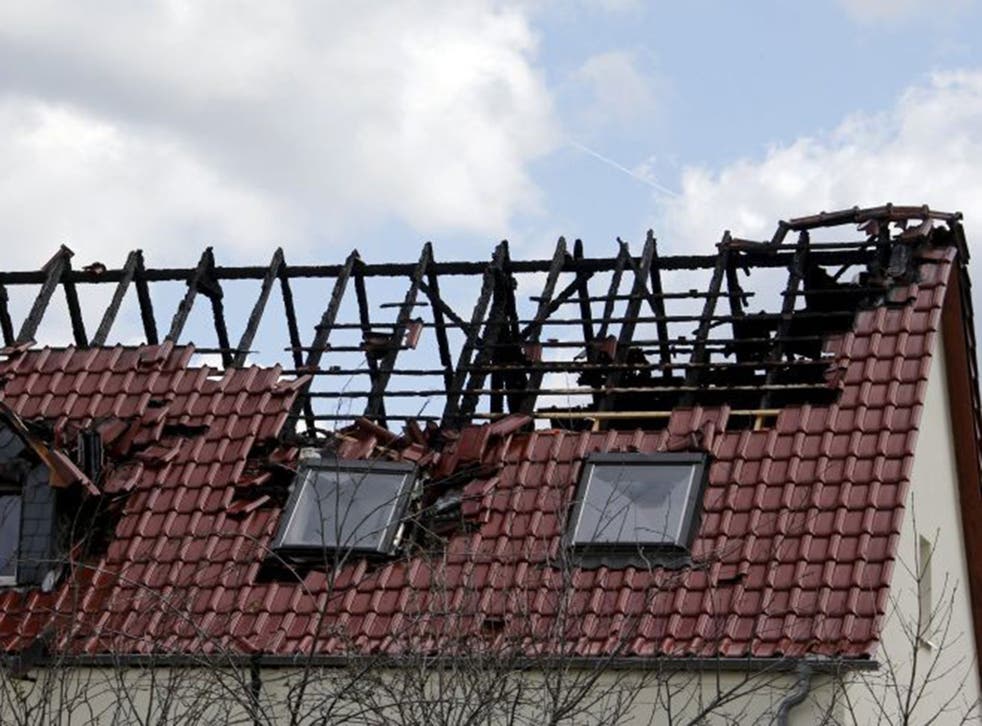 A centre for asylum seekers has been set on fire in a suspected arson attack in Germany.
Police are investigating the blaze in the town of Tröglitz, where the mayor quit last month after a far-right protest was held outside his home.
The roof of a house planned to be used by refugees in the town of Tröglitz was destroyed in the fire that broke out on Saturday morning but the two Germans currently living there escaped unharmed.
Joerg Wilkmann, a senior public prosecutor in the city of Halle, said evidence so far suggested it was a case of "serious arson" and he could not rule out the possibility of attempted murder.
The mayor of Tröglitz, Markus Nierth, resigned last month because he feared for his children's safety after authorities failed to stop a demonstration outside his house.
Members of the far-right National Democratic Party (NPD) were protesting against his plans to provide accommodation for around 40 asylum seekers in the town.
This morning, he wrote on Facebook that he feared Tröglitz would "never recover" from the arson attack.
"I am stunned, sad and angry all at the same time," he wrote.
"The Nazi seed has spread so far that people now enjoy burning down buildings where destitute families should be finding a new home.
"Even families fleeing war zones are not allowed to live by these sick, evil minds!
"This is a lasting disgrace for Tröglitz…that could have many unforeseen consequences."
The damaged house was due to house asylum seekers from next month in renovated apartments.
Mr Nierth called on local residents with space to offer the refugees shelter and is working with the local administration to offer them alternative private housing.
Sigmar Gabriel, the German Vice Chancellor, condemned the suspected arson attack, saying xenophobia had no place in Germany and refugees belonged in the country.
Justice Minister Heiko Maas called people who set refugees' homes on fire "cowardly and abominable," according to an article due to be published in Welt am Sonntag.
In November last year, new hostel accommodation destined for use by asylum seekers was left damaged in a suspected arson attack near Nuremberg. Swastikas and anti-immigration graffiti were daubed on the walls.
Thousands rally in Dresden, Germany

Show all 10
The number of asylum seekers in Germany surged by about 60 per cent last year, according to government statistics, and the number of foreign nationals registered by the end of 2014 was 8.2 million.
Concerns about immigration have come to the fore in Germany in recent months, with the anti-"Islamisation" Pegida movement drawing crowds numbering in the tens of thousands at rallies in eastern Germany earlier this year.
The size of demonstrations has since dwindled, with supporters being vastly outnumbered by counter-demonstrators at most Pegida protests.
Additional reporting by Reuters
Join our new commenting forum
Join thought-provoking conversations, follow other Independent readers and see their replies