Austria presidential election result is 'dead heat', exit polls suggest
Freedom Party candidate Norbert Hofer is hoping to become Europe's first far-right head of state since the Second World War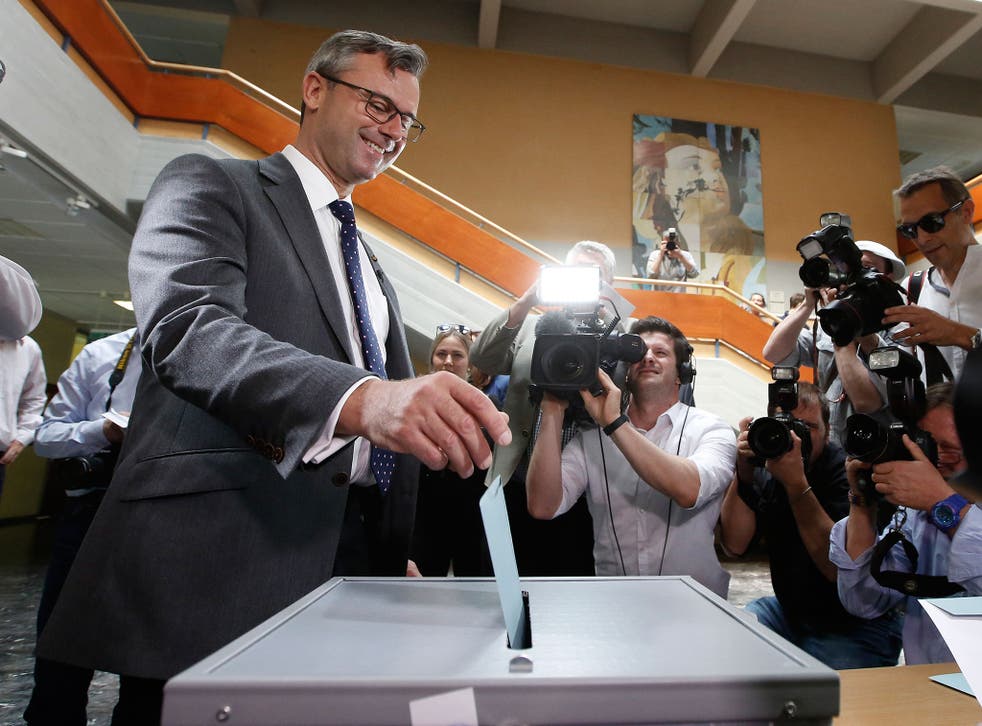 A divisive far-right politican who is anti-immigrant is locked in a virtual 'dead heat' with his independent rival in the race to become Austria's new head of state, exit polls suggest.
Norbert Hofer, of the right-wing Freedom Party, is vying with independent candidate Alexander Van der Bellen, backed by the Greens, to become the country's next president.
Direct ballots counted gave the right-winger 51.9 per cent to 48.1 per cent for the independent candidate.
Final projections, including still-to-be-counted absdentee ballots, put each at 50 per cent with Mr Van der Bellen narrowly ahead.
Two different exit polls initially gave Mr Hofer the lead, but subsequent projections have given his rival a slight advantage.
Nearly 700,000 absentee ballots will be counted Monday, making them the likely decider by a miniscule portion of votes, considering 4.48 million people voted directly Sunday.
Presidential candidates supported by the country's two ruling parties in government – the dominant Social Democratic party and centrist People's Party – were eliminated in the first round of voting last month.
The choice faced by Austrians in today's poll reflects growing disillusionment with the government's reponse to the migrant crisis, which has seen support for the far right grow.
World news in pictures

Show all 50
A win for Mr Hofer would be a seismic shift in European politics and would see him become the first far-right politician to be elected as a head of state on the continent since the Second World War.
Indeed, former Freedom Party leader Joerg Haider once praised Adolf Hitler's employment policies as "orderly".
And Mr Hofer himself has run his election campaign on a pro-gun manifesto, carrying his Glock pistol around, and declaring that the public arming themselves would be a logical reaction to the influx of refugees into the country.
Addressing supporters at his final election rally in Vienna on Friday, the 45-year-old said: "Those people who respect and love Austria have found a new home here are warmly welcome.
"But those, it has to be said, those who do not value our country, who fight for Islamic State, or who rape women, I say to these people: this is not your homeland. You cannot stay in Austria."
At his last rally, Mr Van der Bellen, 72, said he was for "an open, Europe-friendly, Europe-conscious Austria".
Austria took in 90,000 asylum seekers last year, but has since clamped down on immigration and asylum.
The presidents of the European Commission and the European Parliament, Jean-Claude Juncker and Martin Schulz, have both reportedly expressed their concerns about what a win for Mr Hofer today could mean.
Although the role is largely ceremonial, the Austrian president swears in the chancellor, is commander-in-chief of the military, and has the power to dismiss the cabinet – something Mr Hofer has already threatened to do if he is elected.
The Freedom Party candidate unexpectedly won the first round of the election, winning 35 per cent of the vote, while Mr Van der Bellen won 21 per cent.
Join our new commenting forum
Join thought-provoking conversations, follow other Independent readers and see their replies