Paris authorities order volunteers to stop distributing food to refugees
Volunteers told food distribution is 'banned' in the area outside Porte de La Chapelle reception centre days after Mayor's Office places boulders preventing refugees sleeping under nearby bridge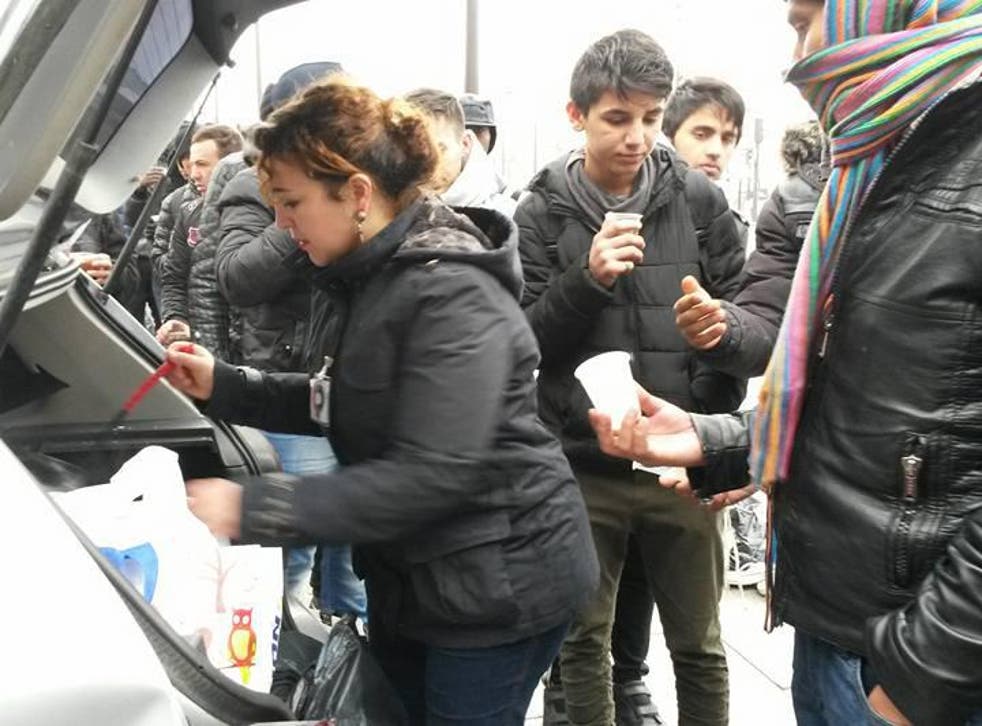 Parisian police have allegedly started ordering volunteers to stop giving out food and drink to refugees in certain parts of the French capital and handing out on the spot fines to organisations with no forewarning of the so-called "ban".
Laurence Ariste, a teacher and volunteer with Solidarité Migrants Wilson, told The Independent officers had told them to move on from a registration centre in the central area of Porte de La Chapelle.
They had been distributing food and drink to homeless refugees, she said.
"There were two police officers, and I greeted one of them, because we usually signal to police to see where we can set up," she added. "The first one said of course we could, but the other one said 'wait' and took out a document. He wouldn't show it to us but he read it to me and it said that it was forbidden to distribute food and drink in the prescribed areas, which are basically all of the areas we can set up.
"They then gave us two fines of €135 each, because we had two cars. They said you can't distribute here and they gave us the two fines. We're a small organisation. We don't have much money. If they give us these fines every time we can't continue like this."
A police spokesman later told The Independent he believed the document was not an official ban.
The incident comes following furore after the Paris Mayor's office ordered for large boulders to be placed under a bridge where refugees had been sleeping, preventing them from pitching tents or setting up camp in the area.
Ms Ariste said: "It's the first time we've had such a ban. Police have started preventing distributions in the past two weeks, but not with a document."
Prior to the order the volunteers had been regularly distributing food and drink to refugees queuing outside the Porte de La Chappelle reception centre.
Those entering the centre on a "one-day" basis are reportedly not offered food once they are inside, so Ms Ariste said it was therefore important that they were able to provide food and drink while they queued.
"I asked the police where we could move to, and they said we could move past the bridge, which is very far from the centre," she said.
"There are two parts of the centre. Those who are there on the long term stay — which is full to capacity — are looked after with beds and food and showers, while the 'one-day' welcome must leave at night, and are not offered food or the chance to shower.
"This is why we try to offer them food and drink before they go into the centre. But now we no longer have access to this area."
A spokesman for the Prefecture of Paris said there was no official ban on food distribution ot refugees, and that the volunteers were ordered to move because of "logistical problems" with the movement of people in the area.
"Officers asked the volunteers to move about 10 or 20 metres away, because the area they were distributing food was causing logistical problems," they said. "It was causing jams and overcrowding for everyone. It was very complicated to manage so we asked them to move.
"I don't believe this document was official. It was simply an internal note. It's not as though we were asking them to move two or three kilometres, just to facilitate access to the centre."
Asked about the fine, the spokesman said he wasn't aware of it, but he added: "If we ask people to do something for the benefit of everyone, and they refuse, by principle we will not advance. It wasn't a ban of distributing food, but a request for them to move."
Ms Ariste suggested this left the volunteers in limbo.
"They say there is no official ban, but what must we do tomorrow if it happens again," she said. "It is unclear what was in that document. What is certain is that our distribution has been banned and we have no assurance that we won't face the same situation tomorrow.
"The situation for migrants have been unacceptable for a long time. Paris doesn't welcome them with dignity, but this action against organisations and collectives who are trying to help and offer food to hungry people. For us this is very new."
Earlier this week, the Paris city council sparked outrage following a decision to place large rocks under a bridge near the centre where refugees were sleeping, preventing them from pitching tents there during the night to queue again in the morning.
A spokesperson for the Mayor's Office insisted that it was done because the bridge was soon going to be taken down and authorities needed to make way for the construction of a tramway in the area. The authorities have been accused of being inconsistent in their response however, with other news outlets being told it was due to "security issues".
Research exclusively published by The Independent last week showed that refugees in Paris were having their blankets and sleeping bags stolen by French police while being "violently" forced to move on. The report gave accounts of refugees being beaten and tear gassed by officers in the French capital, despite government pledges to shelter vulnerable people.
Join our new commenting forum
Join thought-provoking conversations, follow other Independent readers and see their replies