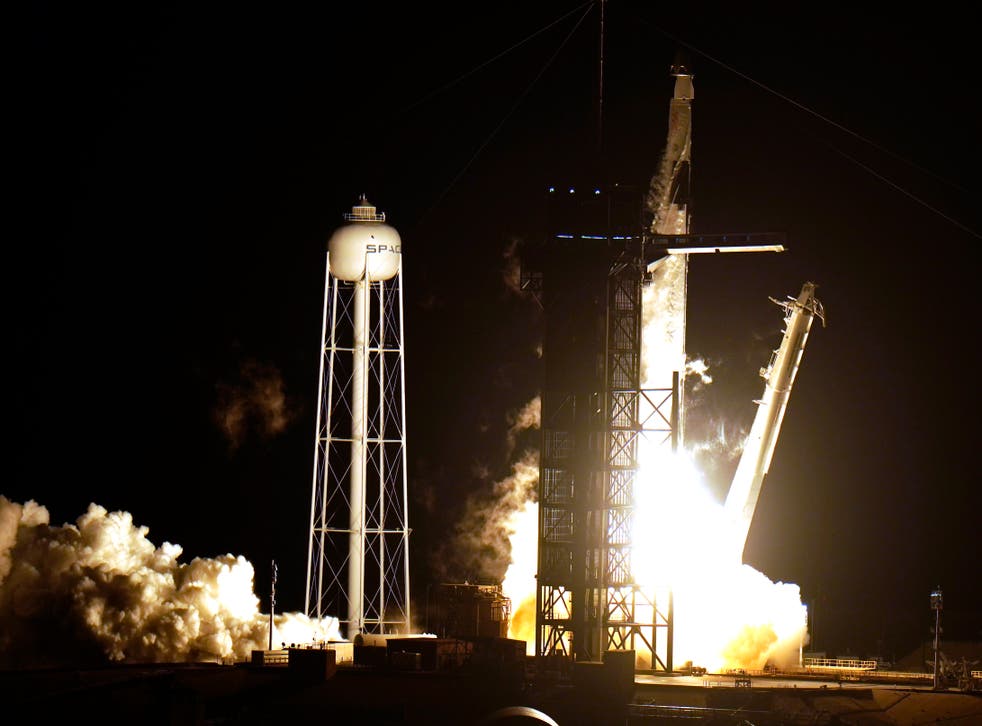 ————————-
TOP STORIES
—————————-
ELECTION 2020-PENNSYLVANIA — President Donald Trump's campaign on Sunday withdrew a central part of its lawsuit seeking to stop the certification of the election results in Pennsylvania, where Democrat Joe Biden beat Trump to capture the state and help win the White House. By Marc Levy. SENT: 550 words, photos.
TRUMP — President Trump worked to take back an apparent acknowledgement that Joe Biden won the White House and was making clear he would keep trying to overturn the election result. By Kevin Freking. SENT: 860 words, photos.
VIRUS OUTBREAK — Poll workers in some states who came in contact with voters on Election Day are reporting they have tested positive for the coronavirus. Public health officials caution that there's no way to determine yet whether in-person voting on Election Day is to blame as COVID-19 spreads rapidly nationwide. By Anthony Izaguirre. SENT: 1,030 words, photos. WITH: VIRUS-OUTBREAK-US — Michigan and Washington on Sunday joined several other states in announcing renewed efforts to combat the coronavirus as more than 11 million cases of COVID-19 have now been reported in the United States — with the most recent million coming in less than a week — and as many Americans prepare to observe a Thanksgiving holiday marked by the pandemic. SENT: 750 words, photos;
ELECTION 2020-WOMEN — From nearly the moment Donald Trump took the presidential oath, it was women who were the face of the resistance -- marching in enormous numbers in their pussy hats and fueling Democratic gains in the 2018 midterm elections. In 2020, many had expected a dramatic repudiation of Trump with a widened gender gap. The results were a bit more complicated. By National Writer Jocelyn Noveck. SENT: 1,260 words, photos.
SPACEX-CREW LAUNCH — SpaceX has launched four astronauts to the International Space Station on the first full-fledged taxi flight for NASA by a private company. The Falcon rocket thundered into the night from Kennedy Space Center with three Americans and one Japanese, the second crew to be launched by SpaceX. By AP Aerospace Writer Marcia Dunn. SENT: 900 words, photos. WITH: SPACEX-CREW (sent).
VIRUS OUTBREAK-MALL SANTAS — Santa Claus is coming to the mall — just don't try to sit on his lap. Malls are doing all they can to keep the jolly old man safe from the coronavirus, including banning kids from sitting on his knee, completely changing what a Santa visit looks like. Kids will have to tell him what they want for Christmas from six feet away, and sometimes from behind a sheet of plexiglass.. By Joseph Pisani SENT: 920 words, photos. This is the Tuesday Spotlight
——————————————————————
WHAT WE'RE TALKING ABOUT
——————————————————————
BRITAIN-BORIS JOHNSON — British Prime Minister Boris Johnson is self-isolating after being told he came into contact with someone who tested positive for COVID-19, officials said. In April, Johnson was hospitalized in intensive care after contracting the coronavirus. SENT: 260 words, photos.
ALASKA-JET-ACCIDENT-BEAR — An Alaska Airlines jetliner struck a brown bear while landing at an airport in the southeastern part of the state, killing the animal and causing damage to the plane, officials said. SENT: 340 words.
GREECE-ANCIENT-BUST — A bust of the ancient Greek god Hermes, dating back to around 300 B.C., has been discovered in central Athens during work on the sewage system, authorities said. SENT: 140 words.
BELGIAN RACING PIGEON — Belgian racing pigeon fetches record price of $1.9 million. SENT: 600 words, photos.
———————————————————————-
MORE ON THE VIRUS OUTBREAK
———————————————————————-
VIRUS OUTBREAK-INFECTED-MEDICAL-WORKERS — With coronavirus cases soaring in North Dakota, Gov. Doug Burgum moved to allow the state's beleaguered hospitals to use infected but asymptomatic doctors and nurses to treat COVID-19 patients. Although hospitals pushed for the right, many nurses say it will make their lives even harder than they've been during the pandemic. By James MacPherson and Stephen Groves. SENT: 970 words, photos. This is the Monday Spotlight.
VIRUS-OUTBREAK-EUROPE-RESTAURANTS — Necessity is not the mother of invention when it comes to the pandemic and Europe's great chefs. Instead the coronavirus is turning life into a struggle for survival. Many a three-star Michelin meal has been put into a takeout box and sent out on Deliveroo scooters, as renowned chefs try to scrape through a second pandemic lockdown that is likely to threaten even the most lucrative of Christmas seasons. SENT: 870 words, photos.
VIRUS OUTBREAK-BRITAIN-VACCINE — One of the scientists behind the experimental coronavirus vaccine developed by BioNTech and Pfizer said that he was confident that it could halve the transmission of the virus, resulting in a "dramatic" curb of the virus' spread. The scientist said it was "absolutely essential" to have a high vaccination rate before next autumn to ensure a return to normal life next winter. SENT: 230 words, photo.
VIRUS-OUTBREAK-FRANCE-CHURCH-PROTESTS — Catholic protesters held scattered demonstrations around France to demand that authorities relax virus lockdown measures to allow religious services. Gatherings were reported or planned in cities including Paris, Nantes and Bordeaux in the west and Strasbourg in the east. SENT: 375 words, photos.
Find more coverage on the Virus Outbreak on the featured topic page in AP Newsroom.
—————————————————-
WASHINGTON/POLITICS
—————————————————-
VIRUS OUTBREAK-VACCINE — President-elect Joe Biden's scientific advisers plan to meet with vaccine makers in coming days even as a stalled presidential transition keeps them out of the loop on government plans to inoculate all Americans against COVID-19. By Ricardo Alonso-Zaldivar and Will Weissert. SENT: 820 words, photos.
CONGRESS-BIDEN — Joe Biden says he wants to "restore the soul of America." But first the president-elect will need to fix a broken Congress. Biden is rushing headlong into a legislative branch that's been ground down by partisanship, name-calling and, now, a refusal by some to acknowledge the Democrat's win over President Trump. At a time when the country needs a functioning government to confront the COVID-19 crisis, the teetering economy and racial injustice, Washington is being challenged by the next president to do better. By Congressional Correspondent Lisa Mascaro. SENT: 910 words, photos.
FACT-CHECK-WEEK — President Donald Trump is rebelling against Democrat Joe Biden's win in the presidential election with a litany of falsehoods. That's the finding of an AP Fact Check, which examined his past week's statements. Trump raged about widespread cases of fake ballots in Pennsylvania and Georgia that aren't fake and undertook legal challenges in several states that even state Republican election officials say can't overcome Biden's lead. As the coronavirus surged nationwide, Trump said little about public safety efforts and instead tried to take full credit falsely for drugmaker Pfizer Inc.'s news that its COVID-19 vaccine may be 90% effective. SENT: 3, 040 words, photos.
ELECTION 2020-PROTESTS — Demonstrations over President Donald Trump's loss at the polls have resulted in charges against nearly two dozen people in Washington. Among those arrested in connection with Saturday's events were a person accused of setting off a commercial firework and four people accused in an assault that left the victim unconscious on the street. SENT: 370 words, photos, videos.
BIDEN'S-BEACH-TOWN — Rehoboth Beach, Delaware, is a resort town that's known known for Atlantic waves that are sometimes surfable, as well as fresh-cut French fries and a mile wooden boardwalk that dates to the 1870s. It's long prided itself on being the "Nation's Summer Capital." Now, it may soon sport a beach White House. SENT: 1,000 words, photos.
————————————
INTERNATIONAL
————————————
PERU-POLITICAL-CRISIS — Who is the president of Peru? That answer to that question early Monday is no one. The Latin American nation's political turmoil took a chaotic turn Sunday when interim leader Manuel Merino quit and Congress couldn't decide on his replacement. That leaves Peru rudderless and in crisis less than a week after legislators ignited a storm of protest by removing President Martín Vizcarra, an anti-corruption crusader highly popular among Peruvians. By Franklin Briceño and Christine Armario SENT: 850 words, photos.
HONG KONG — Hong Kong authorities said a fire at an apartment building in a crowded residential district has killed at least seven people and injured another 11. The blaze occurred Sunday night in Yau Ma Tei, a usually bustling area in Kowloon packed with old apartment blocks, shops and businesses. SENT: 310 words, photos.
SYRIA-OBIT-WALID-AL-MOALLEM — Syria's Foreign Minister Walid al-Moallem, a career diplomat who became one of the country's most prominent faces to the outside world during the uprising against President Bashar Assad has died at 79. SENT: 900 words, photos.
ISRAEL — Israel is moving forward on the construction of hundreds of new homes in a sensitive east Jerusalem settlement, a watchdog group says, a move that would defy international consensus against Israeli building in areas that would cut Palestinians off from the city's eastern sector, which they claim as their future capital. SENT: 400 words.
ARMENIA-AZERBAIJAN — Azerbaijan has postponed taking control of a territory ceded by Armenian forces in a cease-fire agreement, but denounced civilians leaving the area for burning houses and committing what it called "ecological terror." SENT: 600 words, photos.
TROPICAL WEATHER — Iota rapidly gained strength after becoming the 13th hurricane of the Atlantic season, threatening to bring more dangerous winds and rains to Nicaragua and Honduras — countries recently clobbered by Category 4 Hurricane Eta. Nicaragua's government said authorities had begun evacuating some people near the country's border with Honduras. SENT: 430 words, photos.
BREXIT — The U.K.'s chief Brexit negotiator said before renewed talks that a trade deal with the European Union may not succeed, but he was still hopeful of a resolution. Arriving in Brussels, David Frost tweeted that "there has been some progress in a positive direction in recent days." SENT: 400 words, photo.
BELARUS-PROTESTS — A Belarusian human rights group says more than 500 people have been arrested in protests around the country calling for authoritarian President Alexander Lukashenko to step down. SENT: 200 words, photos.
———————
BUSINESS
———————
FINANCIAL MARKETS — Shares started out the week on a strong footing after the Standard & Poors 500 hit a fresh high on Friday, with strong robust from Japan and China fueling optimism over economic recoveries even as coronavirus caseloads surpass earlier records. Stock benchmarks rose Monday in Hong Kong, Tokyo and most other regional markets. SENT: 710 words, photos. UPCOMING: Developing.
JAPAN-ECONOMY — Japan's economy grew at an annual rate of 21.4% in the last quarter in a recovery from the shocks of the pandemic driven by both private spending and exports. SENT: 550 words, photos.
——————
SCIENCE
——————
PUERTO RICO-TROUBLED TELESCOPE — Giant, aging cables that support one of the world's largest single-dish radio telescopes are slowly unraveling in this U.S. territory, pushing an observatory renowned for its key role in astronomical discoveries to the brink of collapse. The Arecibo Observatory, which is tethered above a sinkhole in Puerto Rico's lush mountain region, boasts a 1,000-foot-wide (305-meter-wide) dish featured in the Jodie Foster film "Contact" and the James Bond movie "GoldenEye." SENT: 960 words, photos.
—————-
SPORTS
—————-
GLF-MASTERS — Dustin Johnson overcame a jittery start at the Masters that conjured memories of past majors he failed to finish off. He turned that into a command performance to cement a win, making sure this one-of-a-kind Masters with no fans also had no drama. By AP Golf Writer Doug Ferguson. SENT: 900 words, photos. WITH: MASTERS-NOTEBOOK — Amateur Andy Ogletree was getting ready to tee off in the Masters for the first time when his playing partner, a fellow U.S. Amateur champion, came up to introduce himself. Guy by the name of Tiger Woods. SENT: 2,000 words, photos.
BENGALS-STEELERS — Ben Roethlisberger threw for a season-high 333 yards and four touchdowns despite being forced to stay away from the team facility all week due to COVID-19 protocols, and the Steelers improved their record to 9-0 with a 36-10 victory over the Bengals. SENT: 600 words, photos.
TOKYO-BACH VISIT — Olympic participants and fans arriving for next year's postponed Tokyo Olympics are likely to face requirements to be vaccinated to protect the Japanese public, IOC President Thomas Bach said Monday after meeting with new Prime Minister Yoshihide Suga. It was Bach's first meeting with Suga and his first trip to Japan since the Olympics were postponed almost eight months ago. SENT: 470 words, photos.
——————————————
HOW TO REACH US
——————————————
The Nerve Center can be reached at 800-845-8450 (ext. 1600). For photos, (ext. 1900). For graphics and interactives, (ext. 7636). Expanded AP content can be obtained from http://newsroom.ap.org. For access to AP Newsroom and other technical issues, contact apcustomersupport(at)ap.org or call 877-836-9477.