Belgium's footballers catch nationalists offside as team goes through to World Cup 2014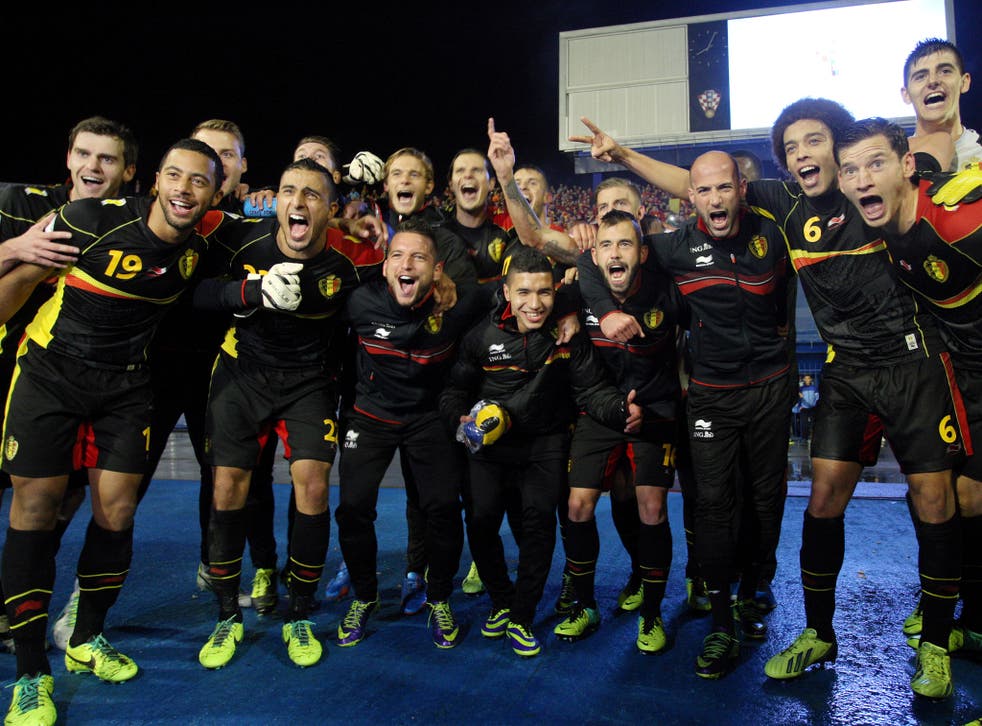 The crowds packed the Grand Place in Brussels until the early hours of Saturday morning, cheering on their "Red Devils" who had beaten Croatia 2-1 to secure Belgium's place in next summer's World Cup. Many beaming faces were painted black, yellow and red, the colours of the Belgian flag, which supporters waved euphorically throughout the Gothic square.
But one person who might not have found their mood lifted by the euphoria was Jan Peumans, president of the regional parliament in Flanders, the Dutch-speaking north of Belgium where a significant number of its 6.5m residents support a split with southern French-speaking Wallonia.
As Red Devil fever gripped the country and chatter began last month of a new national unity dubbed "Belgitude", Mr Peumans sniffily told the weekly P-Magazine that you would not see him draping himself in a Belgian flag or donning a tricolour wig.
"Those lines painted on their cheeks? I do not care for the Belgian flag, it does not matter to me" he said, adding for good measure that "this 'Belgitude' is outright laughable."
An upsurge in nationalistic sentiment is not exactly what his party, the New Flemish Alliance (N-VA), needs ahead of elections in May. A poll in spring predicted that the separatist outfit could get a record 32.1 per cent of the vote, making them the biggest party in Belgium and possibility putting them in position to start the process of slow devolution which they advocate.
A new poll at the weekend, however, showed their support had slipped to 27.9 per cent. The pollsters did not attribute that fall specifically to the parallel rise of the Red Devils, but many Flemish nationalists are tiptoeing carefully around the subject. The Belgian team not only came top of their group with a string of strong performances, but have been tipped as a possible outside winner, with odds of around 20-1.
Bart De Wever, the N-VA leader, has been a little more conciliatory than Mr Peumans, telling Belgian television that he supported the national team because it contained Flemish players. But could he, the presenter urged, utter the words "I support Belgium"? He demurred.
And while Belgians are happy to get behind sporting heroes like the cyclist Eddy Merckx and tennis players Justine Nenin and Kim Clijsters, the two sides remain deeply dived both culturally and linguistically. The residents of Flanders and their 4.5m Francophone counterparts in Wallonia have a different education system, separate newspapers, and even a separate music chart.
"Where I think some are making a mistake is in imagining that the Red Devils are going to save Belgium," Olivier Luminet, a psychology professor at the Université Catholique de Louvain, told the daily Le Soir. "Sports can have a strong unifying effect but it doesn't last. The buzz in France after the 1998 World Cup increased Jacques Chirac and Lionel Jospin's popularity by an unbelievable amount, but it only lasted a few weeks. It's very fleeting."
But on the Grand Place, the revellers just wanted the politicians to let them enjoy themselves for a while. "In the national team, we have players from different backgrounds or cultures," one young fan, Emon, told Flanders News. "But at least they cooperate and play like a strong team. Our politicians could take a lesson from this."
Join our new commenting forum
Join thought-provoking conversations, follow other Independent readers and see their replies