Berlin attack: Fears for missing Israeli and Italian women as British victims among dozens injured in lorry massacre
Foreign Office says it is assisting at least two British families affected by atrocity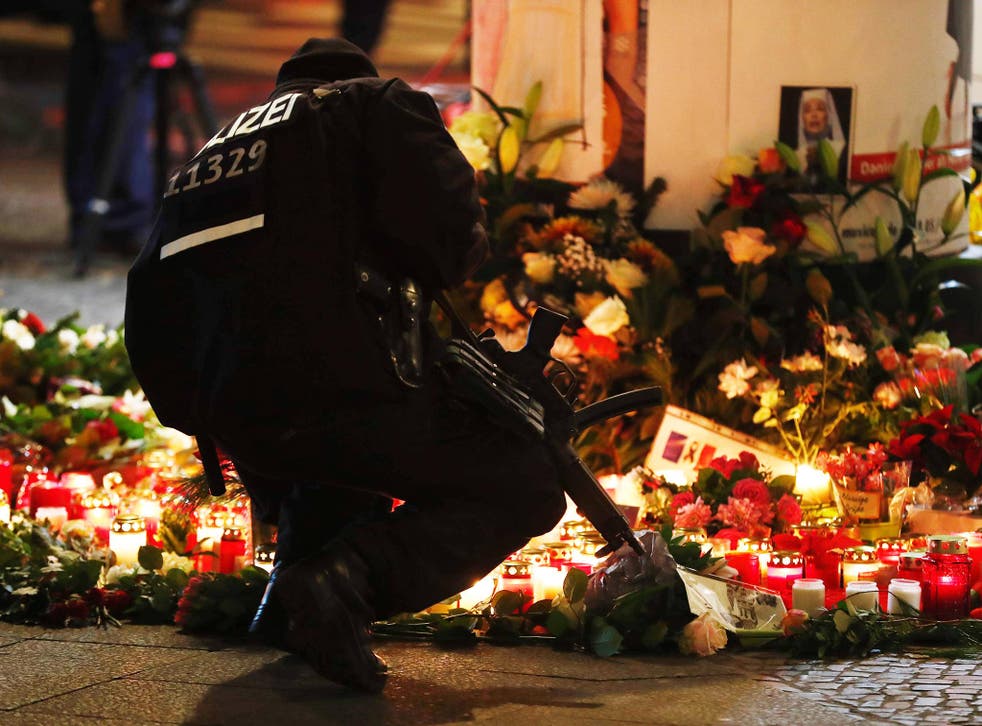 Two women from Israel and Italy are among those feared killed in the Berlin lorry attack as families continue a harrowing wait to find out if their loved ones are among the dead and injured.
Only six out of 12 victims of the massacre at a German Christmas market have been formally identified, officials said, with around 50 others injured in the rampage.
They were all German nationals but the bustling market in Breitscheidplatz was also packed with tourists and foreign residents of Berlin when the lorry ploughed into crowds.
Islamic State claims responsibility for Berlin truck attack
At least two British people needed medical treatment for shock and minor wounds and the Government said it was offering assistance to affected families.
Israel's foreign ministry said a tourist who was seriously wounded in the attack had reported his wife missing.
Spokesman Emmanuel Nahshon said the man was in stable condition in hospital following surgery and Israeli officials were in touch "day and night" with German authorities to try to find his wife. The couple had been in Berlin on holiday, with their relatives flying into Germany on Tuesday.
An Italian woman living in the German capital was also feared to be among the victims. Fabrizia Di Lorenzo, 31, has not been heard from since the atrocity, and it is understood her phone and transport pass were found at the scene.
Almost 50 people were injured in the rampage, with many remaining in hospital undergoing treatment.
Berlin Christmas market lorry attack

Show all 18
Inaki Ellakuria, a Spanish student who need surgery for a broken leg after the attack, described how the lorry "came fast, too fast to be driving off the road accidentally".
"It swept me under and ran over both of my legs," he tweeted in the aftermath of the massacre.
Several British tourists are believed to have been present at the market during the attack, although the Foreign and Commonwealth Office said it was in contact with at least two families affected.
"Earlier today, German officials informed us that two British nationals had received medical attention for shock and minor injuries and were discharged a short time later," a spokesperson told The Independent.
"We stand ready to provide assistance to any more British nationals caught up in the attack. We continue to advise any British nationals in the area to remain vigilant and follow the advice of local authorities."
The Government's updated travel advice warns of a "high threat from terrorism" in Berlin, with increased security around public buildings, tourist attractions and events.
The lorry attacker remains at large after fleeing the scene on foot after hijacking the lorry and shooting its Polish driver dead following a fight for control.
Prosecutors were offering a €100,000 (£84,000) reward for information leading to the arrest of a Tunisian suspect named as 24-year-old Anis Amri, who was described as "armed and dangerous".
"There may be increased security in place over the Christmas and New Year period, including at Christmas markets and other major events that might attract large crowds," it said.
Isis claimed responsibility for the massacre on Tuesday evening, calling the perpetrator a "soldier of the Islamic State" who was obeying calls to attack supporters of the US-led coalition launching air strikes on its territories in Syria and Iraq.
Angela Merkel was among hundreds of mourners who packed the Kaiser Wilhelm Memorial Church for a service next to the destroyed market on Tuesday evening and hundreds of people held an emotional vigil outside.
Flowers, candles and tributes have continued to pile up in Breitscheidplatz, with a second vigil held by the Brandenburg Gate tonight as Germany mourns its worst ever Islamist terror attack.
A minute's silence was held at the service, which was coordinated with other German cities including Munich, Hamburg and Frankfurt.
Michael Müller, the mayor of Berlin, said it was "good to see Berliners aren't being intimidated" as festive events continued under the watchful eye of armed police. "I don't think there's any need to be afraid," he told ZDF television. "The police presence has been significantly heightened and of course other measures are being taken to find the perpetrator quickly."
Mr Müller said security would be increased in the German capital but that measures must be "appropriate" and not constrain everyday life. "It wouldn't be our free and open life any more if we escalated security measures so much that people worry about going anywhere, that there are strict entry checks," he said.
His comments came as Germany's cabinet approved a draft law to broaden video surveillance in public and commercial areas, a measure agreed by political parties last month after violent attacks and sexual assaults on women.
Anyone concerned for the welfare of a friend or relative can call a dedicated German police line on +49 30 540 23 111. Anyone with information on the attack is asked to call +49 30 540 24 111.
Register for free to continue reading
Registration is a free and easy way to support our truly independent journalism
By registering, you will also enjoy limited access to Premium articles, exclusive newsletters, commenting, and virtual events with our leading journalists
Already have an account? sign in
Register for free to continue reading
Registration is a free and easy way to support our truly independent journalism
By registering, you will also enjoy limited access to Premium articles, exclusive newsletters, commenting, and virtual events with our leading journalists
Already have an account? sign in
Join our new commenting forum
Join thought-provoking conversations, follow other Independent readers and see their replies