Boris Johnson wants 'jumbo trade deal' between UK and Turkey as he signals support for country's bid to join EU
The Foreign Secretary says he is 'amazed' his poem about Turkey's president was not mentioned during their meeting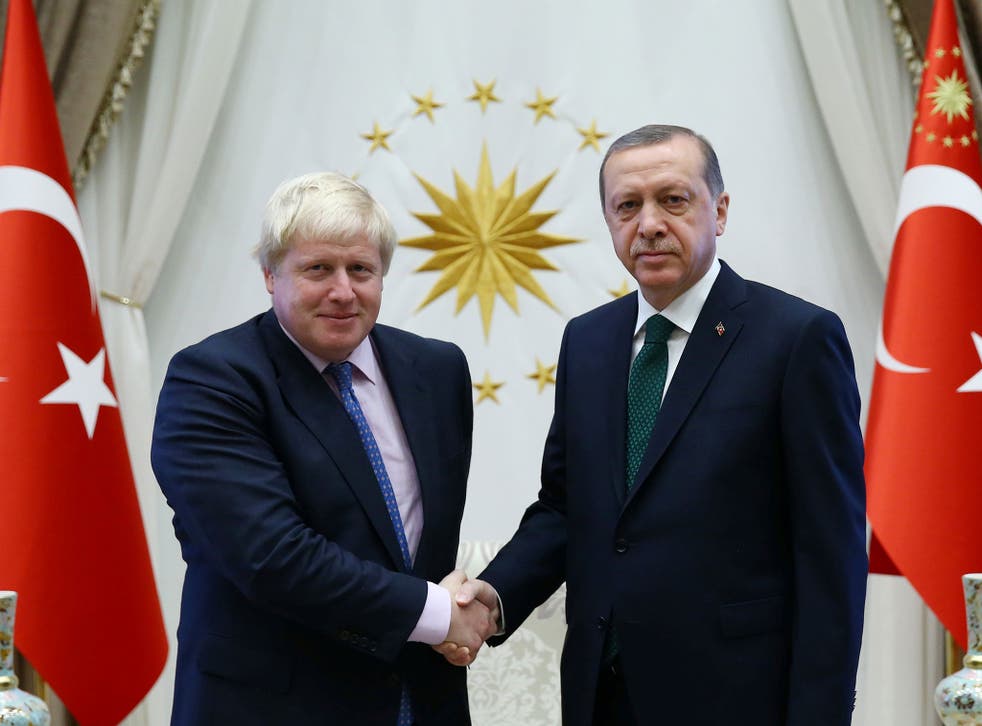 Boris Johnson was "amazed" and "delighted" that a poem he wrote about Turkey's leader Recep Tayyip Erdogan with references to a goat and fornication was not brought up during his first trip to the country as Britain's Foreign Secretary.
His hosts had also, it was claimed, forgiven him for playing the "Muslim Card" during the Brexit campaign when he was accused of endorsing scare stories about millions of Turks coming into Europe through visa-free travel if it joins the European Union.
Mr Johnson's doggerel containing the line, "there was a young fellow from Ankara, who was a terrific w***erer", won the first prize of a thousand pounds in a competition in The Spectator magazine for the poem most offensive about Turkey's controversial president. It led to furious protests at the time from Ankara and there were musings of what kind of reception he would get on a visit.
But asked at a press conference whether he would apologise about what he had written, the British Foreign Secretary claimed: "I am delighted to say that this has not come up at all in very long, and very, very important discussions we have been having. To my amazement it has not come up at all." He then quickly added: "Of course I knew it wouldn't come up, it's just trivia." A British official insisted afterwards that the "controversy over all that" has died down.
What is likely to lead to controversy, however, is the attempt by the Turkish government to get the UK to take action against the supporters of the US-based cleric, Fethullah Gulen, who officials claim was behind the attempted military coup two months ago. Mr Johnson has been provided with a list of Gulen-linked organisations based in the UK and he promised that the information will be studied back in London.
Opponents of the Erdogan government claim it has used the takeover bid to carry out a draconian crackdown in which thousands have been imprisoned on charges of being Gulenists. Turkey wants the US to extradite the cleric, who lives in Pennsylvania, but some American officials have expressed doubts privately that the evidence supplied by Ankara is strong enough for that to take place. Mr Gulen has denied any link to the coup.
Mr Johnson, who met President Erdogan along with other senior members of the cabinet, wanted to stress the blossoming trade relations between Turkey and Britain. He added: "What I hope for is a jumbo free-trade deal between the United Kingdom and Turkey." He avoided mentioning livestock, dwelling instead on washing machines, saying he was the "proud owner" of one made in Turkey. He added that he was also very glad that a Turkish company now owns the makers of Jaffa Cakes, a particular favourite of his while he was growing up.
Mevlut Cavusoglu, Turkey's foreign minister, said it was a matter of regret that the UK had chosen to leave the European Union, but "one must respect the democratic wishes of the British people". The EU affairs minister, Omer Celik, added there was also regret at the "anti-Turkish rhetoric" which had been used by the Leave campaign but that "we have to close this ugly parenthesis and look to the future".
Boris Johnson says Britain will help Tukey become a member of th EU 'in anyway possible'
Mr Johnson has declared that even after leaving the European Union, Britain would continue to support Turkey's bid to join the European Union. He did not explain what leverage London would have with Brussels on this, or address the issue of a Muslim state with a population of 80 million becoming a member, a prospect he and his fellow Brexiters had so publicly decried.
Mr Johnson's visit did, however, please the Turks on another issue. Ankara has been critical of the West for failing to offer enough support, as they see it, during the failed coup in July and its aftermath. It had complained that western countries had focused too much, instead, on questioning the punitive measures which were taken on those who allegedly planned and carried out the uprising.
Ismail Kahraman, the parliamentary speaker, said: "Some of our friends are taking strange stances. We expected stronger support from EU countries. They have been talking about human rights, but they should also have said much more about defending democracy.
"We have now started receiving official visits, although a bit delayed. We show our foreign friends the damage done by the terrorists behind the coup; how they attacked our parliament. How would Europeans feel if a section of their army used tanks and guns paid for by taxpayers to attack their parliaments? We will show Mr Johnson what they tried to do here, the terrorist acts which were carried out."
The damage to the parliament building, caused by air strikes from F-16 jets and helicopter-gunships, is being repaired. There are suggestions that part of the destruction should be preserved as a memorial to the more than 300 people killed across Turkey in the violence. Showing The Independent around the site, which has been closed to the public since attack, guide Ertugral Akay said: "I have been doing this job for 10 years and I never thought that I'd see out parliament like this. I have shown around 15 delegations of foreign politicians so far and they have been shocked. I am sure that Boris Johnson will also see what we had to face and understand."
Minister Celik also felt that the British Foreign Secretary would be sympathetic towards Turkey, not least because of his "Ottoman" ancestry. Mr Johnson's paternal great-grandfather, Ali Kemal, came from the province of Cankiri.
Mr Johnson played up the Turkish link at the press conference, pointing out that he has a cousin, Selim, who is in the country's diplomatic service. However, Selim Kuneralp, the diplomat cousin, is less that impressed by Mr Johnson's politics over Brexit – a "little Englander" attitude as he called it. Under the policy the British Foreign Secretary now espouses, he pointed out, "his own grandfather would not have been able to go to the UK".
Some others among Mr Johnson's relations were more laudatory. At the ancestral village of Kalfat there were plans, said the headman, to sacrifice "many sheep" in Mr Johnson's honour, if he paid a visit. "We will give him the complete red carpet treatment if he came," added Adem Karaagac. "It's a small village and many of the people are distantly related. Even my wife is somehow related to Boris, I am not sure of the exact connection though. I have also noticed on television that his mannerisms and body movements also strongly resemble those of the people in our village. There are quite a few here with blond hair and pale skin."
Despite being in a remote location Mr Johnson's distant relatives say they they have been avidly following his political career. "Our Boris was ready to be Prime Minister. But now he can gain more experience as Foreign Minister before becoming Prime Minister," was Mr Karaagac's analysis
Join our new commenting forum
Join thought-provoking conversations, follow other Independent readers and see their replies