Brussels Airport reopening: First flights to depart on Sunday amid tightened security measures after Isis attacks
Officials said the airport would gradually work back up to its maximum capacity as repairs continue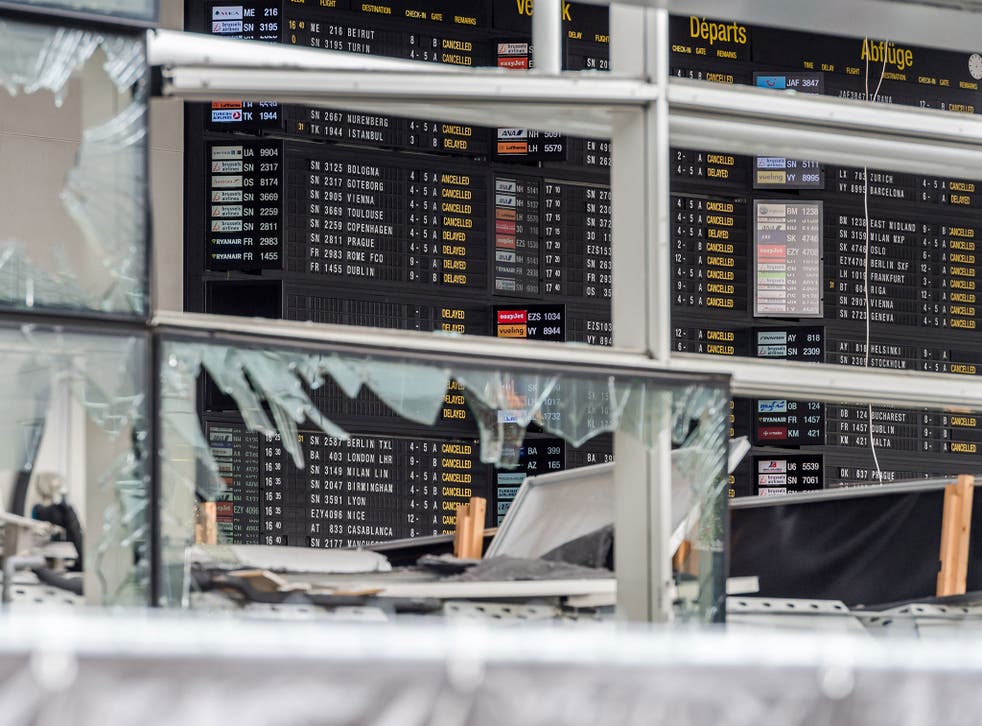 Brussels Airport is set to open the first time since Isis suicide bombings ripped through the departure terminal.
Extra security measures will be in place for the departure of three flights on Sunday and authorities hope to increase plane traffic gradually over the following days.
Arnaud Feist, CEO of the Brussels Airport Company, expressed his thanks to staff for returning to work less than two weeks after the 22 March attacks.
"These flights are the first hopeful sign from an airport that is standing tall after a cowardly attack," he added.
"That we are able to make this start only 12 days after the devastating attacks is a sign of our collective strength."
While demolition works continue at the damaged departure hall, where two Isis militants detonated suitcase bombs, a temporary check-in area will be used.
Three "symbolic" Brussels Airlines flights will take off for Faro, in Portugal, Turin, in Italy, and Athens in Greece throughout the day.
Officials then plan to increase traffic to the airport's current maximum capacity of 800 departing passengers an hour.
In pictures: Terror attacks at Brussels airport

Show all 30
Airport managers did not specify which airlines were slated to return but Mr Feist said he was aware that not all companies "can or want to" use Zaventem again.
Praising airport staff and emergency services, he said he had the "deepest respect" for everyone at the scene of the attacks.
"I have also seen much courage, pride for Brussels Airport and persistence is being shown by everybody," Mr Feist added.
"That makes me very hopeful for the future of our airport and convinces me that we will emerge stronger than ever from this crisis."
Reconstruction is due to start in the departure hall over the coming weeks, with repairs hoped to be complete before the start of the school summer holidays.
A new security cordon has been brought in around the terminal, which can only be reached by car or taxi as bus and train services remain suspended.
Passengers are being asked to arrive at least three hours before their flight in preparation for scans outside the airport building, and only travellers carrying their passports and travel documents will be allowed inside.
The precautions were settled as part of a deal between unions and the government after police employees demanded metal detectors, body scanners and x-ray machines for external screenings.
Twin explosions killed 16 people at Brussels Airport, little over an hour before another blast ripped through Maelbeek Metro station.
Thirty-two victims and three suicide bombers died in the attacks, which were claimed by Isis.
A man caught on CCTV with the two airport attackers has not been identified and remains at large.
Join our new commenting forum
Join thought-provoking conversations, follow other Independent readers and see their replies