Brussels attacks show security lapses in check-in and arrivals zones of western European airports
No routine checks are made on flow of people into the pre-security departures area or the arrival area
Simon Calder
Travel Correspondent
Tuesday 22 March 2016 22:07 Comments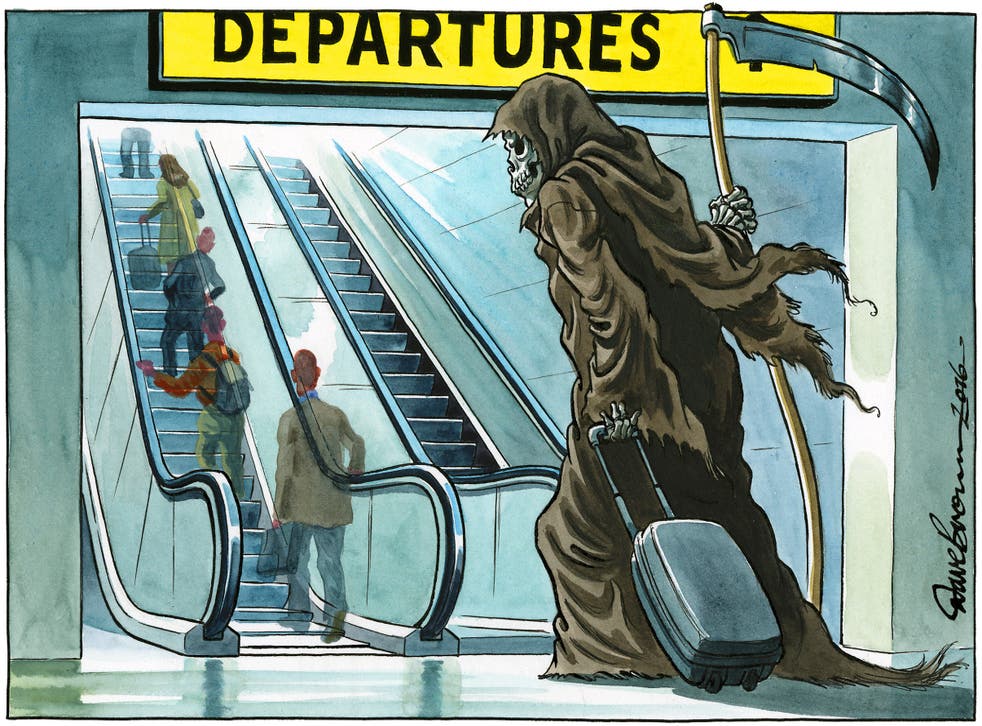 In time, "22/3" will be seen as a date with far-reaching consequences for travellers - and the industry that depends upon them. The bomb attack at Brussels airport struck at the weak point of aviation security: "landside". Huge amounts of resources are poured into prevented aircraft bombings and hijackings by keeping the "airside" area sterile - preventing passengers taking anything onto an aircraft that could threaten its safety. But there is nothing secure about the check-in and arrivals zones of western European airports.
No routine checks are made on flow of people into the pre-security departures area or the arrival area. Airports are naturally places full of people with luggage - which, from a terrorist's perspective, signifies both an opportunity and a target. Bringing guns or explosives into a modern, open western European airport such as Brussels is all too easy.
The statements issued by Britain's two biggest airports in the wake of the Brussels airport attack inadvertently hint at the vulnerability of 21st-century aviation.
Heathrow said: "In the light of events in Brussels airport, we are working with the police at Heathrow who are providing a high-visibility presence." Its rival said: "As a result of the terrible incidents in Brussels, there will be increased police and security patrols in and around Gatwick Airport."
But the feeling within the aviation security community is that these moves are mainly cosmetic: while they might reassure passengers, they do little to reduce the risks.
Governments across Europe are looking urgently at the implications of the attack on Brussels airport, and some countries may direct airports significantly to harden their security - including, crucially, the screening of passengers and their belongings before they are allowed into the check-in area.
Cities that have suffered multiple terrorist attacks, such as Istanbul, Nairobi and Bombay, already screen passengers and their baggage before entering the main terminal building.
The problem for European airports - especially crowded and constrained hubs such as Heathrow, Gatwick, Amsterdam and Paris Charles de Gaulle - is that significant remodelling would be needed to allow that to happen.
In the short term there are likely to be random checks on passengers and other airport users. Long term, more radical solutions will need to be found.
But ACI Europe, representing airports across the continent, warned: "The possible adoption of additional security measures such as checks on persons and goods entering airport landside spaces could be disruptive and actually create new security vulnerabilities. By displacing the gathering of passengers and airport visitors to spaces not designed for that purpose, such measures would essentially be moving the target rather than securing it."
Europe on high alert after Brussels attacks
The addition of yet another layer of security would make the flying experience even more stressful, and is likely to diminish further the appetite for aviation.
Globally, the effect of the Brussels attacks is likely to lead some prospective tourists from outside Europe to cancel their travel plans, and cause a slump in inbound tourism.
Four hours after the first bomb exploded at the Belgian capital's airport, Australia's government told its citizens: "We recommend you reconsider your need to travel to Belgium at this time." For a friendly power to urge its citizens to stay away from a modern, western European nation is an indication of the magnitude of effect of this morning's attacks.
In pictures: Terror attacks at Brussels airport

Show all 30
Brussels Airlines, the main carrier to and from the Belgian capital's Zaventem airport, has cancelled all its flights on 23 March; affected passengers can get a full refund or re-book for flights up to the end of June.
The airport management says it will be opening for a restricted flight programme from 24 March onwards. However, services will be far from normal because a significant proportion of the landside facilities are unusable. Security will be extremely strict, with only ticketed passengers allowed access.
British Airways says passengers travelling from or to the Belgian capital between Thursday 24 March and Tuesday 29 March can postpone their journey without penalty.
Eurostar cancelled train services between London St Pancras and Brussels Midi for most of the day, and restarted a limited service on the evening of 22 March. It plans a full service on 23 March, but warns passengers should allow an hour for check-in.
Register for free to continue reading
Registration is a free and easy way to support our truly independent journalism
By registering, you will also enjoy limited access to Premium articles, exclusive newsletters, commenting, and virtual events with our leading journalists
Already have an account? sign in
Join our new commenting forum
Join thought-provoking conversations, follow other Independent readers and see their replies