Calais' migrant shanty town to be provided with water and electricity by French government
Plan for 'New Jungle' likely to anger British Government, 13 years after Sangatte's closure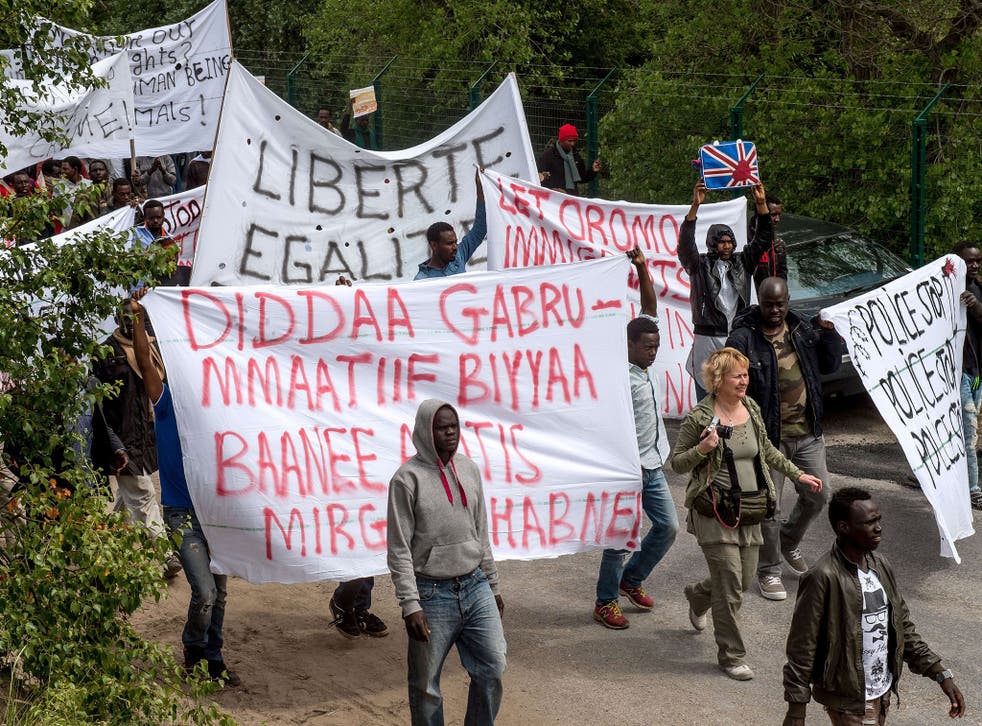 The French government is to make a migrant shanty town near Calais "official" with plans for investment in its infrastructure.
Electricity, water, toilets and pre-fabricated shelters are to be installed in the "New Jungle", an area of scrubland near the Channel port where 3,000 migrants seeking to enter Britain illegally live in tents and makeshift huts.
The €500,000 (£360,000) project is a response to criticism from the United Nations and aid groups who recently described conditions in the New Jungle, to where police have encouraged migrants to move, as an "intolerable humanitarian scandal".
The camp will be the first officially authorised and equipped campsite in the Calais area for male asylum-seekers since the Red Cross camp at Sangatte was closed in December 2002. A shelter for the relatively small number of migrant women and children opened earlier this year.
Tensions in Calais between migrants and local people – and between migrants of different nationalities – have risen to boiling point in recent weeks. Calais police confirmed at the weekend that they were seeking a gang of men who had attacked several migrants and beaten them with iron bars.
Investigators have said they are uncertain whether the attackers were local residents or "people traffickers" pursuing vendettas between the competing nationalities of asylum-seekers. In recent weeks there have been fights in the New Jungle between various migrant groups as well as scuffles near the ferry port as massed groups of asylum-seekers tried to storm Britain-bound lorries.
Shaven-headed members of a far-right group called Sauvons Calais (Let's Save Calais) demonstrated in the town last Saturday. The protesters carried a banner reading: "Calais, a clean town dirtied by immigration."
There was also a counter-demonstration by migrants and local people who assist asylum-seekers.
The number of migrants in the Calais area has jumped from 2,000 to an estimated 3,000 since the start of the year. Many are Syrians, Eritreans, Ethiopians and Afghans who have already made the perilous crossing of the Mediterranean from Libya to Italy. Many of the migrants are children, some of whom are unaccompanied.
Aid workers warned over the weekend that necessities such as food and blankets were becoming scarce, as the number of people in need of assistance has risen sharply in the past six weeks.
The French government's decision to provide basic facilities for migrants in the New Jungle, a 40-acre stretch of wasteland and dunes three miles north of the town, may irritate the British Government and anti-immigration groups in the UK.
Since the closure of Sangatte, Britain has objected to any development in the Calais area which could be interpreted as a "magnet" for UK-bound migrants or a base-camp for repeated attempts to cross the Channel illegally.
French officials said that they had no choice but to respond to the increase in migrant numbers in and around Calais and the criticism from the UN and other human rights groups.
France's housing minister, Sylvia Pinel, said: "There are nearly 3,000 people living in an unacceptable and unhealthy way on this wasteland… We have to take steps to improve their conditions."
Over the past year, French police have systematically cleared other squatter camps in the Calais area and directed migrants towards the wasteland beside an industrial site. This patch of land – dubbed the "New Jungle" or "Jungle 2" after a large camp cleared five years ago – is close to an official health centre for migrants and a shelter for women and children opened in March.
A local group that helps asylum-seekers, L'Auberge des Migrants, accused the authorities last month of creating a "government-sanctioned slum" without water, toilets or lighting.
The French government has now authorised the town of Calais to spend half a million euros on running water, street lighting, public toilets and pre-fabricated huts. Aid workers will be employed to run the site.
The move is part of a broader plan to create 10,500 more permanent lodgings for asylum-seekers in other parts of France. Places will be available, in theory, to the migrants in Calais, those piling up in Paris and people on the Franco-Italian border.
Register for free to continue reading
Registration is a free and easy way to support our truly independent journalism
By registering, you will also enjoy limited access to Premium articles, exclusive newsletters, commenting, and virtual events with our leading journalists
Already have an account? sign in
Register for free to continue reading
Registration is a free and easy way to support our truly independent journalism
By registering, you will also enjoy limited access to Premium articles, exclusive newsletters, commenting, and virtual events with our leading journalists
Already have an account? sign in
Join our new commenting forum
Join thought-provoking conversations, follow other Independent readers and see their replies