Blue Sky M cargo ship was laden with 1,000 migrants, no crew – and was programmed to crash into the Italian coast
At least 100 other passengers were treated for hypothermia in Italy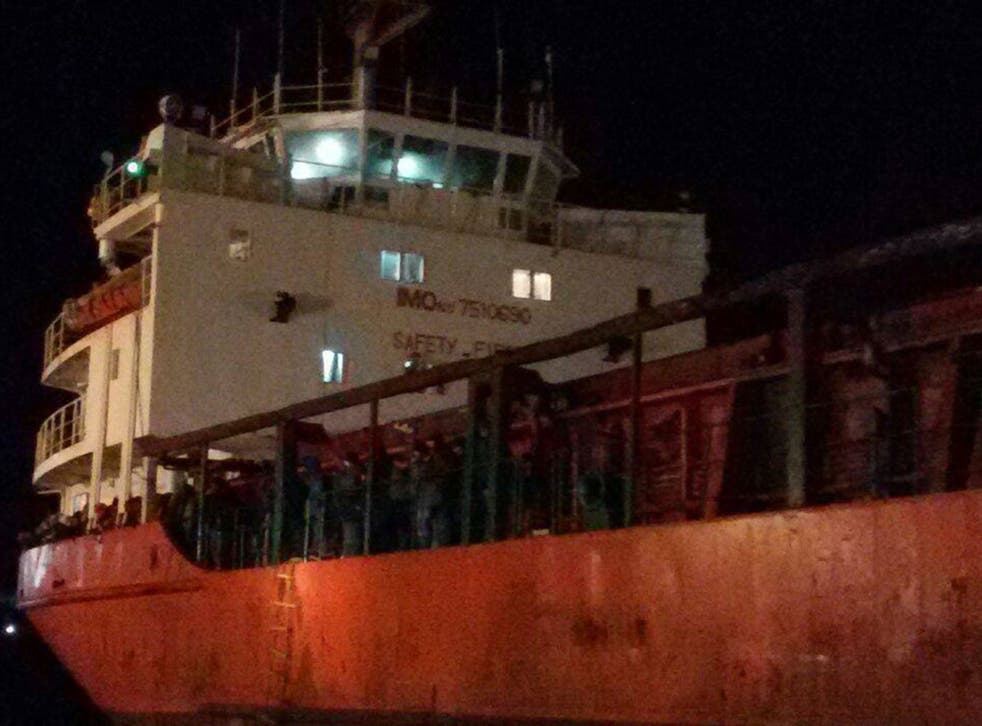 A cargo ship carrying hundreds of migrants had been abandoned by the crew and put it on course to be wrecked on the Italian coast before it was rescued.
Almost 1,000 migrants, possibly Syrian and Kurdish refugees, were taken off the Blue Sky M to safety overnight after coast guards moored it in Gallipoli. More than 100 people had to be treated for hypothermia.
The Italian coast guard said 970 migrants were on board the ship, mostly believed to be Syrians fleeing the country's ongoing civil war and the advance of Isis.
Photos posted online by the Italian Red Cross showed paramedics and ambulance crews crowding on the dockside waiting for the ship as crowds of people lined the deck.
Greek and Italian authorities tailed the ship after a distress call was received on Tuesday afternoon as it sailed off the coast of Corfu, in the same area where a fire on the Norman Atlantic ferry resulted in the deaths of at least 13 people.
A passenger reportedly said people on board were without water, food and blankets, causing Greek authorities to scramble a navy frigate and helicopter.
But when the coast guard contacted the captain, he told them the vessel wasn't in distress and didn't require assistance.
The Marine Traffic tracking website had listed the Moldovan-flagged ship's last known port as Korfez, Turkey, and its destination as Croatia, but its record of the ship's movements showed a sharp turn to the west, towards Italy, around the time the distress call was made.
As it neared Santa Maria di Leuca, on the country's southernmost tip, port authorities dispatched two helicopters as a precaution and boarded the ship with a team of six coast guard officials.
Commander Filippo Marini, a spokesperson for the coast guard, said the team took control of the ship after realising there was no crew to be found.
The Italians "avoided disaster" by interrupting the programmed route that would have had the ship crash into shore, he said. The motor had also been blocked.
Tens of thousands of migrants and refugees, most fleeing conflict or poverty in the Middle East, Africa and Asia, attempt to reach Europe each year on boats to Italy or Greece.
Smugglers who organise the trips are known to deliberately abandon ship to avoid arrest and countless migrants have died in sinkings and shipwrecks in recent years.
Additional reporting by agencies
Join our new commenting forum
Join thought-provoking conversations, follow other Independent readers and see their replies