'This case is nonsense': Defiant anti-corruption blogger Alexei Navalny goes on trial as Vladimir Putin brings his biggest critic to the dock – in Russia's dissident heartland
Anti-corruption activist faces 10 years in jail if found guilty of embezzlement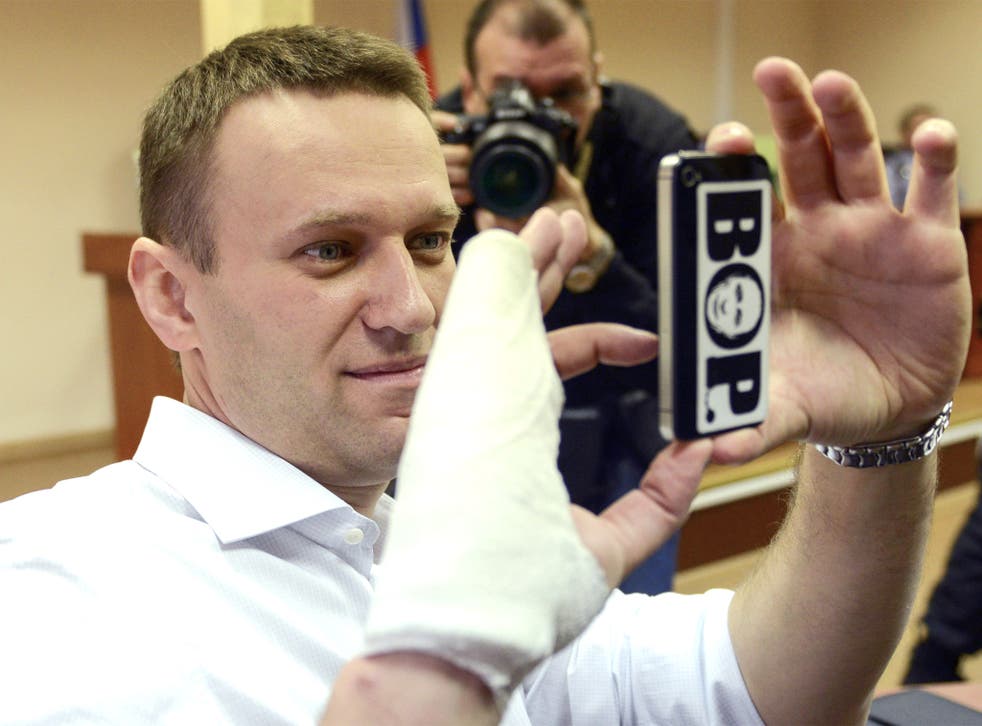 It is a trial that his supporters hope will one day be seen as a pivotal moment in Russian history, but many people here in Kirov do not even know that it is taking place. In the dock is Alexei Navalny, the charismatic anti-corruption blogger who has become the most high-profile critic of President Vladimir Putin. Mr Navalny is accused of embezzling £330,000 while acting as an adviser to a local timber company in 2009. If found guilty, he could be jailed for up to ten years.
In a brief hearing this morning, Judge Sergei Blinov adjourned the case for a week to give Mr Navalny and his lawyers more time to get acquainted with the vast amount of case materials. Mr Blinov has never issued a not-guilty verdict in his career. "I'm not going to say the usual banal phrases: that I'm not guilty, that this whole case is fabricated," said Mr Navalny inside the courtroom. "I think anyone, even without a legal education, can read the case for themselves and see that it is nonsense."
Mr Navalny, who has said he wants to become president of Russia, arrived in Kirov 90 minutes before the hearing on an overnight train from Moscow, accompanied by several dozen supporters, activists and journalists. He was greeted by a small but boisterous crowd at Kirov train station, leading some to make comparisons with Vladimir Lenin, the Bolshevik leader who famously arrived in revolutionary St Petersburg by train in 1917.
There is a long way to go, however, before Mr Navalny's dreams of overthrowing the current Kremlin regime can be considered even vaguely plausible. He is a celebrity with a rock-star following among the young, internet-savvy generation in Moscow and other big cities, but out in the provinces he is an unknown. Many people in Kirov said they have never so much as heard of Mr Navalny, while others were vaguely aware of his existence but thought he might be an oligarch, or a corrupt local official. "I know that there is a case going on, but I prefer not to follow it, politics is a dirty business," said Eduard, a local interior designer. "We have a saying – the less you know, the better you sleep."
Kirov, a dilapidated provincial city of muddy potholed roads and crumbling buildings, was famous as a Tsarist-era place of exile for dissidents and revolutionaries. The satirical author Mikhail Saltykov-Shchedrin, known for his acerbic musings about the Tsarist regime, spent several years banished to the city in the 1850s, during which time he worked for the local governor in the building that now functions as the courthouse where Mr Navalny is standing trial.
Ahead of the trial, a small but dedicated band of Mr Navalny's followers has spent a week in Kirov attempting to drum up support for the activist among the locals, with only minor success. "About thirty per cent of people here have heard of him, and of those, only a few know the details of the case," says Nikolai Lyaskin, one of Mr Navalny's associates. "It's not a case of being pro-Putin or anti-Putin, people have just been put into a state where they simply don't care about politics and assume that everyone is cynical and corrupt. We are trying to tell them that here they have a chance to look at things for themselves and make up their own minds."
However, the majority of locals who passed the media scrum outside the court early this morning looked on in bemusement at the travelling circus of political passion. Shouts of "All for one and one for all!" and "Putin, resign!" were enthusiastically repeated by travelling activists but drew only bemused half-smiles from the majority of locals. Not everyone was indifferent, however. A group of portly babushkas working at the city's Trifonov Monastery confided that they were covert supporters of the blogger. "We're not supposed to say anything or we'll get in trouble," one of them said in a whisper. "But of course we know who he is, we have the internet! We support him!"
Around the corner from the courtroom, activists had set up a stand bearing the inscription "Putin is a thief", plastered with information about alleged corruption within Mr Putin's inner circle. Mr Navalny's investigations have proved embarrassing for the Kremlin on more than one occasion. Recently, a leading MP for Mr Putin's United Russia party, Vladimir Pekhtin, was forced to give up his parliamentary seat after an investigation by Mr Navalny's team uncovered over $2m of undeclared property that he owned in Florida. However, while Mr Navalny is now on trial, Mr Pekhtin has been handed a new job as a board member of RusHydro, the state hydroelectric company. A spokesman for Russia's Investigative Committee said last week that Mr Navalny's "teasing" of the government had meant that the case against him had been pursued with extra vigour.
Despite the lack of interest from many ordinary Russians, the case has caused dismay among the urban intelligentsia. Former Finance Minister and close Putin confidant Alexei Kudrin said that the case had no basis and would affect the investment climate in Russia. Writer and opposition activist Boris Akunin said jailing Mr Navalny would radicalise the opposition and cause the government serious problems. "[Putin] is revelling in his greatness and thinks he will live forever," wrote Mr Akunin on his blog today. "But he doesn't see anything, doesn't hear anything, doesn't understand anything."
Putin threat to sack officials
Video footage leaked online shows Vladimir Putin, the Russian President, threatening to sack senior officials at a meeting of ministers and governors.
The video was aired by LifeNews, a website with Kremlin links. Mr Putin said that efforts to deliver on promises to improve people's quality of life were behind schedule. If we don't do it, we will need to acknowledge that either I work inefficiently or you work badly and you will need to resign," he told the gathering. "I would like to draw your attention to the fact that I am currently inclined towards the second scenario," he said.
Shaun Walker
Join our new commenting forum
Join thought-provoking conversations, follow other Independent readers and see their replies