Catalan independence: PM Artur Mas criticised over decision to bring forward regional elections
The poll will be a substitute for last year's plans for an official referendum, but will mean Catalans voting three times in eight months
Alasdair Fotheringham
Thursday 15 January 2015 19:07 Comments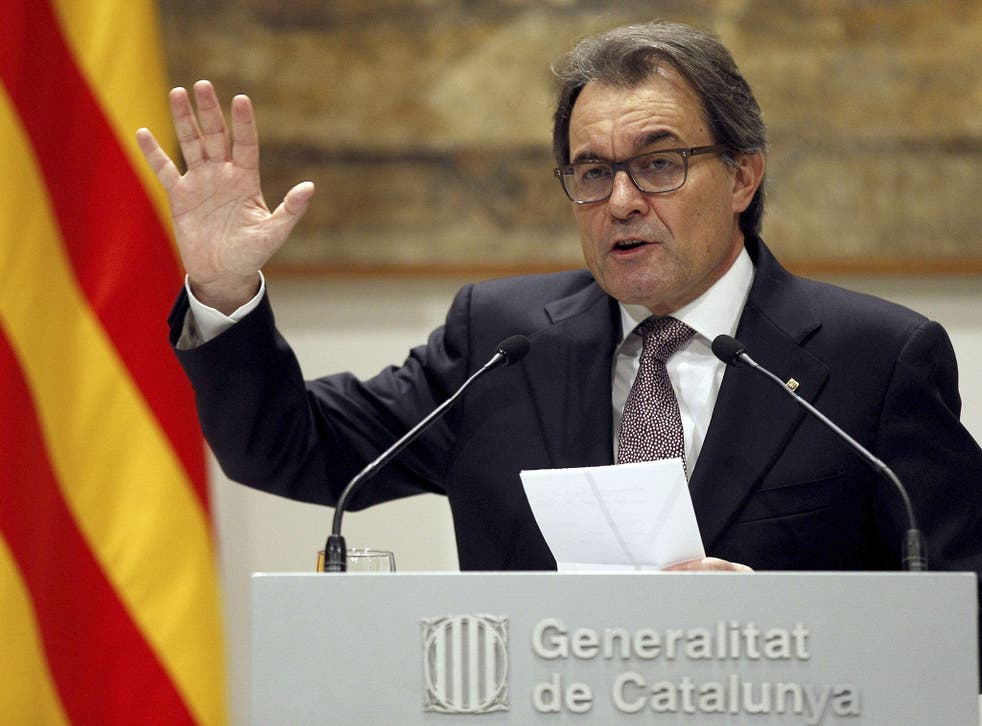 The Spanish Prime Minister, Mariano Rajoy, and other government ministers have launched a volley of criticisms against a decision by the Catalan Prime Minister, Artur Mas, to hold snap regional elections on 27 September, which nationalists say will centre on Catalonia's ongoing drive for independence.
"It is both the confirmation and the evidence of the failure of a particular policy that has generated only instability and uncertainty," Mr Rajoy, who strongly opposes Catalan separatism, said. Bringing forward the elections by more than a year, he fumed, "lacks any sense whatsoever", partly because it meant Catalans would vote three times in eight months – first in local elections in May, then the regional elections in September and finally in the national elections in December.
Mr Rajoy's comments were backed up today by the Spanish Interior Minister, Jorge Fernandez Diaz, who said that Mr Mas "should be there to govern, not to call elections". Even the Health Minister, Alfonso Alonso, managed a sideswipe at the Catalan Prime Minister's announcement of the regional elections in more than eight months' time, saying: "If he were a doctor and gave you an appointment in eight months, we'd have to stop employing him, and that's what I think the Catalans will do."
In pictures: Catalonia independence demonstrations in Spain

Show all 10
Mr Mas's announcement adds fresh fuel to the deeply divisive issue of Catalan independence, which enjoys an estimated 45 per cent support inside one of Spain's wealthiest regions. For Catalan nationalists the autumn regional elections will be a substitute for last year's plans for an official referendum on independence, which was finally suspended by the Spanish courts.
The association between the two is made stronger by Mr Mas's decision for the early election date to fall on 27 September, exactly one year after he signed off legislation for the referendum.
Following the original referendum's suspension by the courts, last November 2.2 million Catalan voters took part in an unofficial vote on secession, run by volunteers and dubbed a "participative process" to avoid Spain's legal radar.
Register for free to continue reading
Registration is a free and easy way to support our truly independent journalism
By registering, you will also enjoy limited access to Premium articles, exclusive newsletters, commenting, and virtual events with our leading journalists
Already have an account? sign in
Join our new commenting forum
Join thought-provoking conversations, follow other Independent readers and see their replies