Catalonia crisis: Spain jails eight sacked Catalan ministers
Move comes as Spanish prosecutors move for arrest warrant against disputed president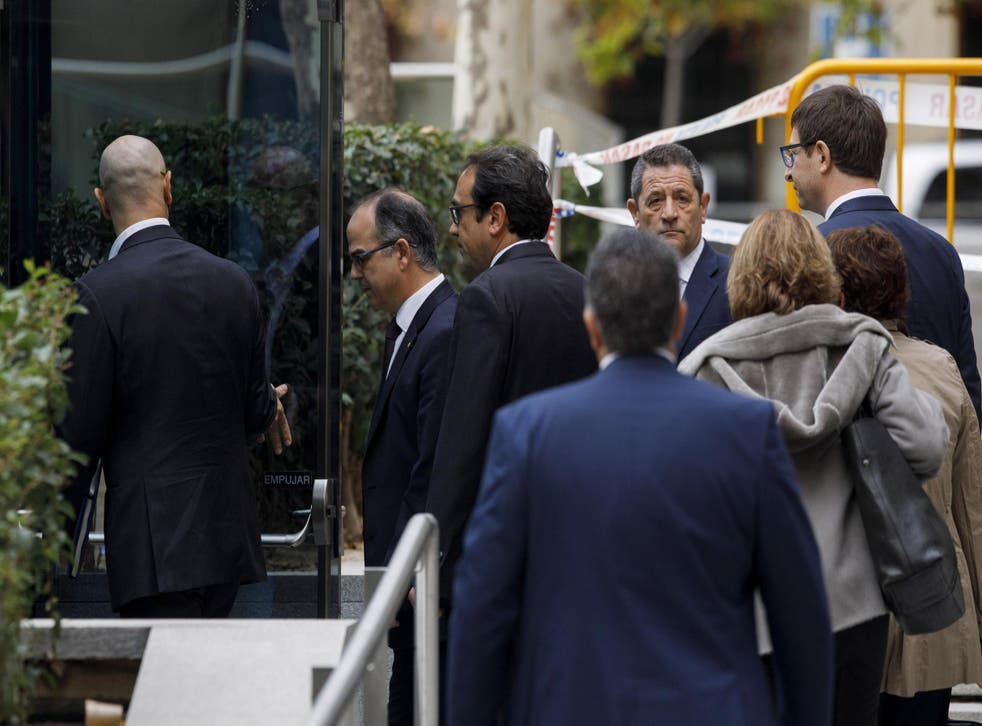 Eight sacked Catalan ministers have been jailed by a Spanish judge over their role in the region's declaration of independence.
The move comes as prosecutors ask judges to issue an international arrest warrant for Carles Puigdemont, the disputed Catalan president who fled to Brussels, as well as four other former ministers who did not show up to court on Thursday.
The former members of the regional government are accused of rebellion, sedition, and misuse of public funds. The crimes are punishable by 30 years in prison.
The region held an independence referendum on 1 October that was declared illegal under Spain's constitution. The Catalan parliament went on to declare independence, leading the Spanish state to revoke the region's autonomy, impose direct rule, and call new elections.
The National Court has been questioning ousted Catalan government members but a parallel Supreme Court session for six Catalan politicians was postponed for a week.
Twenty regional politicians, including fired regional government president Mr Puigdemont, were called to appear.
Speaking in Madrid on Thursday supreme court president Carlos Lesmes said: "When someone doesn't appear after being cited by a judge to testify, in Spain or any other EU country, normally an arrest warrant is issued."
In a statement the exiled Catalan government, which has had its powers suspended by Spanish authorities, denounced the "political trial" which it said was "without a legal basis that only seeks to punish ideas".
Mr Puigdemont said he and his colleagues would remain in Brussels "not to evade justice but to demand it", criticising the court's planned "disproportionate penalties equivalent to murder or terrorism".
He had spoken to a packed press conference in Brussels on Tuesday where he said the Spanish government was intent on seeking "vengeance" against him.
Though he has said he will not formally claim asylum in the country, the president has hired a Belgian lawyer with experience in resisting extradition attempts.
The lawyer, Paul Bekaert, told Spain's TV3 channel: "He will not go to Madrid and I have suggested that he be questioned here in Belgium."
Catalonia referendum protests – in pictures

Show all 10
The Madrid government has called snap Catalan regional elections for 21 December in order to elect a new Catalan parliament, after the current one voted to declare independence.
The Catalan separatists have said they will accept the result of the polls.
Register for free to continue reading
Registration is a free and easy way to support our truly independent journalism
By registering, you will also enjoy limited access to Premium articles, exclusive newsletters, commenting, and virtual events with our leading journalists
Already have an account? sign in
Join our new commenting forum
Join thought-provoking conversations, follow other Independent readers and see their replies