Catalonia warns police, teachers and firefighters will join civil disobedience against Spanish direct rule
Far-left party threatens 'massive civil disobedience'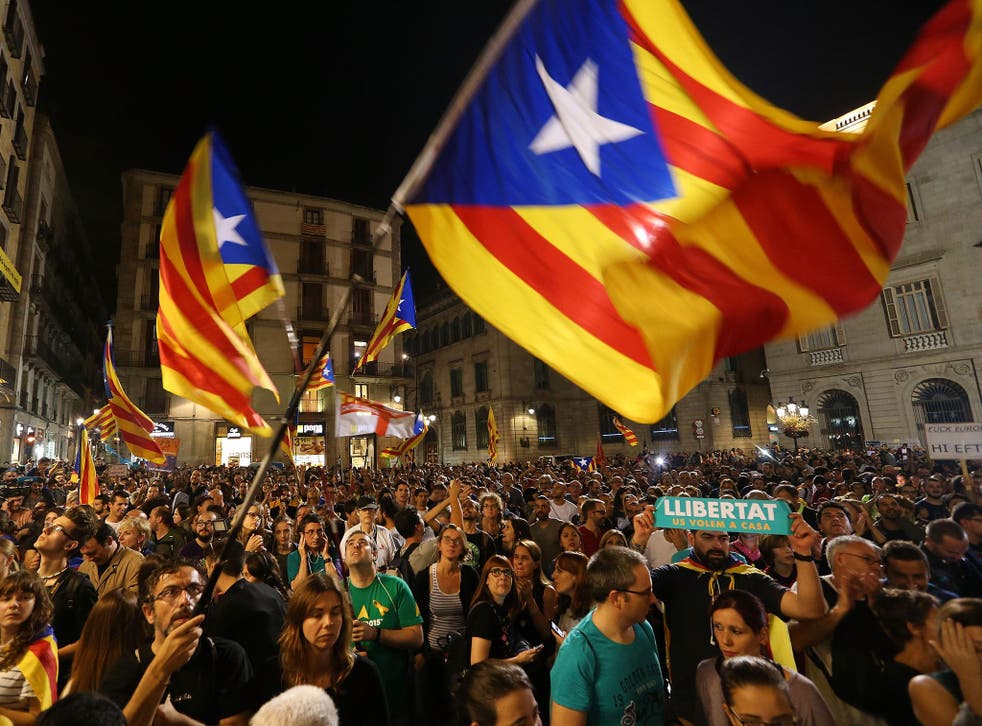 Catalonia has said it is confident police, firefighters and teachers will defy attempts by Madrid to enforce direct rule on the region.
The Spanish government has invoked special constitutional powers to fire the regional government and force elections to counter a push for independence, with a vote in the national Senate to implement direct rule due on Friday.
"It's not that we will refuse [orders]. It is not a personal decision. It is a seven million-person decision," Catalonia's foreign affairs chief Raul Romeva told BBC radio.
Mr Romeva was asked whether he believed all institutions, including the police, would follow orders from Catalan institutions rather than obey the Spanish government.
"I have no doubt that all civil servants in Catalonia will keep following the instructions provided by the elected and legitimate institutions that we have right now in place [in Catalonia]," he replied.
Catalan leader: Democratically deciding our future is not a crime
Civil disobedience has also been supported by the far-left Popular Unity Candidacy (CUP) party, a key supporter of Catalonia's pro-independence minority government in the regional parliament, which has called Madrid's actions the aggression against all Catalans since the dictatorship of General Francisco Franco.
"An aggression which will be met with massive civil disobedience," the CUP said in a statement.
Several hundred Catalan municipalities said they were against direct rule from Madrid and asked the Catalan parliament to vote on a motion rejecting it.
Separatists have said they are planning a human shield around the regional government's headquarters in Barcelona to block any attempts by Madrid to take control of the region, Bloomberg reports.
Catalonia independence referendum: Riot police clash with voters

Show all 17
Some teachers and firemen also said they would not recognise Spain's authority.
"We will not recognise as valid interlocutors those people who are not representatives of popular legitimacy," the teachers' union USTEC said in a statement.
"We will be where we should be in this moment: with the Catalan institutions and with democracy as it fights for its survival."
Pro-independence students also called for a strike in Catalan universities on Thursday to urge authorities to push ahead with a declaration of independence and defend the region's institutions.
Spain has said it would fire top Catalan officials if they did not comply with orders but it has remained vague on how it plans to implement direct rule if lower ranking civil servants decide not to follow instructions.
Around 4,000 national police who had been shipped in for the referendum have remained in Catalonia. This comes on top of 5,000 state police already based in the region.
They usually act as a back-up to Catalonia's own 17,000-strong police force, the Mossos d'Esquadra, though they have also been seen reinforcing security at some official buildings in Catalonia's capital Barcelona.
Catalan president Carles Puigdemont has called the Catalan parliament to meet this week to agree on a response to Madrid, something many observers said could pave the way for a formal declaration of independence.
Additional reporting by agencies
Join our new commenting forum
Join thought-provoking conversations, follow other Independent readers and see their replies