Paris attack: Charlie Hebdo cartoonist says gunmen threatened to kill her toddler daughter unless she let them into office
Corinne Rey punched in the office's entry code at gunpoint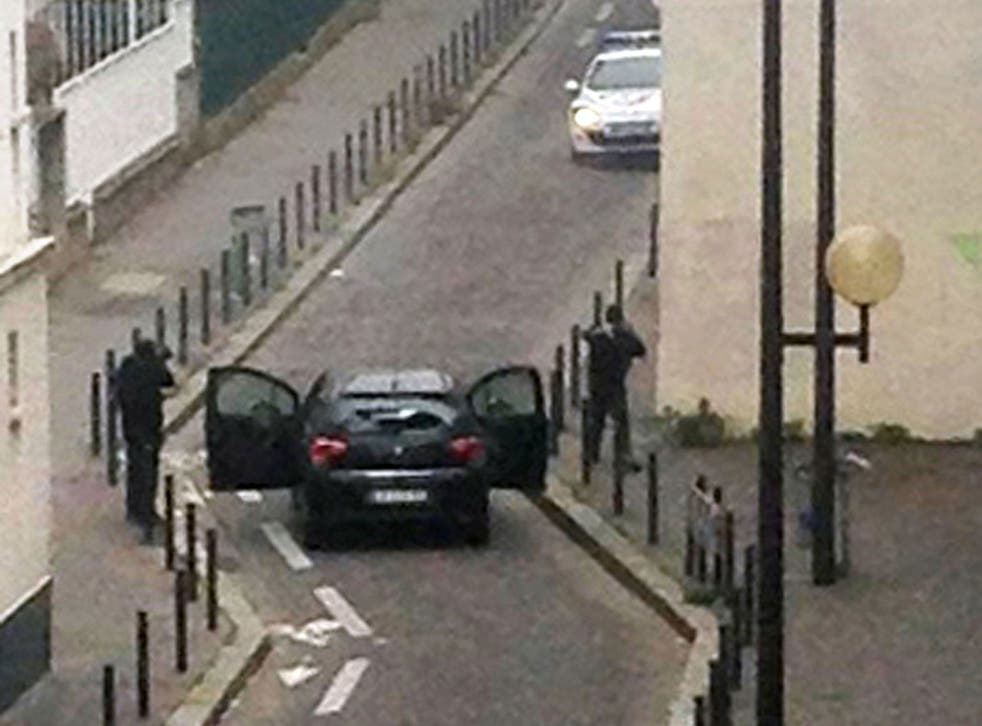 A Charlie Hebdo cartoonist has told how she was forced to let the gunmen that massacred her colleagues into the satirical magazine's office after they threatened to kill her daughter.
Corinne Rey, who draws under the name Cora, was on her way into work with the toddler when men armed with Kalashnikovs demanded she take them inside.
"I had gone to collect my daughter from nursery and as I arrived in front of the door of the paper's building two hooded and armed men threatened us," she told French newspaper L'Humanite.
"They wanted to go inside, to go upstairs. I entered the code."
The attackers killed a security guard in reception before going upstairs straight to the newsroom on the second floor, where they reportedly called the names of cartoonists before opening fire in an editorial meeting.
"They fired on Wolinski, Cabu...it lasted five minutes," Ms Rey said, adding that she and her daughter sheltered under a desk during the massacre.
Witnesses said they shouted "Allahu akbar" and claimed to be "avenging the Prophet Mohamed" in an apparent reference to the magazine's publication of controversial cartoons that led to previous threats and a firebombing attack in 2011.
The gunmen had spoken to Ms Rey in "perfect French" and claimed to be from al-Qaeda.
Eight journalists, a guest, a security guard and two police officers were killed, said Paris prosecutor Francois Molin. Eleven more were injured, including four who are in a critical condition.
Footage taken by terrified witnesses from windows and on rooftops overlooking the scene showed the terrorists shooting one of their victims, a police uniform at point-blank range as he lay injured on the pavement.
Prominent cartoonists Jean Cabut, the magazine's artistic director, Stephane Charbonnier, its editor, and Bernard "Tignous" Verlhac were among the dead.
French media reported that the attackers initially went to the wrong address, storming into nearby 6 Rue Nicolas Appert before realising their mistake.
In pictures: Charlie Hebdo shooting

Show all 25
After shouting "is this Charlie Hebdo?" and being told by terrified workers that it was not, they continued further down the road at number 10 to start the massacre.
The gunmen fled eastwards towards the Paris suburbs, dumping their car in a residential area, police said. They then hijacked another car before running over a pedestrian and disappearing.
President Francois Hollande gave a televised address tonight urging France to stay united as the hunt for the suspects continues.
He called the murdered cartoonists "heroes" of France and announced a national day of mourning on Thursday, with flags flying at half-mast for three days.
Additional reporting by agencies
Register for free to continue reading
Registration is a free and easy way to support our truly independent journalism
By registering, you will also enjoy limited access to Premium articles, exclusive newsletters, commenting, and virtual events with our leading journalists
Already have an account? sign in
Register for free to continue reading
Registration is a free and easy way to support our truly independent journalism
By registering, you will also enjoy limited access to Premium articles, exclusive newsletters, commenting, and virtual events with our leading journalists
Already have an account? sign in
Join our new commenting forum
Join thought-provoking conversations, follow other Independent readers and see their replies