Charlie Hebdo attack victims: Tributes paid to the 10 journalists killed by gunmen in Paris
There were reports that the attackers called out cartoonists' names before killing them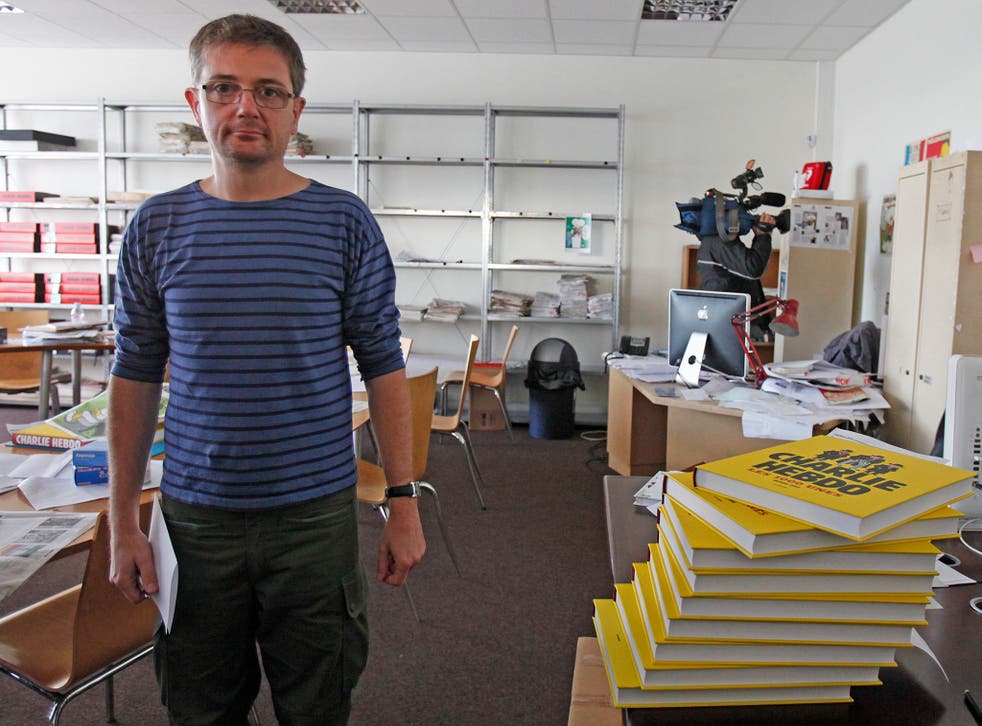 Charlie Hebdo's editor and chief cartoonist was among the 12 people killed in an attack on the French satirical newspaper's Paris offices today.
Masked gunmen opened fire during a morning editorial meeting, where Stéphane Charbonnier's police bodyguard was murdered beside him, before killing another police officer as they fled the building.
The men shouted "Allahu akbar!" as they launched the attack, witnesses said, and one shouted that they had "avenged the Prophet Mohamed" in an apparent reference to controversial cartoons the satirical weekly had carried depicting the Muslim prophet.
The suspects abandoned their car and escaped, Paris police said, and a huge manhunt is underway to track them down.
Tributes are flooding in for the extremists' 12 victims, whose names have not all been officially confirmed.
Here are profiles of those named so far.
Stéphane Charbonnier
Known as "Charb", the 47-year-old was reportedly the main target of the attack as the newspaper's editor and chief cartoonist.
He started editing Charlie Hebdo in 2009 after working for French publications including L'Écho des savanes, Télérama, Fluide glacial and L'Humanité.
Two of his best-known recurring characters were Maurice and Patapon, an anti-capitalist cat and dog that featured in irreverent cartoons.
His work in Charlie Hebdo appeared under the title Charb n'aime pas les gens (Charb doesn't like people).
Mr Charbonnier was put under police protection in November 2011 after the newspaper was firebombed by extremists before the release of its Sharia Hebdo issue, which featured the Prophet Mohamed satirically as its guest editor.
In September 2012, a man was arrested in La Rochelle, France, for allegedly calling for him to be beheaded on the internet and Charb was reportedly put on Al-Qaeda's most-wanted list in 2013 after editing an edition that satirised the Muslim Prophet.
Charb had previously defended a controversial series of cartoons depicting the Prophet Mohamed in 2012, saying: "Mohamed isn't sacred to me. I don't blame Muslims for not laughing at our drawings. I live under French law. I don't live under Koranic law."
Jean Cabut
"Cabu", 76, was a veteran of several French newspapers and reportedly the highest paid cartoonist in the world.
He studied art at Paris' École Estienne in Paris before a local newspaper published his drawings in 1954, starting his long career.
Even while fighting as a conscript in the Algerian War, he reportedly kept drawing for the army magazine Bled and in Paris-Match.
After two years in the army he was allowed to leave and became one of the founders of Hara-Kiri magazine, which evolved into Charlie Hebdo.
His career took off in the 1970s and '80s, when he worked on a famous French children's television programme as well as having his drawings published in Charlie Hebdo another French satirical paper, Le Canard enchaîné.
Cabu is particularly famed for his character Mon Beauf, whose caricature was so popular that the name slipped into popular use to describe a racist, sexist or vulgar Frenchman.
He was the artist behind the February 2006 cartoon that appeared on Charlie Hebdo's cover depicting the Prophet Mohamed.
In response to the Danish cartoons affair, it depicted the Prophet with the caption "Mohamed overwhelmed by fundamentalists".
Georges Wolinski
Mr Wolinski, 80, was born in French Tunisia to Jewish parents of Polish and Tunisian descent and studied architecture in Paris before discovering his love for drawing.
He started contributing to Cabu's Hara-Kiri magazine in 1960 with political and saucy cartoons and comic strips.
During France's student revolts of May 1968, he co-founded the satirical magazine L'Enragé with Maurice Sinet or Siné, another famous French cartoonist.
As well as Charlie Hebdo, his work appeared in newspaper Liberation, weekly Paris-Match and L'Écho des savanes.
Bernard Verlhac
Known as Tignous, the 58-year-old's drawings had appeared in Charlie Hebdo , of Marianne and Fluide glacial.
Bernard Maris
The economist and writer was among those killed, according to the AFP news agency.
In pictures: Reaction to Charlie Hebdo attack

Show all 39
Additional reporting by agencies
Join our new commenting forum
Join thought-provoking conversations, follow other Independent readers and see their replies