Charlie Hebdo: Brother of killed Algerian police officer says 'do not mix up extremists with Muslims'
The family are mourning Mr Merabet's 'barbaric' death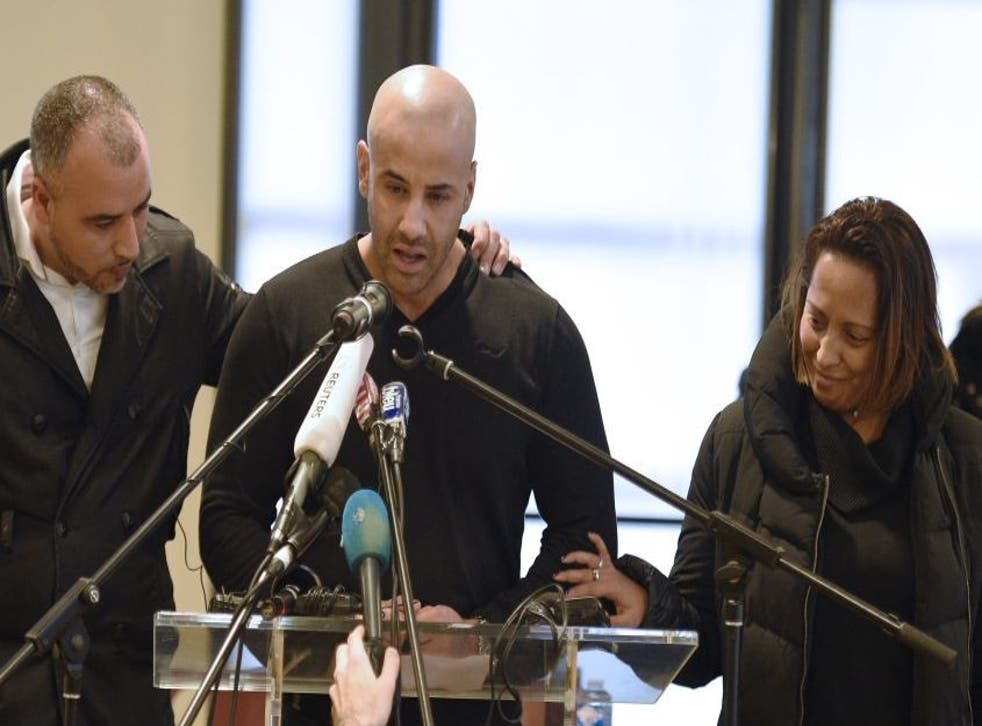 The family of a French police officer of Algerian origin, who was shot dead outside the offices of Charlie Hebdo magazine in Paris while he patrolled the streets, urged people "not to confuse extremists with Muslims."
In a tearful press conference, the brother of Ahmed Merabet, 42, said they are devastated by the "barbaric" death in the hands of terrorists from the same home country who claim to be acting in accordance with Islam. He added that "mad people" are not of any particular colour or religion.
Dressed in black, Mr Merabet's wife Morgane stood on his brother Malek's left and his brother-in-law Lotfi Mabrouk stood on his right. His sisters Myriam and Fouziane were also present.
Mr Merabet is one of 17 murdered by masked gunmen in a three-day siege that ended with a dramatic shoot-out with police and the deaths of the three attackers.
Malek said that his brother was proud to serve the public in France and stood by the national principles of "Liberté, égalité, fraternité" (liberty, equality and fraternity). He worked for the police force for eight years.
Mr Merabet was "a pillar" for the family who looked after his mother and close relatives particularly after their father died 20 years ago, Malek said before he choked up with emotion and had to pause while Lotfi and Morgane comforted him.
The brother said that gunmen intent on inflicting death and terror who took the life of his sibling should not be considered the same or be interchangeable with law-abiding Muslims around the world.
Mr Merabet was shot dead as he was patrolling the 11th arrondissement where the offices of the satirical magazine are based. Footage of his death shocked the world, with many commemorating his dedication to protecting those who chose to exercise freedom of speech, even against his religion, with the once-trending hashtag #JeSuisAhmed.
The Merabet family have arranged for his body to be buried in the Bobigny cemetery near Paris where around 7,000 Muslim people, mainly from North Africa, have been laid to rest.
A total of 12 people including cartoonists, journalists, visitors, a caretaker and another police officer died in the Charlie Hebdo magazine attack by France-born Algerian brothers Said and Chérif Kouachi.
The gunmen claimed they were "avenging Prophet Mohamed" who was satirised in a cartoon on the front page that sparked a firebomb attack on the offices in 2011.
Malek continued: "I'm addressing all right now, the racists, the Islamaphobes, the anti-Semites, do not confuse the extremists with Muslims."
Four others died in a hostage incident at a kosher supermarket in the hands of Amedy Coulibaly, 32, who also killed 27-year-old police officer Clarissa Jean-Philippe. While the three gunmen were shot dead by police in a stand-off yesterday, officers are still trying to trace Hayat Boumeddiene, a 26-year-old woman said to have been Coulibaly's partner.
Malek also urged those wanting to wage war and carry out crimes in hate to stop attacking people and burning mosques and synagogues. He said that those acting in revenge will not help "bring back the dead or comfort their families."
He added: "My brother was Muslim and he was killed by people who pretend to be Muslims. They are terrorists, that's it."
Join our new commenting forum
Join thought-provoking conversations, follow other Independent readers and see their replies