Charlie Hebdo cartoonist's name misspelled on commemorative plaque unveiled by President Francois Hollande
Georges Wolinski's name appeared with a 'y' at the end, causing the plaque to be covered back up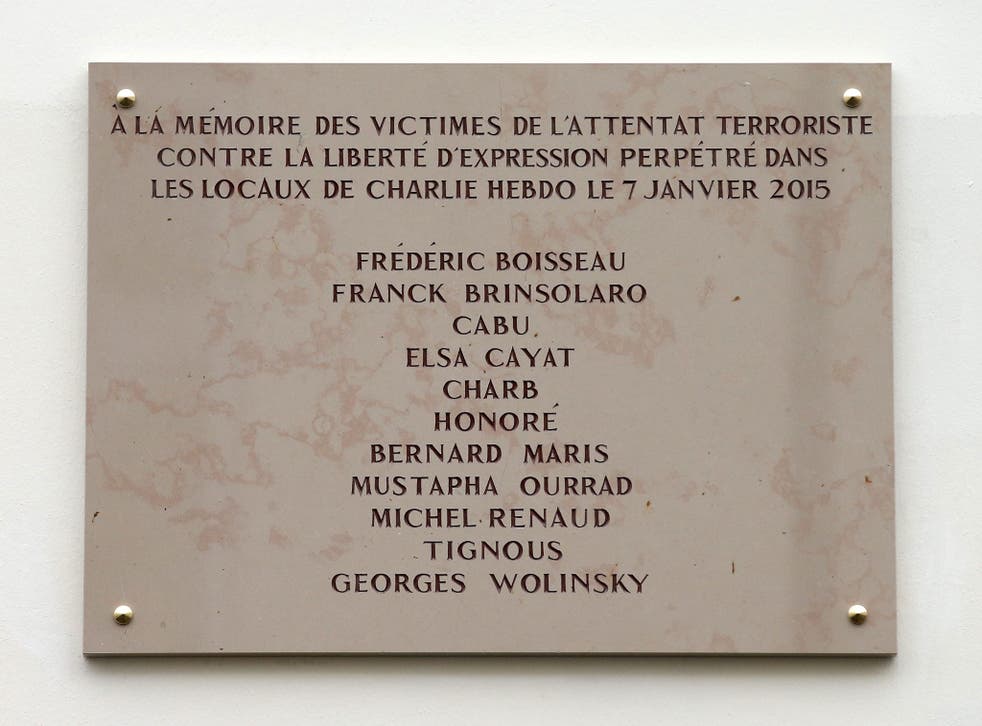 President Francois Hollande and the mayor of Paris have unveiled a plaque to commemorate the Charlie Hebdo attacks, with one of the murdered cartoonists' names spelled wrong.
Victims' relatives, dignitaries, military representatives and police were on hand to witness the monument being revealed from behind a French flag today, on the outside of the offices where al-Qaeda-inspired gunmen massacred 11 people.
"In memory of the victims of the terror attack against freedom of expression perpetrated at the offices of Charlie Hebdo on 7 January 2015," the inscription reads, before listing the names of those killed.
Nicknames for its cartoonists were used, including Charb and Cabu, but onlookers quickly spotted that the name of one victim was misspelled.
Georges Wolinski appeared as "George Wolinsky", with the final letter being swapped for a "y".
Cabu, Tignous and Wolinski: beloved French cartoonists
He was one of France's best-known cartoonists, signing his drawings with his surname, and served as Charlie Hebdo's editor-in-chief from 1971 to 1980.
Mr Wolinski remained at the heart of the team until his death and received the Legion d'Honneur in 2005 – France's highest decoration.
As news of the mistake spread on social media on Tuesday, the plaque was seen covered with a black cloth.
The Mayor of Paris' office told Europe 1 radio that Mr Wolinski's widow has been told of the error, which was blamed on the etching company and will be corrected as soon as possible.
Anne Hidalgo and Mr Hollande have been commemorating the Charlie Hebdo massacre and following attack on a Kosher supermarket as the one-year anniversary approaches.
They also paid homage to the Muslim police officer murdered as he chased the gunmen, with "Je suis Ahmed" sprayed on the pavement in red, white and blue.
The magazine itself is releasing a special anniversary issue laced with cartoons said to lampoon everyone from Islamic fundamentalists to children, politicians and Catholic priests.
The commemorations come under heightened security as part of the continuing state of emergency sparked by the 13 November attacks that killed 130 people in Paris.
Join our new commenting forum
Join thought-provoking conversations, follow other Independent readers and see their replies