Charlie Hebdo publishes a cartoon of drowned Syrian toddler Aylan Kurdi
Separate drawing says 'Christians walk on water – Muslim children sink'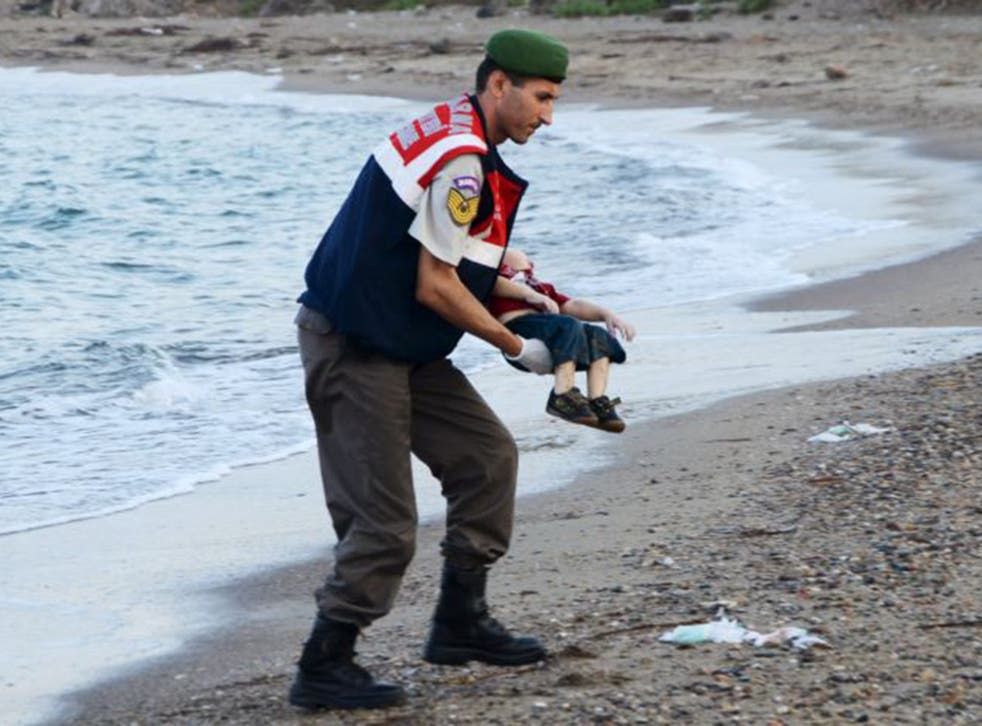 The French satirical magazine Charlie Hebdo has published a cartoon about the death of Syrian toddler Aylan Kurdi on the cover of its latest issue.
Eight months after the terrorist attacks at the Charlie Hebdo offices in Paris which killed 12, the magazine has continued to create controversial content.
Since the photograph of three-year-old boy, Aylan al-Kurdi - who fled with his family from the Syrian civil war but died on a Turkish beach - was shared around the world, public support in Europe for refugees has reached increased significantly.
Charlie Hebdo used two cartoons both including drawings of Aylan's death.
The print accompanying the image reads: "Welcome to migrants!"
"So near his goal..." is the message over Aylan's body.
A sign on the beach with a children's clown character says: "Promo! 2 kids menus for the price of one".
A second cartoon depicts what appears to be Jesus next to the drowned boy with the caption: "Proof that Europe is Christian. Christians walk on water - Muslim children sink."
The cartoons have attracted a lot of criticism online from those who view the use of Aylan's death for satirical purposes as offensive. Others have said the magazine is merely mocking the West's handling of the refugee crisis.
The images were drawn by artist, Laurent "Riss" Sourisseau. The political cartoonist has had to be chaperoned at all times by armed, plain-clothed police since the attack on the Charlie Hebdo headquarters.
Anti-Charlie Hebdo protests around the world

Show all 23
Riss survived the shooting despite being hit in the shoulder and has since become the acting editor of the magazine.
Maajid Nawaz, founder of the think-tank Quilliam defended the magazine's cartoon: "Taste is always in the eye of the beholder. But these cartoons are a damning indictment on our anti-refugee sentiment," he wrote on Facebook. "The McDonald's image is a searing critique of heartless European consumerism in the face of one of the worst human tragedies of our times.
"The image about Christians walking on water while Muslims drown is (so obviously) critiquing hypocritical European Christian "love".
"Fellow Muslims, not everything and everyone are against us, every time. But if we keep assuming they are by reacting like this, they will surely become so."
Join our new commenting forum
Join thought-provoking conversations, follow other Independent readers and see their replies