Charlie Hebdo front cover live: 'Survivors' issue' sells out as five million copies fly off the shelves – and the controversy rages on
The latest edition of the magazine was released exactly a week after the massacre
Lizzie Dearden
Wednesday 14 January 2015 09:26 Comments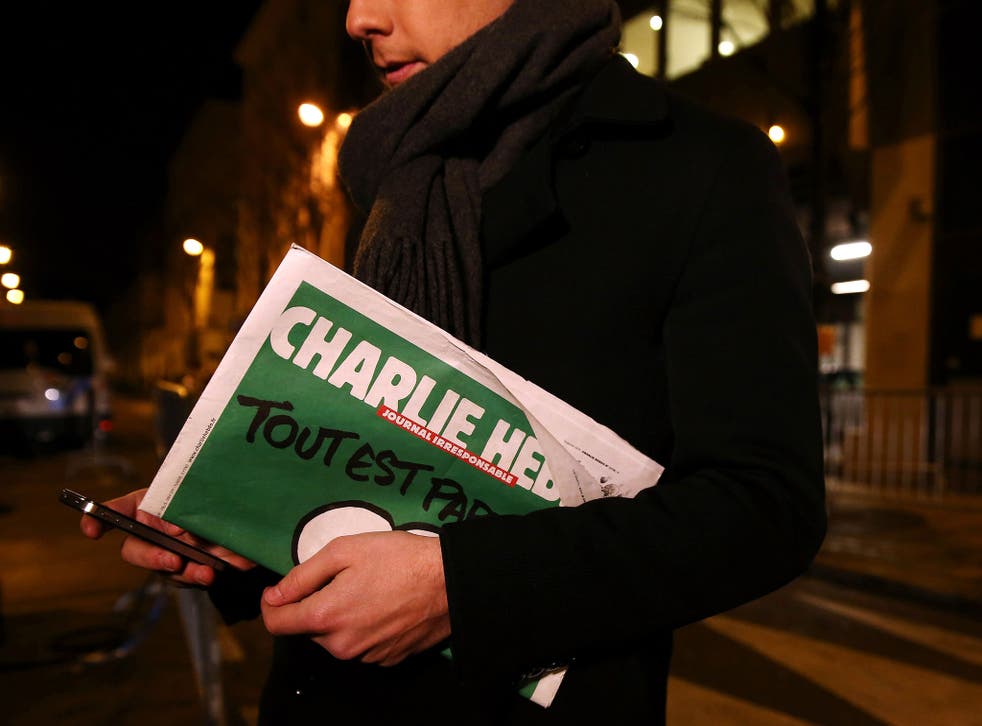 The first edition of Charlie Hebdo since the massacre at its Paris offices has not shied away from controversy, featuring cartoons of a crying Prophet Mohamed, masturbating nun and the Pope dressed as a mafia boss.
It had sold out of most French shops within minutes of opening this morning, driving publishers to increase its print run from 3 million to 5 million to cope with the overwhelming demand. Its usual circulation is of 40,000.
Here are the latest developments:
Please wait a moment for the live blog to load
The cover shows the weeping Mohamed, holding a sign reading "je suis Charlie", which has become a global mark of solidarity, with the words "all is forgiven" written above him. Journalist Zineb El Rhazoui said the cover meant the magazine was forgiving jihadists for the attack.
The satirical magazine defiantly published the cartoon after being targeted for previous depictions of the Prophet and has faced yet more threats of retaliation from Islamic extremists.
Before the new edition was even released, one of Egypt's top Islamic authorities warned Charlie Hebdo against publishing more cartoons of Prophet.
Dar al-Ifta, which is in charge of issuing religious edicts, called the planned cover an "unjustified provocation" for millions of Muslims who respect and love their spiritual figurehead and warned the cartoon could spark a new wave of hatred.
Criticism and threats immediately appeared on militant websites, with calls for more attacks on the newspaper and anonymous vows of retaliation from extremists.
Charlie Hebdo: The first edition since the Paris massacre

Show all 15
In one cartoon in today's edition, in the name of Tignous, one of the four cartoonists murdered last week, a trio of jihadists is seen considering their next step.
"We'd better not touch the Charlie Hebdo people," says one. Another replies: "Otherwise those bastards will become martys and when they get to paradise they will pinch all our virgins."
Additional reporting by PA
Register for free to continue reading
Registration is a free and easy way to support our truly independent journalism
By registering, you will also enjoy limited access to Premium articles, exclusive newsletters, commenting, and virtual events with our leading journalists
Already have an account? sign in
Join our new commenting forum
Join thought-provoking conversations, follow other Independent readers and see their replies