Charlie Hebdo with Prophet Mohamed cover selling for more than £500 on eBay
Proceeds from the magazine's €3 (£2.30) sales in France will go to the families of victims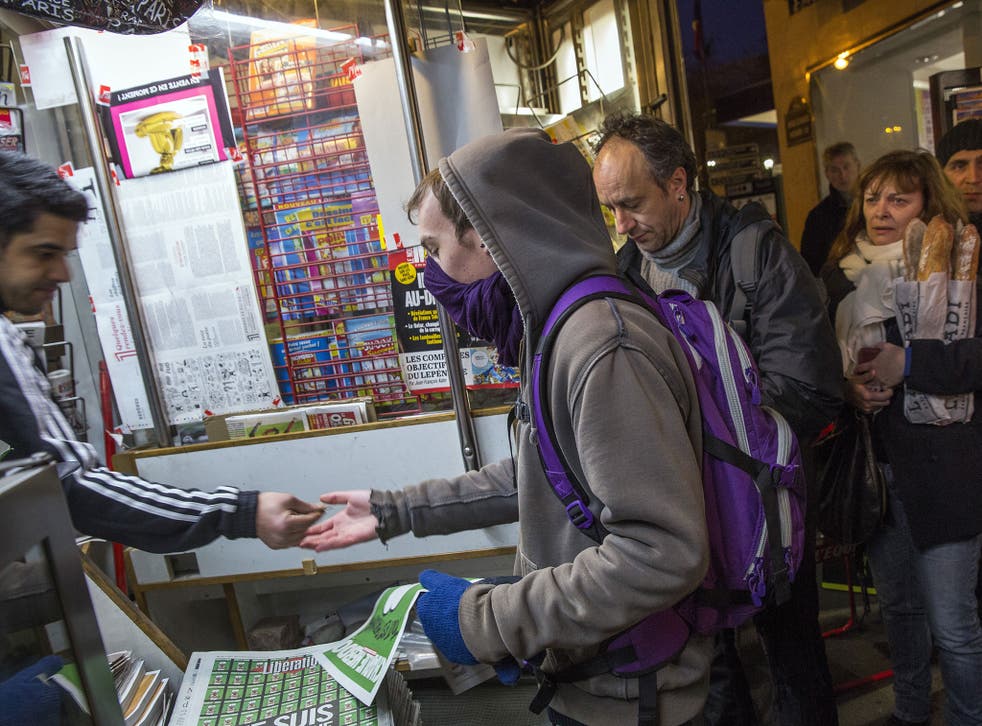 Just hours after it hit newsstands in France, copies of the so-called Charlie Hebdo "survivors issue" have begun appearing on eBay with sellers charging many times their face value.
Shops in Paris are selling the magazine for €3 (£2.30), but online listings are offering it for around in a direct purchase for around €50 – and auction lot bids in the UK and US have passed £500.
There has been huge demand around the world for Wednesday's edition, printed in an unprecedented run of three million copies.
Its front cover carries a cartoon of a crying Prophet Mohamed holding a sign saying "Je suis Charlie", a response to the killing of 12 people, including eight journalists, at its Paris offices.
By 7am on Wednesday, most retailers in France's capital had sold out of the new edition. Long queues formed outside stores that opened later, as the country's creaky distribution system appeared to struggle with the extraordinary demand.
The inflated eBay listings will be galling to some, particularly as some of the proceeds from the souvenir edition are to go the families of those killed.
But the bumper run will also save the magazine from what had been seen as near-bankruptcy.
Charlie Hebdo: Mourning in Paris

Show all 6
In November, Charlie Hebdo appealed for €1m (£800,000) in public donations to keep afloat, yet received only €26,000. It had been selling barely half of its weekly print run of around 60,000.
Since last week's attacks, which came as part of a series of shootings that left 17 dead across Paris, the French government has pledged not to let the magazine close.
Back issues of the magazine have already been selling for inflated prices around the world in the aftermath of the Paris attacks. One 2012 edition, whose cover depicted the Prophet Mohamed in a wheelchair being pushed by an orthodox Jewish man, received bids of more than £1,000 on eBay - just one day after the shootings.
eBay then told The Independent it was an "open market place" that did not impose price restrictions - but added that the site "reserves the right to remove any listing that is against the principles and values of ebay's community".