Charlie Hebdo protests: At least 10 killed as unrest over Prophet Mohamed cover spreads
At least nine countries have seen protests against the satirical magazine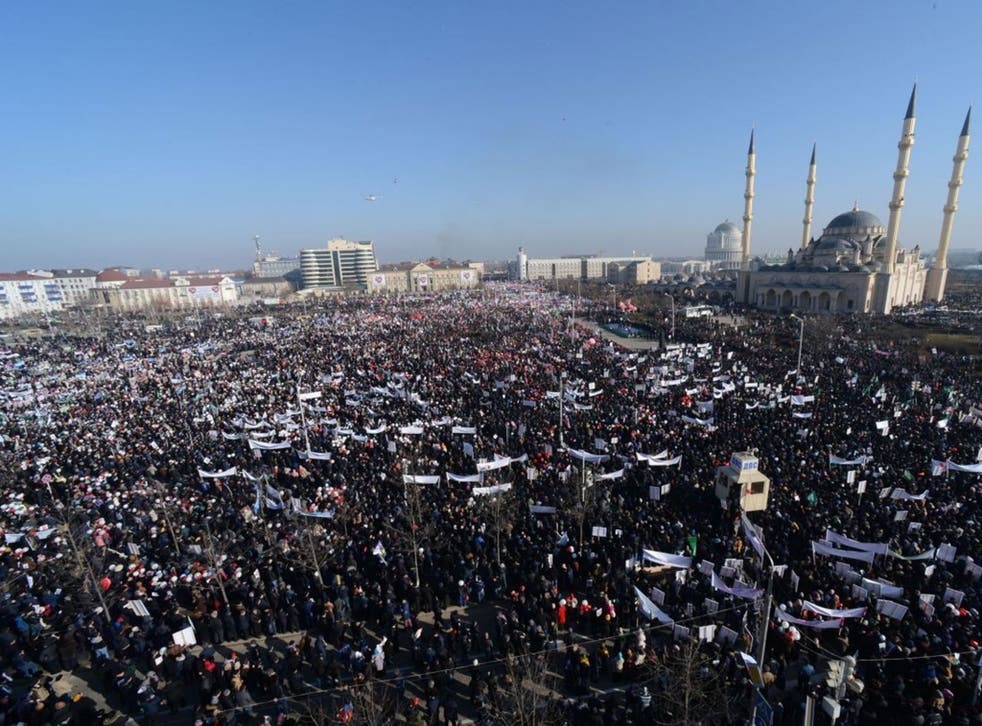 At least 10 people have died in riots and protests around the world sparked by Charlie Hebdo's latest cover depicting the Prophet Mohamed.
In predominantly Muslim Niger, dozens of churches have been set on fire along with Christian and French institutions across the country.
Three days of national mourning have been declared for the 10 people killed during riots that started on Friday, including a man found burned inside a Catholic church.
Protesters in Pakistan burned the French flag and an effigy of Francois Hollande during a fourth day of demonstrations on Sunday against the "blasphemous" cartoons of the Prophet.
More than 10,000 supporters of the Islamist Jamaat-ud-Dawa group chanted "Down with Charlie Hebdo" and "death to blasphemers" marching through Lahore, while protesters in other cities praised the Kouachi brothers.
Tens of thousands marched through the Chechen capital of Grozny on Monday, carrying posters reading "hands off our beloved prophet" and "Europe has only united us".
A police officer in the predominantly Muslim region in southern Russia put the number of protesters at 800,000 when speaking to Interfax news agency, although it was impossible to verify.
Anti-Charlie Hebdo protests around the world

Show all 23
Chechen leader Ramzan Kadyrov gave a speech at the demonstration wearing a T-shirt reading "we Love Mohamed, we don't love Charlie".
According to Russian news agencies, another 15,000 people joined a similar anti-Charlie Hebdo demonstration on Saturday in the neighbouring region of Ingushetia.
Hundreds of Iranians demonstrated on Monday outside the French Embassy in Tehran the cover, chanting "death to France" and "down with the USA" while burning the Tricolore and US flags.
There were similar scenes in Afghanistan, where hundreds rallied in Jalalabad to demand the French Embassy in Kabul be shut down and that the French government apologise to Muslims.
Marches also took place after Friday prayers in the capital cities of Mali, Senegal, Mauritania and Algeria - all former French colonies, and in the Philippines.
President Hollande condemned the violence, saying he would defend the right to publish the controversial cartoons of Mohamed.
"There are tensions abroad where people don't understand our attachment to the freedom of speech," he said. "We've seen the protests, and I would say that in France all beliefs are respected."
The first edition of Charlie Hebdo since the massacre sold out within minutes on Wednesday, causing the print run to increase to 5 million.
The cover features a weeping Mohamed holding a "je suis Charlie" sign under the words "all is forgiven."
Brothers Cherif and Said Kouachi claimed they were "avenging the Prophet" when they massacred 12 people at the magazine's offices.
Additional reporting by agencies
Join our new commenting forum
Join thought-provoking conversations, follow other Independent readers and see their replies