Charlie Hebdo vigils: Across France, hundreds of thousands gather in a show of defiant solidarity
Cahal Milmo joins Parisians in the Place de la Republique, and finds a mood approaching burning defiance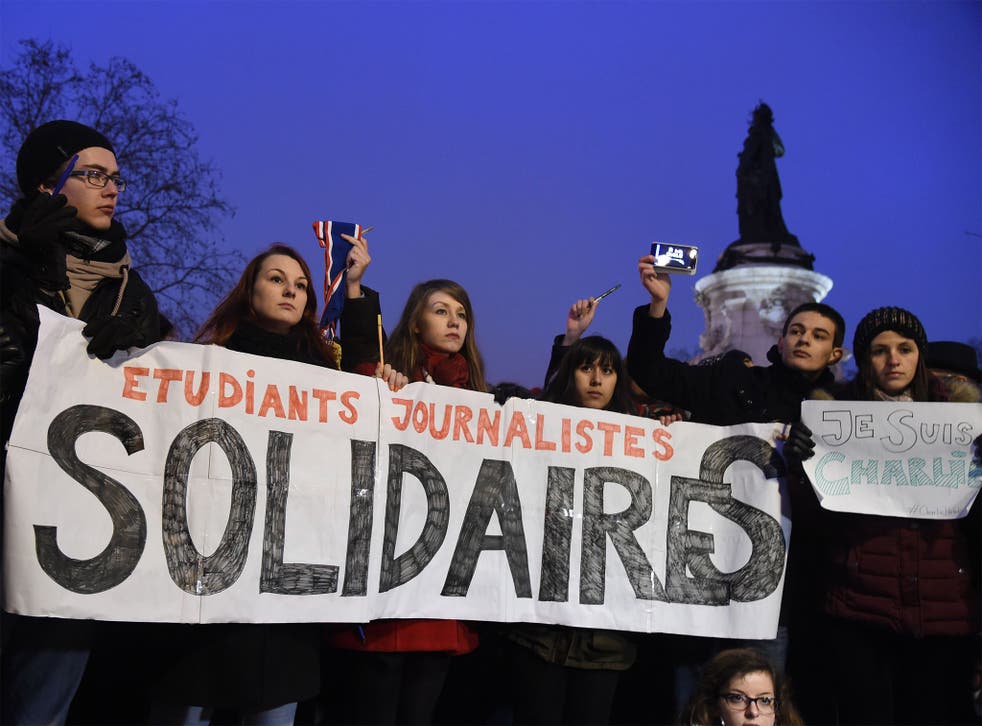 As the chants of "liberté" echoed around the Place de la République in Paris tonight, Jamilla held up a poster of a front page from Charlie Hebdo. It read: "Love: stronger than hate."
In every major city across France, hundreds of thousands gathered in a show of defiant solidarity against the gunmen who had invoked Allah as they shot dead 12 people in the offices of the weekly satirical magazine in a few horrifying minutes shortly before 11.30 this morning.
The terrifying swiftness of the violence visited upon the streets of Paris by murderers on a mission to wipe out a voice of countering their twisted creed with nothing more vicious than humour, had initially put the French capital into a state of spasm.
Schools were put into lockdown and any pupils out on educational visits were ordered to return to the classroom with all haste. Thousands of troops and police were placed at stations, departments stores and places of worship as France confronted the worst single terrorist attack on its soil for decades.
In pictures: Reaction to Charlie Hebdo attack

Show all 39
But as night fell, Paris, the ville lumiere (city of light) became a place first of dark reflection, but then something approaching burning defiance.
Jamilla, 34, a school teacher from the Seine-St Denis department to the north east of central Paris where the killers seemed to have fled, pointed towards her poster, depicting a Muslim man in an embrace with a man representing Charlie Hebdo.
She told The Independent: "I am Muslim and I defend until the end what this poster says - hate cannot win. These killers tried to kill not only people but also the idea of peace and debate. I won't let them do that and everyone in France won't let them do that. They had no right to use the name of Allah. Mohamed would be turning in his grave. Tonight we are all Charlie. "
The Twitter hashtag #JeSuisCharlie was tweeted 650,000 times in France in support of the dead and the right to satirical scurrilousness that they enshrined.
By early evening some 15,000 people had gathered at Place de la République, forcing police to close roads and Metro stations as crowds thronged to the largely spontaneous protest. Similar demonstrations took place in dozens of French towns and cities, including Lyon, Nantes, Strasbourg and St Etienne.
In Paris, hundreds held up copies of Charlie Hebdo's most famous front pages - an image of Mohamed being pushed in a wheelchair by an Orthodox Jew and the "Love: Stronger than hate" image printed after the magazine's offices were firebombed in 2011.
Jean-Yves Dupre, 47, a publishing manager at the Place de la République, said: "I read Charlie Hebdo. I don't always agree with it but it is funny as much as it is outraging. The question is who will make us laugh now? This is about the defence of liberty and the right to question."
Marine Champ, 45, was also in the Paris crowd. She told Le Monde: "I'm proud to see all the people who have spontaneously come here to be together. The message is clear - the murderers will not win."
As some 3,000 police were mobilised and the French terrorism alert raised to its highest level, armed office were placed outside the offices of media organisations in recognition of the particular strain of intolerance that raised its head at the point of two Kalashnikov-style rifles in Charlie Hebdo's second floor offices.
Some questioned why the police presence at the magazine's offices, close to the headquarters of the left wing daily newspaper Liberation where there was another attack two years ago, had not matched the heavily-armed Gendarmerie detachment put into place in the hours after its editorial team was decimated.
While one of the two police killed was a close protection office assigned to the weekly's editor - Stephane Charbonnier - the second, a 40-year-old named only as Ahmed, had arrived unarmed and riding a police mountain bike.
One man stood near the cordoned off entry to Rue Nicolas Appert said: "Why weren't they waiting for these bastards to blow them away?"
The answer to the lower-key security presence seems to have been two-fold. Firstly, what was once a steady flow of threatening emails and telephones to the office of Charlie Hebdo had slowed to a thin trickle. But secondly, its staff had decided that they could abide carrying out their work, holding the feet of authority and demagogy to a fire of cutting humour, under a cloud of fear.
Aurelie, 29, an artist who lives nearby the magazine's offices, said: "I talked to one of the guys [from Charlie Hebdo] in a café a year or so ago. He was relaxed. I think his point was that the paper stood for certain values and life had to be lived to prove those values. Somehow, if they changed their routine or sat about worried for themselves then they would be denying what they were about. They have paid a very terrible price for such courage."
One Charlie Hebdo staff member told Le Monde: "We don't really take [the threats] seriously. We've got used to it. More recently we'd thought the threats would soon be a thing of the past."
France will wake to a day of national mourning for a group of individuals who it seems chose to live by the invocation of Mr Charbonnier, known as Charb, when he said in 2012: "I prefer to die standing than to live on my knees."
In a dry cleaning shop not far from the magazine's offices, the manager Mohammad, from Algeria, shook his head in disbelief at the day's events. He said: "What can I say? A newspaper isn't a gun. Who was ever killed by a sheet of paper? These men cannot win. We won't let them."
Register for free to continue reading
Registration is a free and easy way to support our truly independent journalism
By registering, you will also enjoy limited access to Premium articles, exclusive newsletters, commenting, and virtual events with our leading journalists
Already have an account? sign in
Register for free to continue reading
Registration is a free and easy way to support our truly independent journalism
By registering, you will also enjoy limited access to Premium articles, exclusive newsletters, commenting, and virtual events with our leading journalists
Already have an account? sign in
Join our new commenting forum
Join thought-provoking conversations, follow other Independent readers and see their replies