Street paved with chocolate in Germany after colossal spill at sweets factory
Fire crews use fire hoses and blow torches to clean up sticky situation
Harry Cockburn
Wednesday 12 December 2018 10:16 Comments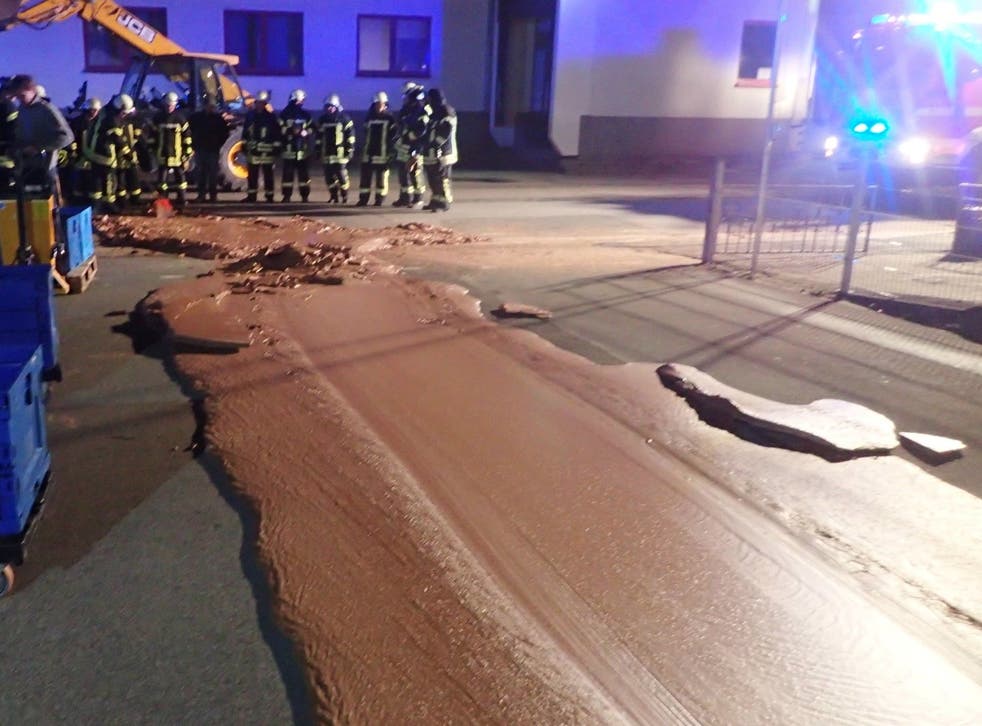 A Christmas miracle occurred in a west German town late on Monday, when a tonne of chocolate flowed out of a factory, repaving the streets with fresh milk chocolate.
"A small technical defect" caused a delivery tank at artisan chocolate makers DreiMeister to overflow, according to a local newspaper, sending a vast quantity of molten chocolate cascading down the middle of a road in the town of Werl and solidifying on the chilly tarmac.
While the problem causing the spillage could be fixed quickly, the same could not be said for Werl's West Street. More than 25 firefighters were called on to deal with the sticky slab and got to work with shovels to pry colossal chunks of chocolate off the street.
They also used hot water and blow torches to remove chocolate that had settled in cracks and gaps in the road, before power-hosing the remaining mess.
"There is a risk it will be slippery" due to the fat content, firefighters warned after they had finished.
Employees from the factory, which is 20 miles east of Dortmund, provided boxes into which the mass was shovelled. The clean up at the factory itself continued into the early hours of Tuesday.
The company has recently expanded and employs 150 full-time staff as well as 60 seasonal employees.
If the chocolate had been wasted nearer Christmas, "that would have been a disaster," owner, Markus Luckey, said.
He told the paper the spillage had not affected the company's profits and that the outlook remains "positive in the future".
A Lorry spills chocolate milk on to a polish highway
In May, a truck carrying liquid chocolate overturned in Poland, spilling 12 tonnes onto the motorway.
Register for free to continue reading
Registration is a free and easy way to support our truly independent journalism
By registering, you will also enjoy limited access to Premium articles, exclusive newsletters, commenting, and virtual events with our leading journalists
Already have an account? sign in
Register for free to continue reading
Registration is a free and easy way to support our truly independent journalism
By registering, you will also enjoy limited access to Premium articles, exclusive newsletters, commenting, and virtual events with our leading journalists
Already have an account? sign in
Join our new commenting forum
Join thought-provoking conversations, follow other Independent readers and see their replies