Christiane Taubira on a French identity crisis: 'France is in distress. There is a kind of rage out there'
French Justice Minister Christiane Taubira says her country isn't just suffering from the economic downturn and rising intolerance – it's in the midst of an identity crisis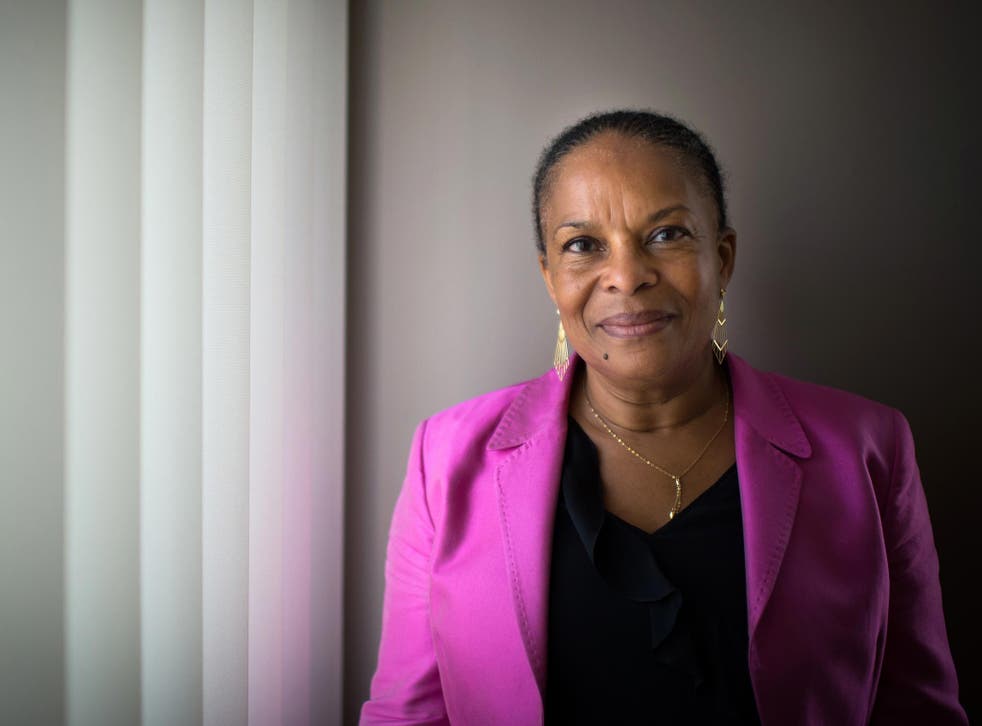 Christiane Taubira does not give political speeches. She gives political sermons, without prepared text or notes.
We are at a municipal campaign meeting in Bordeaux. A broadly left-wing audience is broadly on her side. Within minutes they are captivated and energised at a time when French "people of the Left" have reason to be depressed.
The text of Ms Taubira's sermon is humanism, democracy and the values of the French republic. It is difficult to think of any other politician in France – in Europe – who could talk so passionately about the morality of politics and the ugliness of the times.
The diminutive, Afro-Caribbean justice minister, 62, is now the most popular left-wing politician in France. It was she who pushed through the most daring and controversial reform of the Hollande era, the legalisation of gay marriage. "Republican values", she says, are in danger of being overwhelmed by narrow intolerance and contempt for politicians and governing institutions.
It was she who was the object late last year of vicious racist attacks, not just by the far right but by a part of the moralising, Catholic hard right. Children at an anti-gay marriage demonstration in Angers in October waited for Ms Taubira holding "bananas for the monkey".
Her dignity in the face of these attacks and her parliamentary performances in pushing through the gay marriage law – or "La Loi Taubira" – persuaded Elle magazine to make her France's "Woman of the Year".
Ms Taubira's emphasis on the importance of moral rectitude in politics sometimes make her sound almost Swedish. Her appeals to individual effort and a politico-moral re-awakening make her sound American. She insists that her political values are French and come from being "stuffed with French thought" when she was a little girl. She traces her openness to other ways of thinking to her "Amazonian roots" in French Guyana.
Politics, Ms Taubira said in Bordeaux, should be about allowing everyone – however poor – the "space in which to construct their personal destiny". However bad the economic times, people should feel that they "have a part of their destiny in the hollow of their hand".
The Independent visited Ms Taubira – who was born into poverty, living in a hut with her mother and four siblings – in her vast and ornate office in the justice ministry in Paris, on the Place Vendôme, close to upmarket jewellers and the Ritz Hotel. Traditionally, the role of Justice Minister is one of the most senior, and difficult, jobs in the French government.
The present mood goes beyond, she said, the periods of "anxiety, protest or doubt" which have assailed France in the past. The country is, Ms Taubira said, in a period of "desarroi" (distress) which cannot be explained solely by high unemployment and by slow economic growth.
The referendum in Switzerland, which imposed annual limits on immigration from European Union countries, was instructive, she says. Switzerland's economy is booming but the country has many of the same instincts as struggling France: a fear of foreigners; a rejection of the mainstream political elites of moderate right and left; and an inchoate sense of "loss of identity" in the globalised village of the modern world.
"I blame an absence of perspective, of all sense of where we are going," she said. "There is a kind of vacuum of the public word. By which I mean both what politicians say and what the media says."
For many reasons – partly the internet, partly globalisation – trust in the future has broken down, she says. Hence the "distress", which is exploited by radical, political movements who seek to divide.
The rejection of "elites" and denigration of public institutions poses an even greater danger in France than in other countries, Ms Taubira says. British identity is partly bound up in the monarchy; American identity is rooted partly in individualism and small government.
"France is a country which has been constructed by public policy. For more than 200 years the country has been built on the strength of its institutions," she said. "Now in this country today, we have people who don't just criticise the institutions, which is legitimate. They try to drag down the institutions and degrade their solemn and sacred nature."
This has happened before in France, Ms Taubira say, in the late 19th century and in the 1930s. "People went into the streets and wanted to tear everything down. But those also were periods of great distress," she said. "So there are reasons to be worried."
Christiana Taubira is herself a victim of a radicalisation of the French right, which the main opposition party, the Union pour un Mouvement Populaire (UMP) has been unable to control. New movements such as Printemps Français (French Spring) reject the usual rules of democratic debate. They see the social policies of the Hollande administration as not just wrong but a "conspiracy against the values of western civilisation". They insist that they are not racist but they march with, and are indefinably linked to, outright racist and anti-semitic groups.
"I don't consider myself a victim of these attacks," Ms Taubira said. "I was the target but not the victim. They occur because they believe that someone like me, who does not look like them, has no right to be the Justice Minister."
"Whether they hurt me or not is beside the point. What counts is how much they hurt the little girls who do look like me. What counts is how much they hurt someone who has succeeded at school but gets no reply to job applications..."
"No one has the right to say that another person does not belong to the community of the nation. That's like a return to the attitudes which condoned slavery."
Is she also worried by the popularity of the anti-semitic, black comedian Dieudonné M'bala M'bala, who attracted international attention when the footballer Nicolas Anelka performed his quenelle gesture during a match. Has he allied the old anti-Semitism of the far right with a new anti-Semitism of part of the left and some French people of African or Arab origin?
"I don't believe in anti-Semitism of the Right or anti-Semitism of the Left," she said. "There is just anti-semitism. What worries me about Dieudonné is how easily his message percolates into people's minds."
"These people are often themselves the victims of exclusion, of inegality of injustice. There is a kind of rage out there which he releases. It is so easy for someone to come along and presents you with a ready-made dish which says that a single people are guilty of everything."
Ms Taubira's officials say that she often brings her "first principles" approach to politics to the minutiae of internal ministry discussions. A senior official said: "She calls a halt to a complex discussion and says 'lets recall what the constitution says. Let us remember what the republic is supposed to be about'. It is surprising how much it helps."
Ms Taubira's critics say that, au contraire, her principles have proved flexible in office. In July last year she pushed through a law ending ministerial instructions in individual criminal cases. She promised that she would not interfere in the careers of senior prosecutors or judges; she promised that she would not interfere in politically sensitive investigations.
In recent days, she has been accused of both. "It is all nonsense," she said. "From day one, because I look the way I do, the opposition was determined to believe that I would be a lax Justice Minister and that I would interfere in investigations. They can't find a scrap of real evidence that I have done either of those things."
When the Sarkozy adminstration ended, she points out, there were 48,000 criminal investigations in France which had been declared "politically sensitive" and were being "watched" by her predecessor. She has brought this number down to 5,000.
Ms Taubira's complaints about lack of "perspective" and the "vacuum" in the "public word" have also ruffled feathers in her own camp. They imply that the government to which she belongs has failed to explain where it is taking the country.
Ms Taubira insists that she is making a much larger argument. "I'm not talking about everyday issues," she said. "I don't see the point in saying every day what a wonderful government we have."
"I see a country in distress. We need to reconstruct its sense of history and its capacity to live together. Can the 'public word' – our political debate – raise itself to address these big questions? I don't just mean the government. I mean all political forces, both government and opposition, and all the opinion-makers in the media."
Join our new commenting forum
Join thought-provoking conversations, follow other Independent readers and see their replies