Claire Chazal: France's 'Queen of news' is dead – and with her a country's deference to the political class
Claire Chazal had served her country's most-watched TV channel for 24 years. Now she's been forced to step down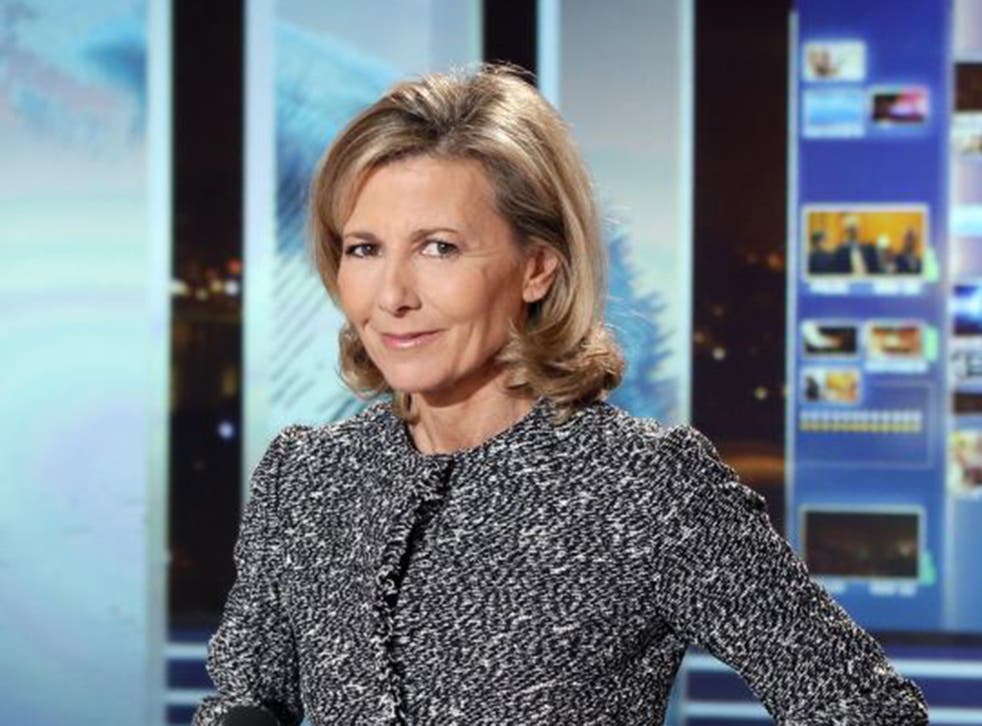 On the other side of the Channel, they treat queens differently. Their long reigns have a habit of coming to an abrupt and brutal end.
Claire Chazal, 58, the undisputed queen of French TV for a quarter of a century, will make her last address tomorrow night. Ms Chazal, known as "La Reine de l'Info" (the queen of news), was the highest paid journalist in France. She was summoned from holiday by her boss last week and sacked.
Claire Chazal epitomised a certain kind of well-groomed, upmarket French womanhood. She radiated calm and symbolised continuity at a time when the French, even more than other nations, feel themselves besieged by uncertainty and change. Since 1991, Ms Chazal has anchored five news bulletins each weekend for TF1, the most watched French TV station. She has become a celebrity – or as the French confusingly say "un people" – in her own right.
Her eventful private life often provided the front cover of glossy magazines. She has appeared in a dozen French films, usually in cameo appearances as herself.
The French investigative and satirical newspaper Le Canard Enchaîné paid mocking tribute to her this week as "the beautiful, blonde darling of Paris Match, the model of pugnacious, original and intransigent journalism".
On the other hand, many French TV journalists and news presenters – including some of her direct rivals – declared their respect and even their "love" for Ms Chazal. To her critics, she embodied the obsequious approach – now finally changing – of French television news to politicians and showbiz stars. It was to Claire Chazal that Dominique Strauss-Kahn chose to "confess" live after attempted rape charges against him in New York were dropped in August 2011. He denied committing any crime but admitted a "moral fault". Ms Chazal, a close friend of his then wife, Anne Sinclair, did not press him to elaborate.
The boss of TF1, Nonce Paolini, gave no official explanation of why he forced the queen to abdicate. He paid tribute to her "remarkable relationship with the viewers". Leaks from within TF1 suggested that Ms Chazal had paid the price for the slumping ratings of her three evening and two lunchtime news shows each Friday, Saturday and Sunday. Her fate was sealed when her young temporary replacement, Audrey Crespo-Mara, attracted extra viewers this August, when many people were on holiday.
Other sources suggested TF1 wanted to economise on Ms Chazal's reported salary of €1.4m a year. One source at the TV station said that there had also been frustration at Ms Chazal's reluctance to "adapt to new, more modern styles of presenting the news". Ms Chazal refused, for instance, to present the news standing up, as contemporary television fashion demands. She insisted on sitting behind her desk, wearing a gleaming white dress or blouse.
Just before her summer break, she finally made a couple of forays into the open but looked ill at ease away from her televisual throne. TF1 is losing viewers rapidly to upstart news channels and the internet. Ms Chazal will be replaced by her regular stand-in, Anne-Claire Coudray, 38, whose brisker approach is better suited to the internet age.
Although Ms Chazal radiated an aristocratic elegance, she came from a middle-class, teaching family in the Auvergne. Her ambition as a young woman was to be a ballet dancer. She became a journalist in the written press and then television before taking over the TF1 weekend news shows in 1991.
She was briefly married to the deputy head of TF1, Xavier Couture, before living with the French actor Philippe Torreton. Her most written-about love affair was with another TV news anchor, Patrick Poivre d'Arvor, who presented the evening news on TFI from Monday to Thursday until he was fired in 2008. Mr Poivre d'Arvor has admitted fathering Ms Chazal's only son, François, 21.
Her comments on Mr Poivre d'Arvor's dismissal in 2008 could stand as her own epitaph: "Our work is made of sand. We can be swept away. What will remain of him, and me, except to linger for a time in people's memory?"
Join our new commenting forum
Join thought-provoking conversations, follow other Independent readers and see their replies