Cologne sex attacks: Refugees living in fear of backlash as Justice Minister warns of anti-foreigner pogrom
Muslim groups say they have been inundated with abusive calls after New Year's Eve assaults on women in German cities, while Justice Minister warns of potential anti-foreigner pogrom. Tony Paterson reports from Cologne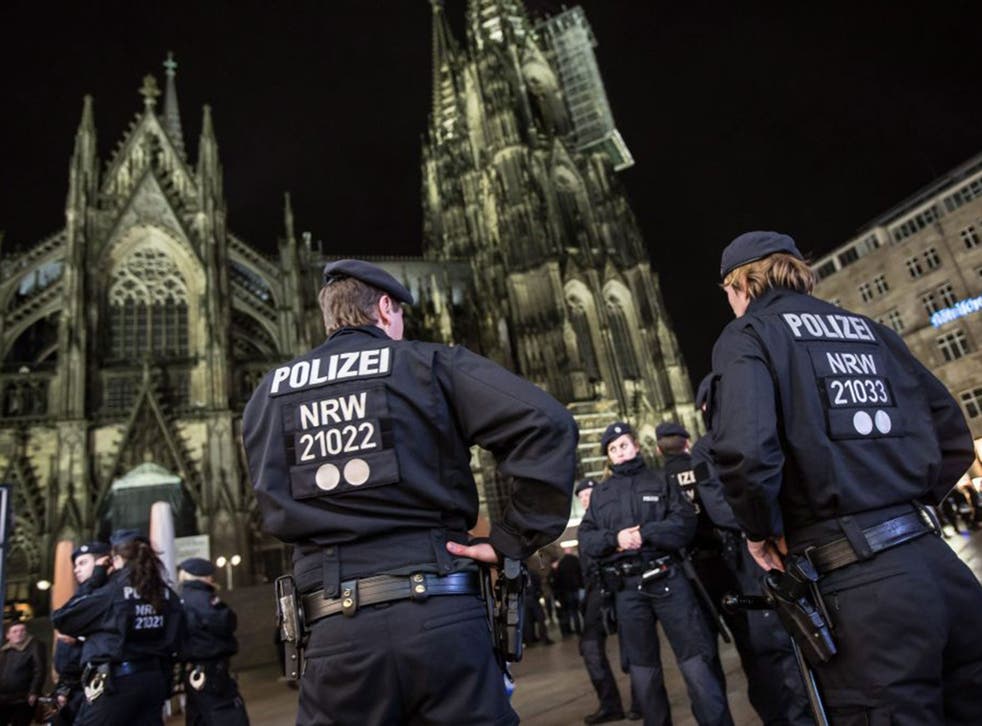 In a narrow backstreet overlooking railway tracks, the 140 refugees who live in Cologne's Hotel Mado say they are living in a climate of fear. An anti-foreigner backlash has come hard on the heels of the city's New Year's Eve attacks, which police have said were largely the work of Arab and north African immigrants.
On Sunday night, a lynch mob descended on the area surrounding Cologne's landmark cathedral where 500 women were assaulted by apparently co-ordinated gangs 12 days ago. Two Pakistani men were badly beaten and three Guinean men and two Syrians were also injured. The attacks stopped only after busloads of police arrived on the scene.
Thousands of people were expected to attend an anti-foreigner protest organised by the anti-Muslim Pegida movement tonight.
Heiko Mass, the German Justice Minister, today warned of a potential anti-foreigner pogrom. "There is no justification for blanket agitation against foreigners," he said. Germany's main Muslim umbrella group, the Central Council for Muslims, said that it had been forced to cut off all phone lines after being inundated with abusive and racist calls and emails since the 31 December attacks.
Standing in the reception area of Hotel Mado, a temporary home to mainly African refugees, 25-year-old Prince Berchie from Ghana told The Independent that most of the migrants in the hostel now felt too afraid to leave.
"None of us like to go too far away from this place, we are worried about what could happen to us," he said. "Anyone who looks foreign can be a target now," he said.
The anxiety was also palpable at a Cologne Red Cross asylum hostel just a mile away on the outskirts of the city. Behind the heavily fortified gates, Hussam, a 27-year-old Syrian refugee, said he was deeply worried about what the future held in store.
"Of course I am shocked about what happened on New Year's Eve – I just want to say that we Syrians respect women," he said.
Refugees settle in Germany

Show all 12
His views were echoed by a group of Syrian and Pakistani refugees who responded to the Cologne attacks by writing to Chancellor Angela Merkel: "We strive to uphold the dignity and honour of women," they wrote, adding; "We respect the laws of our host country without question. We are happy to have been given protection in Germany."
But the head of Germany's Muslim Council, Almin Mazjek, said the mood had turned against Muslims in the wake of the attacks. "We are experiencing a new dimension of hatred," he said, "The far-right mob sees its prejudices confirmed and an opportunity to give free rein to hatred of Muslims and foreigners."
The regional government of North Rhine Westfalia blamed policing failures, after it emerged that police were aware the attacks were being carried out as early as 8.30pm on New Year's Eve. Ralf Jäger, the state's Social Democrat Interior Minister, said police had failed to call in urgently needed reinforcements to deal with the problem.
"The police made serious mistakes which were unacceptable," he said. Mr Jäger sacked the Cologne's police chief, Wolfgang Albers, in the aftermath of the attacks.
The state, which is responsible for policing in Cologne, released a report describing a drugged and drunken mob of young men from a "migrant background" engaging in rampant attacks. More than 500 women have now filed criminal reports, 237 of a sexual nature. Many of the female victims have described similar accounts of being surrounded by gangs of inebriated men with "large bloodshot eyes" who subjected them to violent sexual assaults. Some women said they had their underwear "torn off" by the gangs.
"After becoming intoxicated with alcohol and drugs, they got drunk on violence and that reached a peak with fantasies about sexual omnipotence," said Mr Jäger. He added that the attackers were "exclusively" people with a migrant background. "There is much evidence that they were North Africans and people from Arab-speaking countries," he said. But he also warned against a backlash against migrants. "To label certain groups, to stigmatise them as sexual criminals, would not only be wrong, it would be dangerous," he said.
Nineteen suspects have been positively identified by police. Ten were among the one million asylum seekers who have arrived in Germany in 2015, nine as recently as September. Seven were illegal immigrants and two unaccompanied juvenile refugees. Fourteen of the 19 came from either Morocco or Algeria. Mr Jäger conceded that although a crowd of up to 1,000 had been involved in the sex attacks, police had so far managed to arrest only four suspects.
Police and Cologne's mayor were criticised for initially dismissing suggestions that the attacks were carried out by refugees. Mr Jäger denied that he had ordered the identities of the attackers to be hushed up. Yet, he conceded, there was scant hope of justice for the 516 Cologne and 153 Hamburg women who have filed complaints, given the difficulties police now face in tracing the men.
The Cologne attacks prompted Pope Francis to remark that the "immense influx" of refugees was "causing problems" but that Europe had the means to strike a balance between protecting citizens and helping refugees. The worried residents of Cologne's Hotel Mado will be hoping that the Pontiff is right.
Join our new commenting forum
Join thought-provoking conversations, follow other Independent readers and see their replies