Coronavirus: Putin extends Russia's stay-at-home order until May
Russian president's statement came a few hours after record rise in Covid-19 cases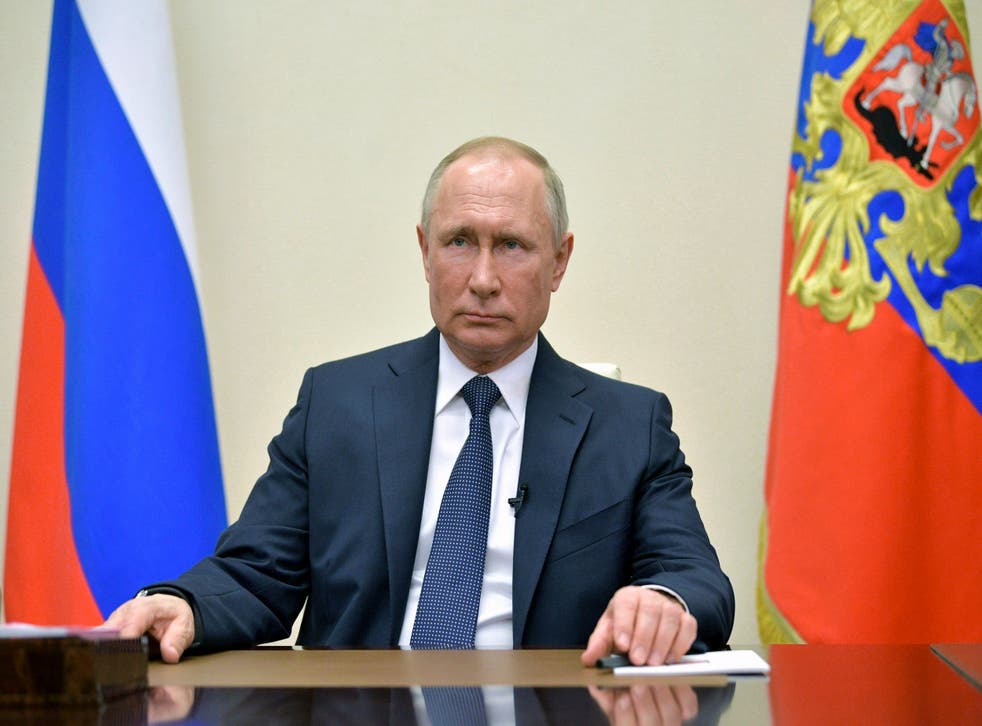 With Russia facing the prospect of a surge in Covid-19 infections, President Vladimir Putin took to national television to announce he was extending a "no-work" order for the whole of April.
Mr Putin's vaguely-defined measure means different things across Russia's 13 time zones. In some regions, especially away from major urban centres, citizens will likely continue to do much of their ordinary business. But in Moscow, where the vast majority of Russia's coronavirus cases are concentrated, it means prolonging some of the strictest restrictions in place anywhere in the world.
Speaking on Thursday afternoon, the president indicated he would be delegating the most uncomfortable decisions to regional leaders. But he warned some regions would need "harsher" measures. As authorities struggle to contain the risk of contagion in the capital, he said: "Coronavirus has created a serious risk … in Moscow, where we haven't been able to get on top of the situation despite measures taken by local and national governments."
The capital has been under strict stay-at-home rules since Sunday evening, with outside life restricted to little more than grocery and medicine shopping. At one point, reports even suggested local government was considering introducing a draconian system to enforce the rules — using surveillance apps, temporary QR codes and face-enhanced CCTV.
Vladimir Putin's decision to extend the "no-work" order came a few hours after an alarming update on Russia's coronavirus predicament. Authorities reported 771 new infections overnight, taking the total number of infections to more than 3,500. Moscow accounted for 595 of the new cases.
These numbers are still reasonably low in a worldwide context, but recent increases have shattered confidence that Russia would somehow bide the epidemic without major disruption.
Privately, officials are now concerned about what could happen if the epicentre of the crisis moved from Moscow to provincial centres. The capital's well-funded health system is largely prepared for the crisis, but some regional hospitals are reporting shortages of intensive care equipment and personal protective equipment (PPE). Face masks have disappeared from the shelves in many parts of the country; antiviral sanitisers are likewise in short supply.
On Wednesday, the liberal Novaya Gazeta newspaper described a particularly dire situation in a hospital near Moscow. There, it said, medical staff were being asked to turn Covid-19 patients onto their sides without the protection of face masks, gloves or goggles. Doctors were also being asked to sew their own masks, the paper noted. Other reports from Yaroslavl, 150 miles north east of Moscow, suggested medical staff there were being asked to do the same.
Such shortages cast a perplexing shadow on the Kremlin's decision to send a planeload of in-demand medical equipment to New York this week. With total deaths in the city nearing 2,000, there is little doubt the crisis-hit US city needs the ventilators and PPE onboard. But Moscow's description of the flight as "humanitarian assistance" to the world's richest nation has raised eyebrows. On Thursday, various speakers on state media suggested it might form a basis for cancelling sanctions.
On Wednesday, the State Department issued a statement insisting that the deliveries from Moscow had, in fact, been paid for. By Thursday, Russia's foreign ministry came up with another formula. Yes, Washington had paid for half of the plane's cargo, but Russia's direct investment fund had "donated" the other half.
Speaking to journalists on Thursday, spokeswoman Maria Zakharova said Russia had felt "compelled" to respond to the US request for humanitarian assistance.
"This is the time to work together," she said.
Join our new commenting forum
Join thought-provoking conversations, follow other Independent readers and see their replies