Crimea crisis: Foreign leaders condemn 'Russia's destabilising actions' as 93% vote in referendum for secession
Crimea votes 93 per cent in favour of coming under rule of the Kremlin as Ukrainian leaders in Kiev vow to hunt down separatist ringleaders and bring them to justice. Kim Sengupta reports from Simferopol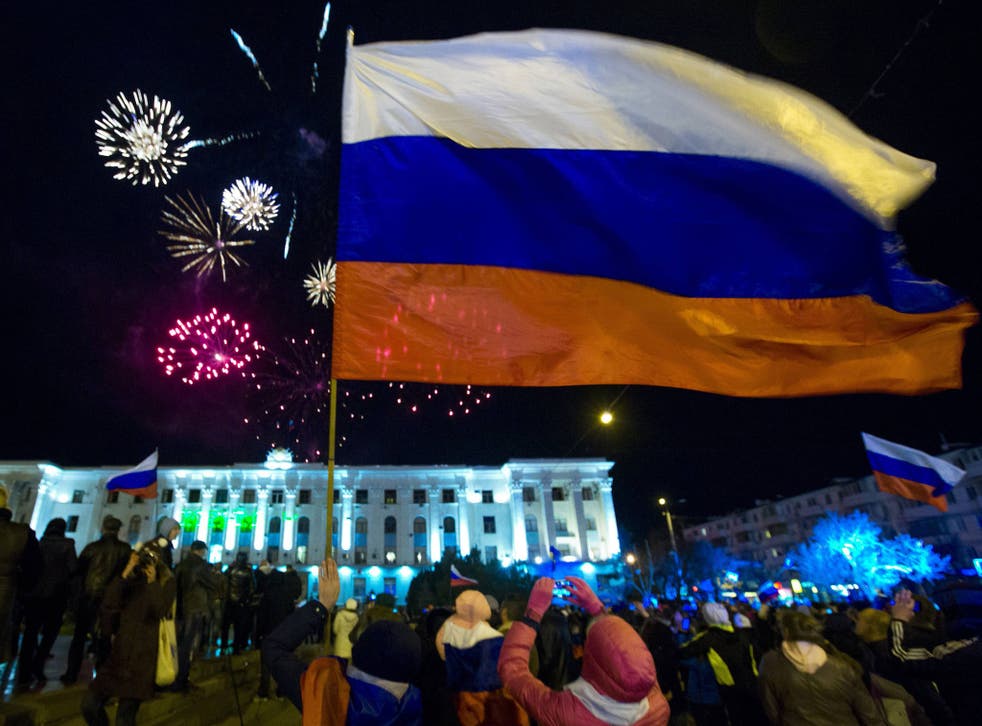 Crimea has voted to embrace Kremlin rule, escalating an already grave international crisis to an incendiary level.
Amid scathing attacks that voting had been illegal, rigged and delivered under the shadow of threats from Russian troops, exit polls –according to news agencies in Moscow – were tonight showing that 93 per cent had voted for joining Russia, higher even than the 82 per cent claimed a few hours earlier by Crimea's Deputy Prime Minister Rustam Temirgaliev and 80 per cent a few days ago by the Prime Minister Sergei Aksyonov.
There were fireworks, fiery speeches and songs as several thousand supporters of joining Russia celebrated in Simferpol"s Lenin Square on Sunday night.
The announcement of the result was met by prolonged and deafening cheers and chants of " Russia, Russia" from the growing crowd. Two leaders of the separatist government, prime minister Sergei Aksyonov and speaker Vladimir Konstantinov roused them to an even higher pitch by announcing that a delegation will be travelling to Moscow on Monday to accept Crimea into the Russian Federation.
Crimea referendum and independence

Show all 14
Three veterans of the Soviet Union's Afghan War was taken through the crowd to loud applause; one of them, in a wheelchair, held up his row of medals: " I am now back in my own country, I didn't fight and lose my legs for those Nazis in Kiev." An elderly couple were in tears as the national anthem was sung; Mr Aksyonov, however, was not moving his lips, offering the suspicion that the great patriot did not know the words.
The Ukrainian government in Kiev called what had taken place a " circus" and vowed to hunt down separatist "ringleaders" and "bring them to justice". Prime Minister Arseny Yatsenyuk announced plans to arm and train 20,000 members of a newly created National Guard to defend the nation and warned Crimean politicians who had called the vote that "the ground will burn under their feet".
The US and European Union stated they would not recognise the process or the outcome and threatened Russia with further economic sanctions, which are due to be discussed at a meeting of foreign ministers today. The Russian President Vladimir Putin, they warned, must not to use the results to annex the state.
In Simferopol on Sunday night, pro-Russians were holding a rally and concert at Lenin Square; there were processions of cars and motorbikes with horns blowing and fireworks exploding. Among those celebrating was Leonid Baskarov, a former soldier: "This is the greatest day of my life; it is the greatest day of the life of Crimea," he shouted with roars of approval from other revelers.
But in the neighbourhoods of Crimea's Tatar and Ukrainian minorities, the streets were empty – the atmosphere one of deep trepidation.
The last day of united Ukraine had been a strangely muted one; the already semi-autonomous region of Crimea was slipping away without any signs of outrage on the streets. The opponents of secession appeared to have accepted a fait accompli, preparing themselves for the tempestuous times that lay ahead.
There were potential flashpoints, including the revelation by the governing council of the largely anti-Russian Tatar community, the Mejlis, that an activist who had been missing for almost two weeks had been found dead, his body bearing marks of torture. There were also claims of irregular time-keeping at polling stations in pro-Russian areas, and that those locations had been used by people ineligible to vote.
Most of those opposed to secession had boycotted the referendum, including: the overwhelming majority of the Tatar community, who, according to the last census taken 13 years ago, account for 13 per cent of the state's population; the Ukrainians, who make up 23 per cent; and a significant minority of Russians, who form 53 per cent.
In Washington, the White House spokesman Jay Carney said the vote was as "dangerous and destabilising… As the United States and our allies have made clear, military intervention and violation of international law will bring increasing costs for Russia – not only due to measures imposed by the United States and our allies but also as a direct result of Russia's own destabilising actions."
The British Foreign Secretary, William Hague, arriving for the EU foreign ministers' meeting in Brussels, said: "I condemn the fact that this referendum has taken place, in breach of the Ukrainian constitution and in defiance of calls by the international community for restraint... The UK does not recognise the referendum or its outcome... we believe measures must be adopted that send a strong signal to Russia that this challenge to the sovereignty and territorial integrity of Ukraine will bring economic and political consequences."
Despite the threats against separatists from Kiev on Sunday, the presence of the Kremlin's force of 21,000 will make exacting retribution a difficult proposition. Mr Yatsenyuk has just returned from America where he has received plenty of expressions of moral support but no offer of weapons for the fledgling National Guard.
The Ukrainian Defence Minister, Ihor Tenyukh, complained about Moscow far exceeding the bilateral agreed limit for 12,500 personnel to be deployed in Crimea with the Black Sea Fleet. But he also announced that a truce had been arranged with Moscow until 21 March.
Details of this were not clear. Ukrainian officials stated that this meant siege of their forces inside Crimea would be lifted until that date. But their Crimean counterparts held this was to ensure there were no outbreaks of hostilities as they begin their process of withdrawal, which Mr Aksyonov had declared should start today. The two countries' are also in a stand-off further north, where Kiev has accused the Russians of occupying the border village of Striklove.
Meanwhile, separatist protests which had led to deaths in recent days continued in the eastern and south-eastern parts of the country. In Donetsk, the office of the chief prosecutor was stormed by a crowd chanting "Donetsk is a Russian city"; the group then attacked the headquarters of the security services.
The Russian government had reserved the right to intervene elsewhere in the Ukraine when sending troops into Crimea; Mr Putin was reported to have expressed his disquiet over what was happening in Donetsk to the German Chancellor Angela Merkel in a telephone conversation blaming right-wing groups acting with the consent of the Kiev government.
The German foreign ministry stated that Ms Merkel had taken the opportunity to propose expanding the number of international observers from the OSCE (Organisation for Security and Co-operation in Europe) to eastern Ukraine and this had met with Mr Putin's approval. This will not, however, happen in Crimea, where attempts by an OSCE military team to gain entry had failed at the border with, on one occasion, members of pro-Russian self-defence forces firing over their heads.
At Bakhchisarai, the ancient capital of the Tatar kingdom which once ruled this region, Ilmi Umarov, the head of the regional administration, was holding urgent talks with the visiting Lithuanian ambassador. "We feel that our people are now in great danger and we are making this aware to the international community. There has been a lot of intimidation and we have to ensure that our people do not react to provocation."
At one of the town's polling stations, Tamara Garbus, pointed out it was the violence at the Maidan [the centre of pro-EU protests in Kiev] which Russia blamed on fascists and neo-Nazis, which had persuaded her to vote for joining Russia. "I am 62 years old, I did not want to leave Ukraine for another country", she said. "But we were very frightened that these fascists would come to Crimea and do the same kind of things. It is Ukraine which has driven us away." Some others felt that the West had taken a highly patronising attitude towards Crimean aspirations.
Join our new commenting forum
Join thought-provoking conversations, follow other Independent readers and see their replies