Ukraine: Cut off from the EU, felled by corruption
Ukraine's decision to ally with Moscow rather than Brussels has brought the people on to the streets. But there is a bigger problem looming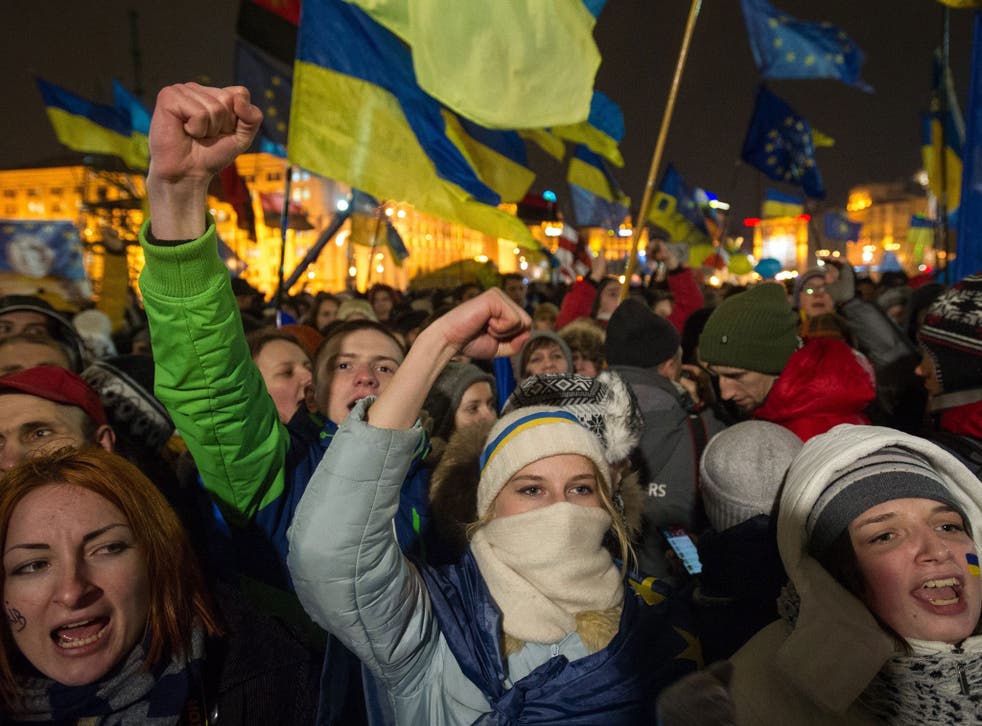 It's not so much a case of just being jilted at the altar. It's far more awkward than that.
The bride cancelled the wedding last week, in favour of an abusive ex, but last night turned up to the breakfast anyway, to awkwardly sip champagne with the groom's friends.
The dinner at the Vilnius Summit in Lithuania last night was supposed to be the occasion on which Ukraine's President Viktor Yanukovych signed a historic EU Association Agreement, a significant step towards what many hope is its destiny - full membership of the European Union. Prime Minister David Cameron and German Chancellor Angela Merkel were both expected to attend. But President Yanukovych announced last week that he wasn't ready to sign the agreement, opting to join Russia's Eurasian Customs Union instead, ripping the heart out of what would have been a significant summit, and the climax of years of negotiations.
The pressure from Moscow has been intense. First it raised the price of the Russian gas on which Ukraine depends, then banned the import of many Ukrainian items, including its popular luxury chocolates.
European leaders put out a joint statement before the dinner, in which they "strongly disapproved" of Moscow's pressure on Ukraine not to sign. Russian President Vladimir Putin accused the EU of "blackmail".
Mrs Merkel, who is expected to have talks with Mr Yanukovych later today, said on arrival at the summit venue in Vilnius, that the door was "still open to Ukraine".
To extend the wedding analogy, Ukraine has kept its cake, but still has designs on eating it.
On rejecting the plan, President Yanukovych said: "As soon as we reach a level that is comfortable for us, when it meets our interests, when we agree on normal terms, then we will talk about signing. When this will happen - soon or not so soon - time will tell. I would like that time to come as soon as possible." The public dismay from British officials over the event is real enough, but privately the situation is more complicated.
Having Ukraine in the European Union broadens the single market, which in theory is good for British business, but it is well known in Whitehall that "broadening" the European Union makes it harder to "deepen" it. The more countries are involved, the harder it is to reach agreement, and as a consequence, less sovereignty is despatched to Brussels.
More importantly, Transparency International currently ranks Ukraine 144th of the 176 nations it analyses each year for corruption. Whitehall sources admit that, given the increasingly difficult situation with Russia, it would have been "better to get them in now, and worry about corruption later".
Such sentiment will do little to reassure British businesses.
Tales of the difficulties faced by business people in the country are not hard to come by. The Globus Shopping Mall in central Kiev is typical of the changing face of Ukraine's capital city, packed with the world's leading luxury brands, all on sale at sky-rocketing prices. And the unpleasant turn of events at the British owned mall at the end of September were nothing if not typical too.
According to Leonard Sebastien, a legal officer for London & Regional, the property company that owns the mall, on the night of 22 September, a gang of "50 people in track suits and shaved heads arrived. They seized the guards' rooms, and the central control point, and expelled people from their workplaces, and placed groups of bandits to guard at the entrances".
The men were there to forcibly re-impose a new CEO on the company, at the instruction of a Kiev court. Despite never formally holding the position, Olena Morris had only stood down from the position, so she claimed, to recover from a mysterious acid attack in 2010, and now she was back.
The matter has since required the direct intervention of the British Ambassador, and is to an extent resolved, but not all businesses are so fortunate. Criminality is less commonplace in the country than it was, say, in the notorious 1990s – it could hardly not be – but every independent inspectorate there is agrees that the country remains dogged by corruption and a lack of transparency that makes it all but impossible to conduct business there in anything approaching a conventional manner.
Alexander Lebedev, the financial backer of The Independent and Evening Standard newspapers, has since 2004 been involved in a dispute with the Ukraine authorities after purchasing a 50 per cent stake in the Hotel Ukraine in Kiev. The remaining 50 per cent was to remain state owned, with Mr Lebedev having agreed to fund reconstruction work on the hotel at a cost of up to $150m (£91m), as part of a joint venture. In 2005, the joint venture was annulled, and Mr Lebedev's stake expropriated. Despite having won more than 40 court cases over the matter, Mr Lebedev's stake has effectively disappeared. The case is now with the European Court of Human Rights.
Russia's power to strongarm Ukraine may not last forever. A burgeoning gas market led by fracking, and developments in liquefied natural gas, have to some extent weakened its ability to threaten those dependent on its natural resources. At a conference in Yalta, in the Ukraine, last September, former US President Bill Clinton spoke of how Ukraine could "become a bridge between east and west". The country will be in no hurry to choose between the two, if such a choice can be avoided.
The agreement hinges on the opposition leader Yulia Tymoshenko being allowed to travel to Germany for health treatment, on which significant progress had been made. She is currently serving a seven year jail term for abuse of power and embezzlement, charges that the EU say are an example of "selective justice." Mr Lebedev's case is another.
Join our new commenting forum
Join thought-provoking conversations, follow other Independent readers and see their replies