Danish elections: The 'ice queen' thaws - Prime Minister Helle Thorning-Schmidt hoping for a Borgen-style turnaround in polls
Once pilloried for her broken promises, victory in a tight election would cap a remarkable turnaround for Denmark's first female prime minister, Helle Thorning-Schmidt. Richard Orange reports from the island of Bornholm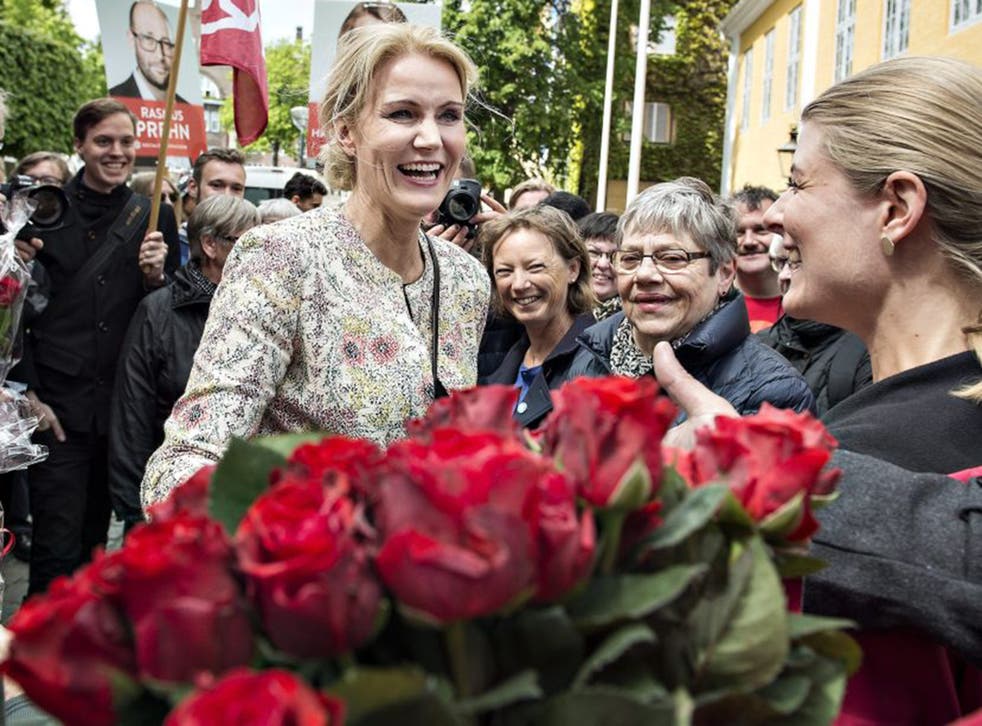 The moment Helle Thorning-Schmidt steps away from the stage and into the dazzling midday sun, she's arm in arm with a pair of middle-aged women, both total strangers, as they take photographs on their phones of themselves together with Denmark's first female prime minister.
The 48-year-old then goes on to grant selfies at an exhausting rate, at least four a minute, warmly hugging each and every person, her eyes sparkling, until finally she's ushered into a black BMW and driven away for a brief rest.
The woman once attacked as a distant, unemotional ice queen, or ribbed as "Gucci Helle" for her penchant for designer clothing, is connecting with voters in a way she never managed during her last campaign in 2011. With less than 48 hours until Thursday's election, the polls are tight, with the opposition slightly ahead and many commentators believing the result may be determined by voting in just four districts of Greenland and the Faroe Islands.
Three months after winning in 2011, her Social Democrat party's support had plummeted to just 19 per cent, its lowest level ever. By April 2013, only 16 per cent of Danes still wanted her as prime minister, while 42 per cent favoured her right-of-centre Liberal Party opponent, Lars Lokke Rasmussen.
But an expenses scandal which broke out in 2013 has diminished Mr Rasmussen's standing, while 41 per cent now say Ms Thorning-Schmidt is their preferred candidate. And at Folkemodet, Denmark's annual political festival where all parties decamped to the Baltic island of Bornholm at the weekend, Ms Thorning-Schmidt seemed to have the momentum.
"She's become better and better, she's not so uncertain," said Inge Svendsen, one of many pensioners in the crowd waiting for her first appearance of the day. A man grumbled that while Ms Thorning-Schmidt was competent, it was hard to know whether she was a real Social Democrat. Ms Svendsen disagreed.
"For far too long there's been this focus on her personal life – the suggestion that because you are a woman and look like Helle, you can't be a Social Democrat. She's not allowed to have a Gucci bag, or to look good in high heels, and I think it's totally wrong." Ms Thorning-Schmidt's campaign narrative is one Britons will recognise, albeit with left and right reversed. "The right-wing government led Denmark into a historically severe crisis," she exclaimed in her conference speech later that afternoon. "And a Social Democratic-led government got us out of it."
Later she told The Independent: "It's been tough for Denmark. We had an economic and financial crisis and a lot of people, they lost their jobs, they nearly lost their houses… Now we're out of the crisis, we're heading for growth for Denmark and more jobs. People are starting to see that we are on the right track and the government has something to do with that fact." The alternative on Thursday, she argued, would be voting for a right-wing "experiment" that could put all that at risk.
Watching Ms Thorning-Schmidt work the crowd, dressed down in a loose-fitting blue denim shirt, tight black jeans and a Marc Jacobs handbag (she auctioned the Gucci one for charity), it's hard to remember just how unpopular she and her party became four years ago when, landed at the head of a weak minority coalition, she was forced to shelve election promises.
She grimaces when asked about this in her first interview of the day. "There have been times when the polls were awful – awful," she said. Kasper Moller Hansen, professor of political science at the University of Copenhagen, said: "If the Social Democrats win this election, it would be historic."
Part of the turnaround can be put down to the economic recovery, part to Ms Thorning-Schmidt's own performance. As well as her relaxed way with photographs for voters, there's that other selfie – taken with President Barack Obama and David Cameron at Nelson Mandela's memorial service – which underlined her skills as an ambassador for Denmark.
Women of Power: Female leaders around the world

Show all 12
It's helped turn one of her biggest liabilities, her unusual international lifestyle, into an asset. Her husband Stephen Kinnock, the MP son of the former Labour leader, has lived, during the week and for many weekends too, in a different country ever since he moved to Switzerland to work for the World Economic Forum six years ago. There's speculation in Denmark over whether Ms Thorning-Schmidt will join him in the UK if she loses.
According to Michael Ulveman, the wily spin doctor who helped her Liberal Party predecessor as Prime Minister, Anders Fogh Rasmussen, win two elections, the turnaround has echoes of Borgen, the drama of Danish coalition politics that was a surprise hit in Britain.
"In Borgen, it's a PM struggling alone against a lot of challenges, and you could say that with Helle Thorning-Schmidt. Her husband is not there, she went through a lot of political shit a few years back, she's been able to recover and fight her cause without a lot of support," he said. "When you look at her platform last time, it was very naive politically, and it was easy to tear apart. This time, she's more sophisticated."
For this, Mr Ulveman gives credit to Thor Moger Pedersen, "a very clever and cynical young guy", whose story could make its own Borgen sub-plot. The 30-year-old was Denmark's youngest minister before being pushed out, switching from the Socialist People's Party to the Social Democrats, and ending up managing Ms Thorning-Schmidt's campaign.
A satirical video distributed on Facebook cut together footage of Lars Lokke Rasmussen necking beer, then looking bleary-eyed in a meeting with US President Barack Obama, followed by a clip of Boris Yeltsin dancing, before saying Mr Rasmussen only wanted to be PM because "he had so much fun last time".
The video, released on a Facebook page with no official link to the campaign, has had some 270,000 views, a colossal number for Denmark. Other social media attacks exploit Mr Rasmussen's free and easy expensing of beer, cigarettes, and clothes when Prime Minister. As a result her rival now looks less "hyggelig", the prized Danish quality of cosy easy-goingness, and more like a liability.
The Social Democrats have also used rhetoric on immigration in an unprecedented way for the party, in an attempt to neutralise the issue – long the preserve of the right-wing Danish People's Party, which has at times seemed poised to overtake the main opposition and become the country's second-largest party.
Yildiz Aktogan, an up-and-coming Social Democrat MP with a Turkish background, protested to Ms Thorning-Schmidt when their party plastered, "When you come to Denmark you have to work," on buses across Copenhagen. "That was personally for me a little bit too much. I mean, of course everybody wants to work," she said at a debate about jobs for refugees. "But if we don't go and make a very clear statement on that issue, then we leave the floor to the Danish People's Party." The strategy appears to have won back some working-class voters.
But there's no place for such negative campaigning at Bornholm, and in her main speech, Ms Thorning-Schmidt abruptly flips her rhetoric. "I want to say to the tens of thousands of Danish Muslims who every day go to work, and contribute to society: 'You are part of Denmark, and we need you,'" she said, winning one of her biggest cheers of the day.
Later, she is asked why she never makes political capital from the fact that she is her country's first female prime minister. "There's no reason to go around telling everyone, people know," she laughs. "I was a feminist before I was a Social Democrat. Now we'll see if people will want me to be the first female PM to win an election a second time."
Join our new commenting forum
Join thought-provoking conversations, follow other Independent readers and see their replies