Defend Europe: Far-right ship stopping refugees ends its mission after a series of setbacks
The crew of young anti-immigrant and anti-Islam activists applauded their mission as a success despite failing to achieve any of their aims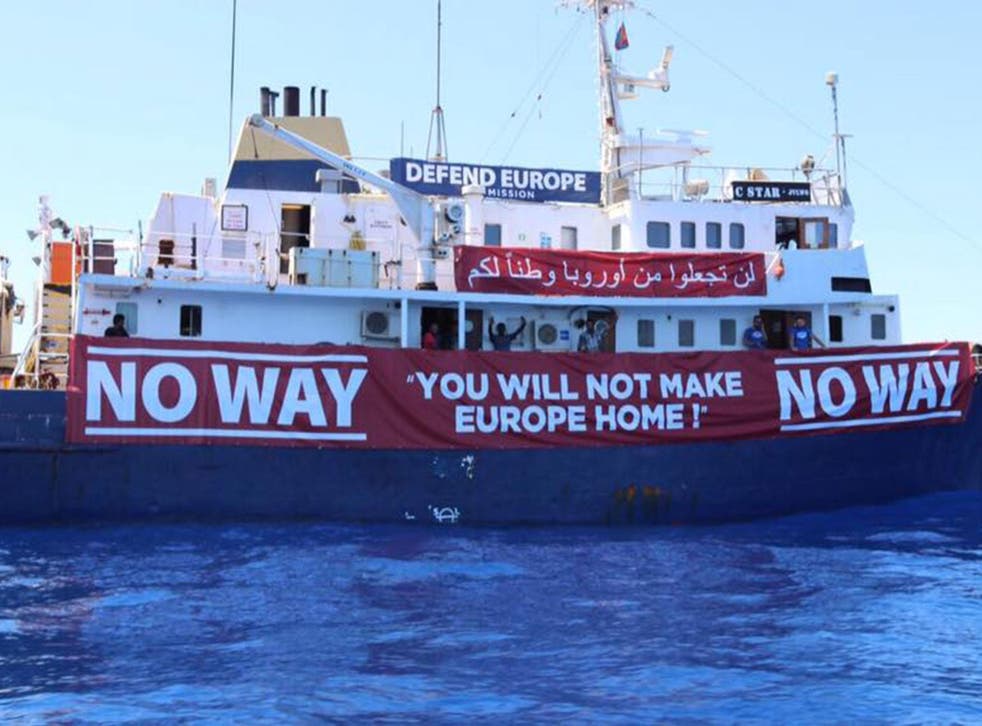 A boat chartered by far-right activists who sought to hamper the rescue of refugees in the Mediterranean has wrapped up its mission after enduring a slew of embarrassing setbacks.
Defend Europe, which is made up of a network of young anti-immigrant and anti-Islam activists, hailed their trip as a success despite the vessel spending less than a week monitoring the sea by Libya where hundreds of thousands of migrants have been rescued in recent years.
The crew who chartered a 422-tonne vessel called the C-Star for their latest efforts aimed to send refugees "back to Africa" by harassing and blocking search and rescue vessels run by NGOs but were not successful in achieving their goal.
"Yes, Defend Europe has been a political success. Only two months ago, many NGOs sailed in front of the Libyan coasts, like cabs waiting for customers," the group said in a statement. "Today, there is only one."
NGO vessels working off Libya have reduced activities in the wake of the Libyan and Italian authorities decision to curb their activities and in direct response to a decrease in the number of migrant boats departing Libya.
The boat's voyage has been plagued by a long string of humiliating hitches that saw it delayed by several weeks. The launch was switched to Cyprus from Sicily where anti-racist campaigners and journalists had assembled last month.
World news in pictures

Show all 50
The vessel, hired by the movement after it raised more than €75,000 (£67,000) through crowdfunding, set sail from Djibouti in early July and had intended to dock in Catania, Sicily. However it was stopped from doing so after the mayor of Catania, Enzo Bianco, urged the city's port authorities to deny the ship docking rights. Plans to refuel in Greece and Tunisia were also ruined by local opposition.
What's more, the boat was stopped in the Suez Canal after the captain failed to produce a satisfactory crew list, before travelling to northern Cyprus, where crew members were arrested over people smuggling allegations. They were later released after claiming Sri Lankan crew members on board were "apprentice sailors" who were supposed to disembark in Egypt. Ironically this increased the list of asylum-seekers the mission was supposed to reduce.
Earlier in the month, volunteers on a German refugee rescue ship were deployed to help them after they were apparently informed Defend Europe's boat had endured a mechanical failure.
The originally stated aim of the Defend Europe vigilante-style "mission", which is supported by former Imperial Wizard of the Ku Klux Klan David Duke, was to actively block search and rescue (SAR) NGO ships who rescue refugees and migrants from sinking boats and dinghies. However, they later said they were changing approach, claiming they would "monitor" the situation and intervene should they see wrongdoing by the NGOs.
Crew members have been yelling at humanitarian ships via megaphones and "trolling" other crews such as the Spanish charity Provactiva Open Arms over radio by demanding they exit the search and rescue zone.
Defend Europe, whose members were photographed posing for photos alongside Katie Hopkins last month, accuses NGOs which have saved thousands of lives in the Mediterranean of working in conjunction with people smugglers to transport migrants to Europe.
The group is made up "Identitarians" – a network of people in their 20s and 30s who claim to preserve Europe's identity and prevent "Islamification" of the continent. Members of the far-right, anti-Muslim movement, which has been described as Europe's equivalent of the American "alt-right", have used controversial tactics to further their causes.
This has included blockading roads around Calais, occupying mosques, clashing with leftists and already trying to block an NGO ship in Sicily. The movement can be traced back to France in 2002 when the far-right Bloc Identitaire party set up a youth wing.
More than 90,000 refugees and migrants, the majority of them sub-Saharan Africans, have been rescued and brought to Italy so far. More than 2,400 people have died attempting the treacherous Central Mediterranean crossing.