Director vs dictator: Oscar-winning film-maker Rustam Ibragimbekov stands for Azerbaijan presidency
One has an Oscar, the other rules oil-rich Azerbaijan with an iron fist. Can Rustam Ibragimbekov overcome Ilham Aliyev in the battle  for the presidency?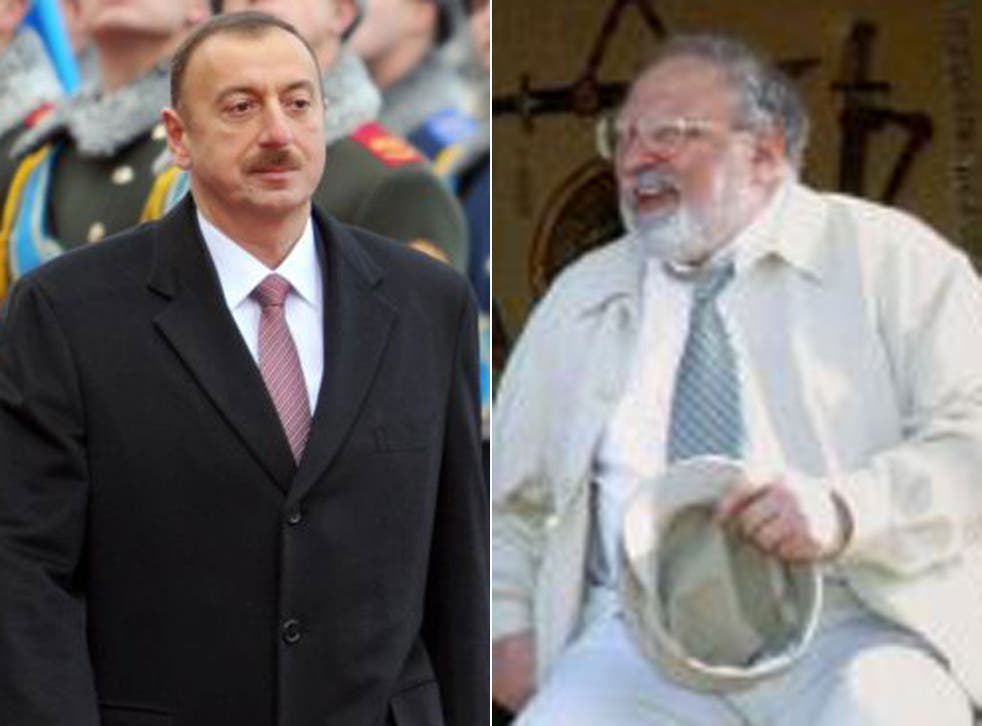 During the many decades that the 74-year-old Oscar-winning director and screenwriter Rustam Ibragimbekov spent on film sets, he had little use for bodyguards. But it is not surprising that his friends are worried now. Ibragimbekov – a man who has never had much to do with politics – has just been chosen as the unified opposition candidate to face off against Ilham Aliyev, the heavy-handed leader of his home country, Azerbaijan.
Mr Aliyev – who took over when his father, Heydar Aliyev, died in 2003 – changed the constitution to allow him to stand for a third term in general elections that are expected in the autumn. He has used windfall cash from the country's oil industry to modernise the capital city, Baku, and turn it into a glittering, neon Dubai on the Caspian Sea. At the same time, his family and cronies have been implicated in a multitude of huge corruption scandals.
With one eye on the country's vast oil reserves, Western governments have turned a blind eye to the rampant corruption within the Azeri elite, while heavy-handed tactics and control of the media at home have kept discontent to a narrow segment of young internet-savvy city dwellers, until recently. Vocal critics of the regime have been locked up, often on spurious "hooliganism" charges.
Ibragimbekov is neither a charismatic speaker nor a long-standing critic of the regime; in fact he was once close to both Mr Aliyev and his father. There is footage online of Mr Aliyev toasting the filmmaker's brilliance at a vodka-laden feast and taking pride in the fame he brought to Azerbaijan. The director has long been one of the country's most prominent cultural figures, making the Soviet classic The White Sun of the Desert and co-scripting the Oscar-winning Burnt by the Sun in 1994.
Ibragimbekov himself says that when Ilham Aliyev took over from his father, he and other cultural figures were happy that a "young, progressive politician" would run Azerbaijan . For the first few years, things were "more or less OK", he says, but by 2007 it was clear that Mr Aliyev's rule was taking an ever more authoritarian bent.
"At that time we thought the government was going in the wrong direction, and noticed that the rampant corruption was becoming worse," he says, during an interview at the Moscow office of his production company. He and other public figures set up a forum of intellectuals, which met in Baku with the hope of providing some gentle guidance for Mr Aliyev and his ruling clique, but they found that the audience was far from receptive. "We invited the authorities to have a dialogue with us, but instead what we got was dirt and accusations, and stories slandering us planted in the media," he says.
Recently other critics have suffered worse fates. One journalist who investigated corruption in Mr Aliyev's family had her house broken into and cameras installed that filmed her having sex. When she refused to stop her reporting, the video was posted online.
Ibragimbekov is not seen as a modern figure and is thus out of touch with the young urban opposition to Mr Aliyev. However, he is seen by some as a transitional figure who could unite disparate groups in their fight. "He is known in Azerbaijan as a man who achieved huge success in his field," says Emin Milli, an opposition blogger and journalist who spent more than a year in jail after vocally criticising the government. "Everyone knows him and a lot of people respect him. He wins a lot of support from people who would not have supported the old opposition groups," Mr Milli says.
Ibragimbekov says he would be an interim president for two years, hold honest and open parliamentary elections and a referendum to change the constitution to create a parliamentary republic, with the president becoming a symbolic figure. However, he is worried he could face arrest or even be killed on his return to Azerbaijan so he remains in Moscow, drumming up international support for his run against Mr Aliyev. He has recently returned from meetings at the State Department in Washington and travelled to Brussels to meet with Catherine Ashton, the EU's top foreign policy official.
How the regime will respond to his return to Baku, and whether or not he will be arrested, is difficult to predict. Mr Aliyev has not left much room for nuance, however, calling the opposition "anti-nationalist, corrupt and traitorous" during a recent speech.
There has been an "unprecedented crackdown" in the past few months, according to Rebecca Vincent, a former US diplomat posted to Baku who now works on human rights issues there. "Rather than allowing a few reforms to let off steam quickly and relieve pressure, they are doing the opposite and pushing things much harder."
Ms Vincent estimates there are more than 80 political prisoners in the country and points to worrying developments such as a change to the law on defamation that could see people jailed for posts critical of the President or government officials on Facebook or other social networks. In recent months there have been several protests in regional cities, some of which turned violent in a sign discontent may be growing.
"This regime is not as stable as Aliyev wants to sell it as or as the US or UK establishments claim, and the riots we have seen in the regions could be a small taste of what is to come," Mr Milli says. "This is a historic moment, because the traditional opposition has never united at any point in the last 20 years."
While Ibragimbekov says he is convinced he can win honest elections and hopes for a peaceful transition, he dodges the question of putting Mr Aliyev and his family on trial. "I'm not a fan of recriminations, and I certainly don't want bloodshed," he says. "But there would have to be some mechanism to return the stolen money, at least."
As for what happens if the government decides to crack down on the opposition, or obviously falsifies election results, he paints a dark picture. If discontent starts to boil over, he says, there could be an "explosion" of popular feeling. "Pushkin wrote that there is nothing worse than a merciless Russian uprising," he says, shaking his head. "But Pushkin had never seen an Azeri uprising."
Ilham Aliyev: Life in brief
Heydar Aliyev held a firm grip on Azerbaijan when he took power in 1993, two years after the oil-rich nation gained independence from the Soviet Union. Though he restored relative stability, his critics say it came at the cost of human rights and media freedoms.
When Heydar died 10 years later, his son, Ilham, took over as President, winning a landslide victory at the 2003 general election – plagued, according to Western observers, by voter and opposition intimidation and media bias. Described by Heydar as his "political successor", Ilham was well-prepared for office – he had already served as Prime Minister, deputy leader of the ruling New Azerbaijan Party (NAP) and vice-chairman of the state oil company.
Ilham won with ease his second term in office in a 2008 election boycotted by the main opposition parties. Having successfully repealed a two-term presidential limit in 2009, he is due to stand again in elections expected this autumn.
Register for free to continue reading
Registration is a free and easy way to support our truly independent journalism
By registering, you will also enjoy limited access to Premium articles, exclusive newsletters, commenting, and virtual events with our leading journalists
Already have an account? sign in
Register for free to continue reading
Registration is a free and easy way to support our truly independent journalism
By registering, you will also enjoy limited access to Premium articles, exclusive newsletters, commenting, and virtual events with our leading journalists
Already have an account? sign in
Join our new commenting forum
Join thought-provoking conversations, follow other Independent readers and see their replies