Divisions emerge as Sarkozy loses ground in polls
Reports of deep divisions within the President's camp as he prepares to address supporters at a rally in the heart of Paris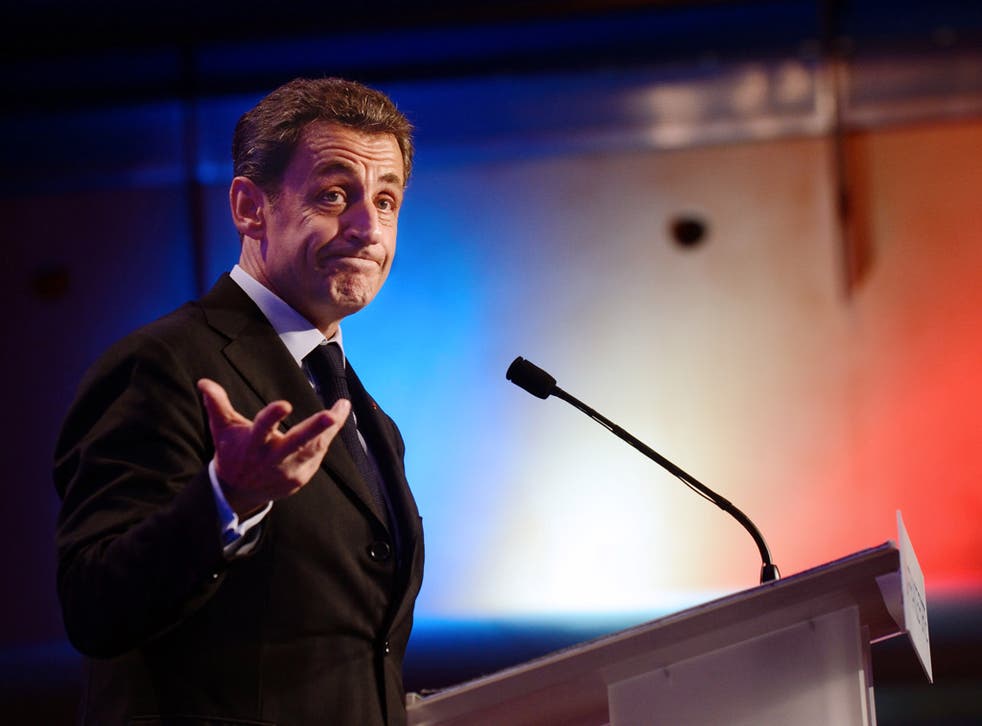 New doubts and divisions appeared yesterday in the camp of President Nicolas Sarkozy, just a week before the first round of the French presidential elections.
A volley of four opinion polls showed President Sarkozy losing most of the ground gained in recent weeks on his principal rival, the Socialist candidate, François Hollande.
Three polls suggested that Mr Hollande was once again leading the President in voting intentions before the ten-candidate first round of the election a week tomorrow.
All four polls showed Mr Hollande winning the two-candidate second round on 6 May with a landslide of between 57 and 54 per cent of the vote.
Further twists and turns are possible.
Other surveys suggest that the turn-out could be the lowest in the history of French presidential politics, potentially skewing the result.
But the momentum of the campaign, which had been moving somewhat in Mr Sarkozy's favour, appears to have switched back to Mr Hollande.
There were reports yesterday of deep divisions within the President's camp as he prepares to address at least 30,000 supporters in a rally on the Place de la Concorde in the heart of Paris tomorrow.
Should he soften the hard-right and populist rhetoric of the last month and appeal to voters of the centre? Or should he continue with a frenetic approach which has thrown up new attacks and new ideas almost every day?
In an interview on live television on Thursday night, President Sarkozy found a surprising new target for his anger - the Financial Times. He also renewed his criticism of the British economy, which he said was "much worse than that of France".
Mr Sarkozy said he was "delighted" that the Financial Times had criticised his economic record. "The FT has always defended the anglo-saxon model (of light regulation and non-intervention," he said. "I don't agree with them...The FT says we should do exactly as Britain does… but Britain's economic situation is much worse than ours".
Whatever the rights and wrongs of such a claim, Mr Sarkozy risks confusing his own electorate on the French right and centre. Earlier this week he suggested that Mr Hollande's economic programme would produce a market "melt-down" in a matter of days because it would offend the orthodoxy of London and New York-dominated financial markets.
President Sarkozy has gambled in the last month on a hard-right campaign, in which he has presented himself as the candidate of "the people" and a "silent majority" against an arrogant Parisian media and political "elite".
He has appealed to the voters of the far-right National Front by suggesting that French values and identity faced threats ranging from Islamist terrorism to halal meat.
Mr Sarkozy's strategy was to build a substantial lead in the first round and then switch to a kinder, gentler message before the two candidate second-round two weeks later.
He began to attract votes away from the NF candidate Marine Le Pen and overtook or drew level with Mr Hollande in opinion polls for the first round (but not the second).
Mr Hollande, who is addressing a big open-air rally on the edge of Paris tomorrow, has also been challenged in the last month by a noisy, hard-left campaign by his former party colleague, Jean-Luc Melenchon.
The Socialist front-runner has held his nerve and may now be reaping the rewards.
He has persisted with his low-key brand of prudent socialism, promising to reduce France's large budget deficit while promoting growth-creating policies in France and the European Union.
Three of the latest batch of polls suggest that Mr Melenchon's rise may have peaked and that Marine Le Pen has once again seized third place.
Join our new commenting forum
Join thought-provoking conversations, follow other Independent readers and see their replies