Dominique Strauss-Kahn trial: My sex life should not be on trial, accused tells courtroom
Former IMF chief loses temper as he admits his sexuality is rougher than the average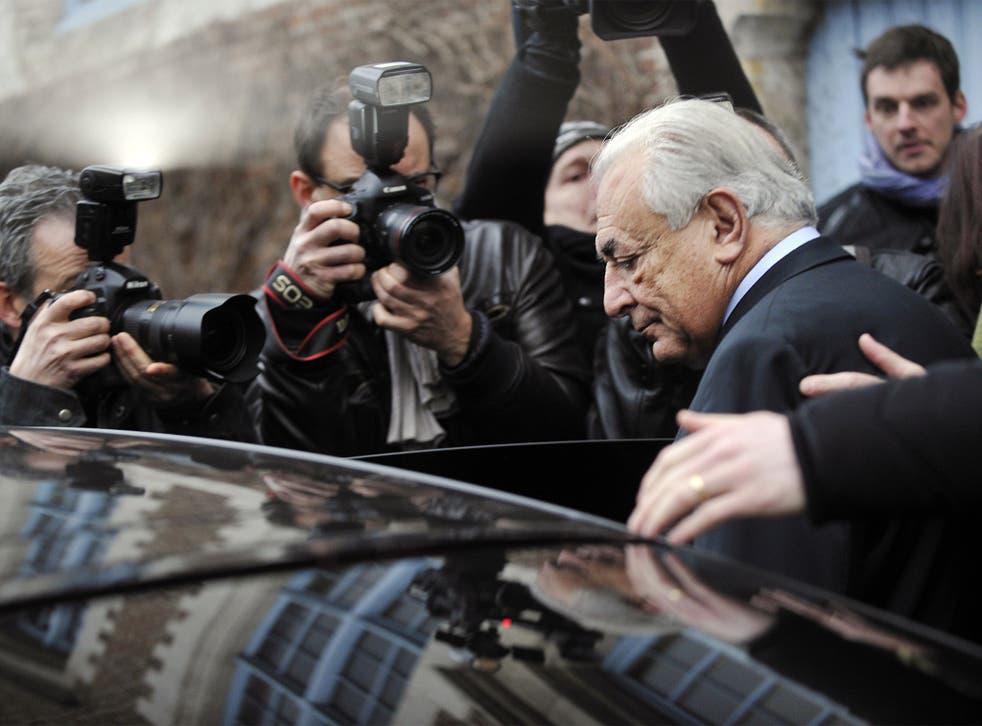 Dominique Strauss-Kahn admitted today that he had an appetite for "rough" sex but complained that his sexual activities should not be on trial.
On the second day of his testimony in the Lille "pimping" trial, the former IMF chief lost his temper as he complained that, in effect, that he was being prosecuted for being Dominique Strauss-Kahn.
"I'm beginning to have enough of all this," he said. "Everyone has the right to an opinion on my sexual behaviour in private but it has nothing to do with this case."
"You would think that I was on trial for deviant sexual practices. But there is no longer any such law [in France]."
A former prostitute claimed – echoing a similar claim made by another ex-prostitute on Tuesday – that she had been unwillingly subjected to anal sex by the former IMF chief in a Brussels hotel in 2009. DSK did not deny either incident but said that, in each case, the sexual act was consensual. Asked why both women now said that they suffered great distress, Mr Strauss-Kahn replied: "I think I must have a form of sexuality which is rougher than that of the average. But I had no idea at the time that these experiences were so unpleasant as the women now say."
Mr Strauss-Kahn and 12 other people are on trial for "aggravated pimping". DSK and three other people are accused of arranging sex parties with prostitutes in Brussels, Paris and Washington. Any activity which promotes or organises prostitution can be considered "pimping" under French law.
Dominique Strauss-Kahn: A timeline

Show all 11
The DSK part of the trial turns on two questions. Did the disgraced former politician help to organise the 12 "orgies-sans-frontières" in 2008-11? Did he know that many women present were prostitutes.
Mr Strauss-Kahn answers "No" to both. He grew angry – perhaps theatrically, perhaps not – because he thought that the trial was exploring instead a different question: was he a man with extreme and unusual sexual appetites? The former IMF chief said that was none of the court's business.
The prosecution disagrees. DSK's alleged behaviour towards the two women – and others whose evidence has yet to be considered – proves that he knew that they were prostitutes. He would not have behaved so callously if he had genuinely thought they were "libertines" or "swingers".
"My sexual behaviour does not impose the necessity of prostitutes," DSK responded. "I don't like prostitution… Prostitution is an infringement of the human liberty of women."
Earlier, "Jade", a Belgian former prostitute in her 40s, said Mr Strauss-Kahn had anal sex with her without her permission when she was part of a threesome in his hotel room at the Amigo Hotel in Brussels in 2009. She said that she had driven Mr Strauss-Kahn from a sex club in the Belgian countryside to the hotel, and they had discussed her prostitution on the way.
"When I was lying with my back to Monsieur DSK, I suffered a penetration. If he had asked me, I would have said no. I didn't like that," Jade said.
"With a swinger, you at least ask the question. I was impaled, and he didn't ask at all – and I think it was because I was a prostitute."
There were angry scenes when Frédérique Beaulieu, one of DSK's lawyers, used the word "sodomy" as she asked Jade if she thought certain sexual practices were reserved for prostitutes. Jade shouted that she did not want that word used "because I don't want all my family and friends to know what was done to me".
Mr Strauss Kahn confirmed that the encounter took place as "afters" following a visit to a wife-swapping club in the Belgian countryside. "If Jade was as upset as she now tells us, why did she stay and chat and drink coffee with us afterwards," he asked.
Jade admitted that, despite her distress, she had accepted €2,000 (£1,480) to go to Washington to join a sex party with DSK the following January. While there, she was invited to his office at the International Monetary Fund and took photographs.
Mr Strauss-Kahn said this visit proved that he thought she was a "swinger", and a friend of his friends in Lille. "I would not have taken such an extraordinary risk in allowing her to take pictures with me in my office at the IMF if I had known she was a prostitute," he said.
The last sex party was in Washington in May 2011, a day before DSK's arrest in New York accused of attempting to rape a hotel chambermaid. Charges in that case were dropped and a civil claim settled out of court.
The trial is expected to last another 10 days. Judgment by the panel of two male and two female judges will probably be reserved for several months. If convicted, DSK faces up to 10 years in prison and a fine of €1.5m.