Donald Trump's supporters think the media is covering up terror attacks in Sweden
'Far left has an alliance with radical Islam to bring #SettlementJihad to America,' claims one fan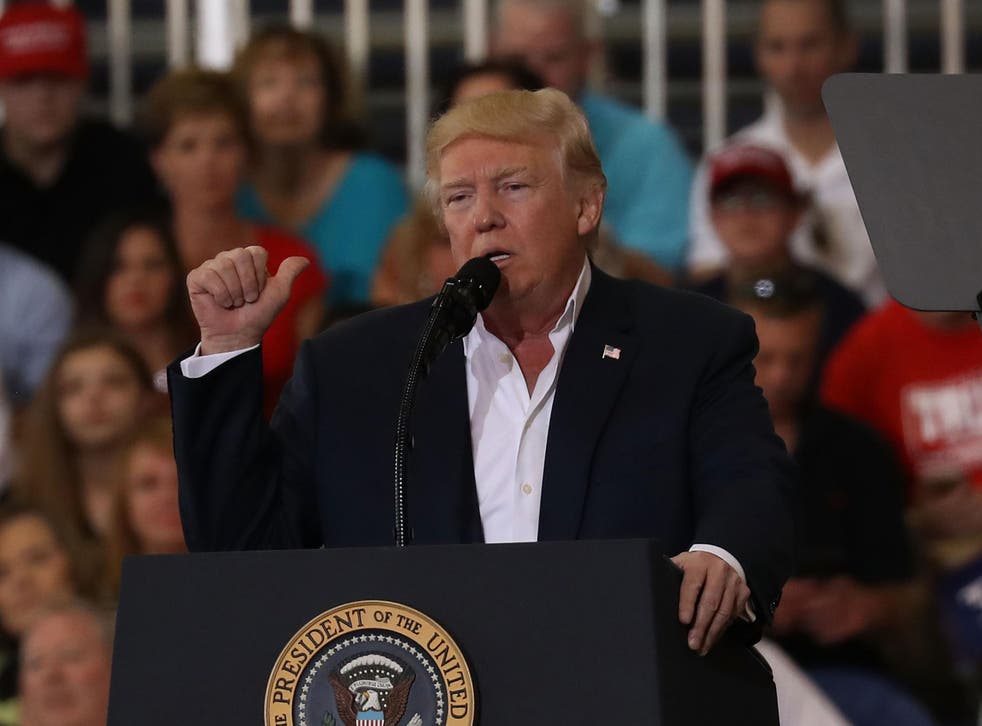 Donald Trump's supporters have said the media is attempting to "cover up" terror attacks in Sweden, after the President faced criticism for appearing to cite a non-existent terror plot in the country.
Mr Trump later said his statement had referred to a story broadcast by Fox News. The TV channel ran a clip of a film by Ami Horowitz on Friday that alleged Sweden had seen a surge in gun violence and rape following an influx of immigrants.
Yet Mr Horowitz's documentary has been criticised for being riddled with inaccuracies. One Swedish terrorism expert told The Independent the film "grossly exaggerated" the amount of crime in the country and wrongly conflated drug violence in Swedish cities with crime perpetrated by refugees.
Donald Trump: Sweden baffled by reference to unknown terror incident
While defending his proposal to ban travel from seven Muslim-majority countries, Mr Trump told a Melbourne crowd: "You look at what's happening in Germany, you look at what's happening last night in Sweden."
No terrorist incident or major attack occurred on Friday night in Sweden and Mr Trump's comments were widely ridiculed online.
Yet supporters of the Republican President have insisted he has "very cleverly" drawn attention to an alleged widespread Islamist extremist problem in the country.
"It was quite extraordinary; the reaction has been one of bewilderment," Dr Magnus Ranstorp, research director at the Swedish National Defence Council, told The Independent.
Speaking about Mr Horowitz's film, Dr Ranstorp said: "It was grossly exaggerated and there were many aspects that were taken out of context and made to be worse than they actually are.
"It was very clear that a connection between refugees, terror and crime, was a thesis that was advanced in this documentary."
Instead, Dr Ranstorp said cities such as Sweden's capital Malmö had suffered with gang-related violence in racially segregated areas — crime that was not typically perpetrated by refugees.
"In general, the crime level has gone down, but in some of the areas, the shooting incidents, gang-related crime has gone up," he said.
"This is nothing to do with extremism, it has to do with control of drug territory.
"We have a serious problem with gang-related crime — they shoot each other. There is the issue — it's not refugees who do this."
Activists protest Donald Trump's proposed Muslim ban

Show all 11
More than 300 people have left Sweden to fight in Syria and Iraq, making the country one of the biggest exporters of jihadists in Europe per capita.
But Dr Ranstorp said the press had engaged in free discourse about the problem: "The press here is very open, and they have been reporting about jihadism. I don't see any effort to try and cover up."
Sweden's Foreign Ministry has requested the Trump administration explain the President's comments.
The Swedish embassy in the US said it was looking forward to "informing the US administration about Swedish immigration and integration policies".
Join our new commenting forum
Join thought-provoking conversations, follow other Independent readers and see their replies