Donald Trump and Vladimir Putin 'trying to redraw the map of Europe', former French PM warns
Jean-Pierre Raffarin is concerned the US administration is targeting individual EU states for British-style bilateral deals to test the solidarity of the bloc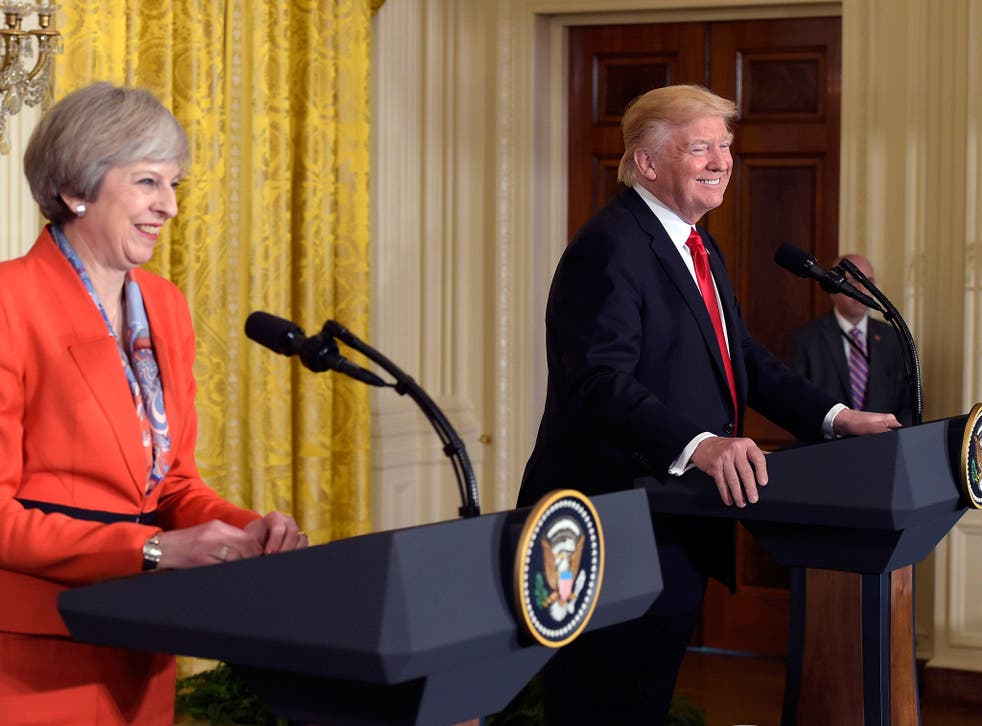 Donald Trump and Vladimir Putin are likely to attempt to "draw the map of Europe to their own design" in the fallout from Brexit, a group of senior French politicians have warned.
The new American President, they say, may use the Government's desperate need for a trade deal with the US after Brexit as a template to undermine and weaken the European Union.
Theresa May was the first foreign leader to visit the White House after the election and Mr Trump has declared that a new trade deal between the US and UK would take place swiftly after Brexit.
European diplomats point out that London has repeatedly played the "Trump card" in claiming that leaving the European single market will not have adverse economic consequences.
Mr Trump and his advisors have also been vocal in their attacks on the European Union, and Jean-Pierre Raffarin, a former French Prime Minister, expressed deep concern that the US administration has targeted individual member states for British-style bilateral deals to test the solidarity of the union.
"Mr Trump is trying to hold the EU hostage to Brexit," he said.
Vladimir Putin may also, said Mr Raffarin and his colleagues, use similar ploys to destabilise Western European alliances, as they stressed the need for member states to stay united in the face of attempts to divide them.
"The meeting between Mrs May and Mr Trump is something which affects us. The difficulty with Mr Trump is that he is completely unpredictable, we have to see what he is going to do.
"But we are receiving signals which we find worrying," said Mr Raffarin, the chairman of the French Senate's EU Committee, during a visit to London.
"The US wants to do bilateral deals with its friends. We don't accept this approach, we are united in the European Union and we must stay together.
Theresa May: Invite for US President Donald Trump stands
"With Russia we need to wait and see, but Mr Putin sees Europe in terms of Nato and he too sees the logic of bilateral relationships for his benefit.
"Mr Trump and Mr Putin are likely to try to draw the map of Europe to their design".
Mr Raffarin, who is leading a French Senate working group on "the withdrawal of the UK and the refounding of Europe", wanted to point out that similar views about the US and Russian leaders were held by Angela Merkel's government.
"The Germans are very interested in Mr Trump and Mr Putin's views on Europe. The Germans want a cohesive Europe," he said. "Europe has been strengthened through crisis: times of trouble can pull us closer together.
"France and Germany are united in our approach. We, and other governments, want to listen to public opinion. We don't think people in continental Europe want to see a deconstruction of Europe, people don't want Europe to unravel."
European Union leaders have dismissed Ms May's offer to be a "bridge builder" with the Trump administration.
World news in pictures

Show all 50
Speaking at a summit in Malta earlier this week, French President François Hollande commented: "It is not about asking one particular country, be it the UK or any other, to represent Europe in its relationship with the United States.
"In a while, France will be the only permanent member of the Security Council to be also a member of the EU when the UK leaves."
Ms Merkel said she had not even spoken to Ms May about her Washington visit and Dalia Grybauskaite, the Lithuanian President, quipped: "I don't think there is a necessity for a bridge. We communicate with the Americans on Twitter."
Mr Raffarin rejected suggestions that some members states, led by France, wanted to "punish" Britain over Brexit.
"The new agreement [for Britain] will not be as good as the previous one, but we need to reassure the British and also the Europeans that an agreement will be in their best interest," he stated.
The ability of the financial sector based in London to operate in the European Union after separation will be a key part of the negotiations.
The City may be forgiven for thinking that current manoeuvres by the French do not have its best interest at heart.
Along with the politicians, the French delegation visiting London also includes business leaders who want to attract financial institutions and banks from Britain's capital to Paris.
A reception was held for around 80 banks and fund managers at the Shard on Monday evening during which French officials estimated that more than 10,000 people working in the UK financial sector may relocate to the Paris post Brexit.
Valérie Pécresse, President of the Ile-de-France region, which includes Paris, maintained that the overall exodus could be a lot higher with "tens of thousands" of jobs leaving London.
"The move will come slowly, so we just don't know how many may come. It will depend on the strategy of the firms and how hard the Brexit is," she said.
Ms Pécresse was keen to deny that this meant it would be in France's interest to have a hard Brexit. "No, no, absolutely not," she said.
"It's not a question of punishing Britain for its vote. But it is a question of trying to keep a strong European Union.
"If we want to keep a strong EU, it means that people who vote out cannot have all of the advantages and yet none of the duties."
Register for free to continue reading
Registration is a free and easy way to support our truly independent journalism
By registering, you will also enjoy limited access to Premium articles, exclusive newsletters, commenting, and virtual events with our leading journalists
Already have an account? sign in
Register for free to continue reading
Registration is a free and easy way to support our truly independent journalism
By registering, you will also enjoy limited access to Premium articles, exclusive newsletters, commenting, and virtual events with our leading journalists
Already have an account? sign in
Join our new commenting forum
Join thought-provoking conversations, follow other Independent readers and see their replies