Dresden march: Germans warned not to heed 'Nazis in pinstripes' as 10,000 turn out for 'anti-Islam' protest
Pictures reveal extent of demonstration that comes amid warnings of a 'visible rise' in far-right extremism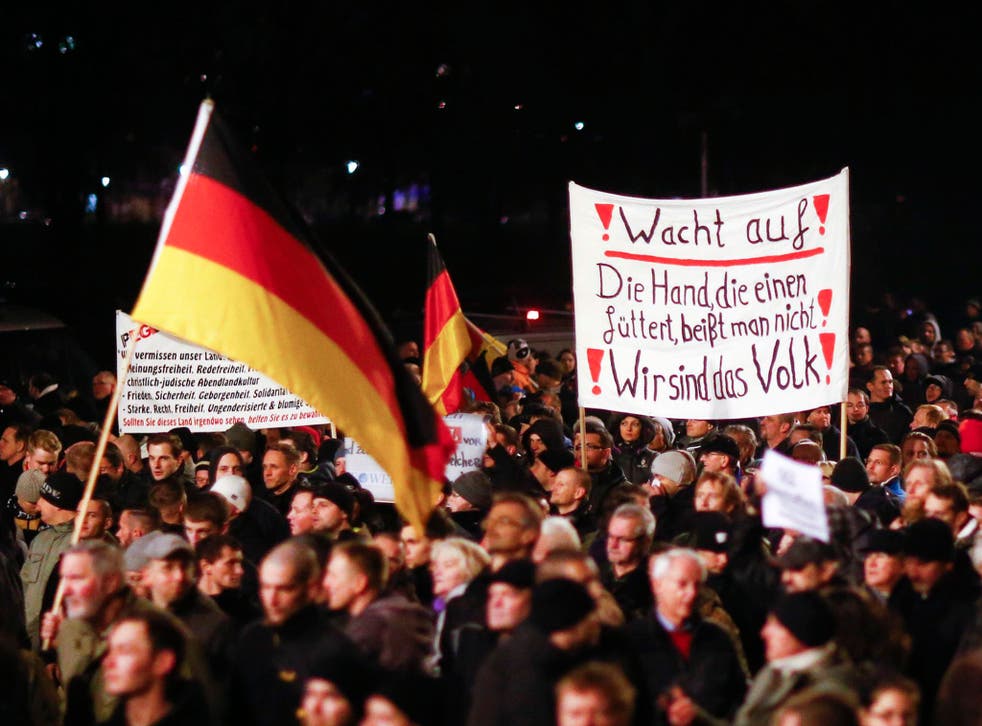 Angela Merkel has warned ordinary Germans not to be taken in by the far-right rhetoric of so-called "Nazis in pinstripes", after 10,000 people marched in Dresden on Monday night to protest against "Islamisation".
The demonstrations have been staged weekly by the Pegida group – or the "Patriotic Europeans against the Islamisation of the West". But their numbers are seemingly being bolstered by more politically neutral members of the public speaking out against increasing immigration.
Around 5,700 anti-Pegida protesters also turned out last night to stand up for the benefits migrant workers have brought to Germany. Despite growing tensions on both sides, no significant incidents of violence or disruption were reported.
Germany's newspapers have increasingly focussed on the Dresden marches as a visual indicator for what some see as a new rise in right-wing, anti-foreigner public sentiment.
The country's most senior police officer Holger Münch spoke at the weekend of "a visible rise in xenophobic crime countrywide".
In pictures: Anti-immigration demonstration in Dresden

Show all 8
The coalition SPD party's Thomas Oppermann condemned the march organisers as "Nazis in pinstripes" at the end of last week – but Ms Merkel's own CDU party has given Pegida a mixed response and largely wide berth.
Speaking at a Berlin press conference about last night's march, the Chancellor said: "There's freedom of assembly in Germany, but there's no place for incitement and lies about people who come to us from other countries.
"Everyone (who attends) needs to be careful that they're not taken advantage of by the people who organise such events," she said.
Join our new commenting forum
Join thought-provoking conversations, follow other Independent readers and see their replies