Ebola crisis: Air France flight grounded in Madrid Barajas airport over suspected case of disease
Officials have activated emergency protocol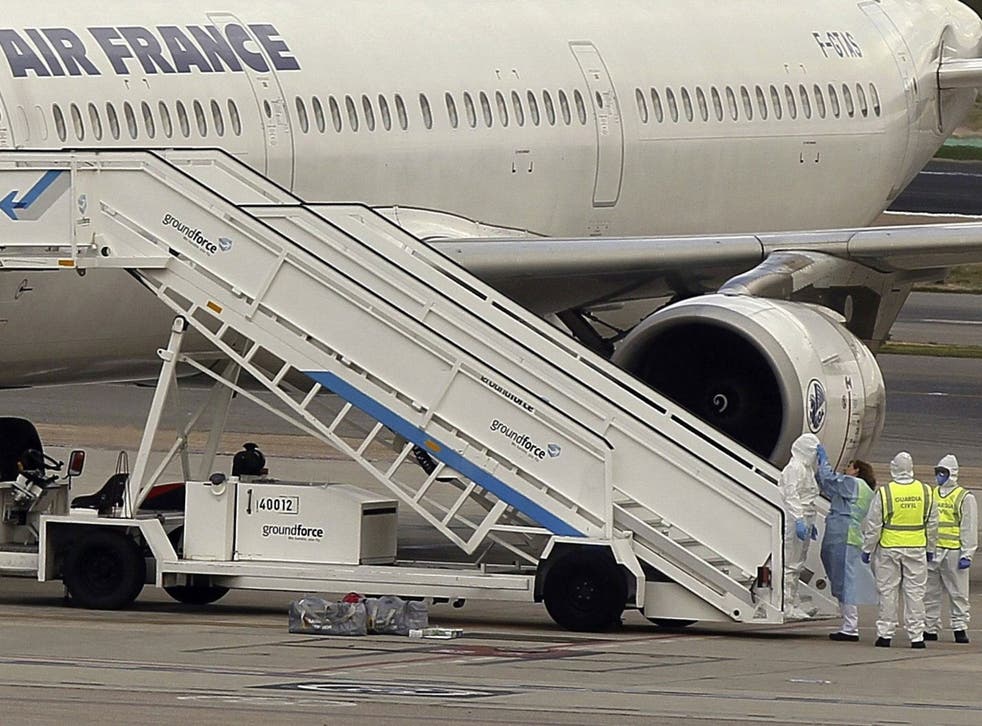 A passenger on an Air France plane carrying at least 160 people has reportedly been quarantined in a Madrid hospital after showing Ebola-like symptoms.
The crew on flight AF1300, which departed from the Charles de Gaulle Airport in Paris on Thursday, alerted authorities on the ground at Adolfo Suárez Madrid-Barajas airport when the passenger complained of feeling unwell and was apparently shivering.
The passenger, who had travelled from Lagos, Nigeria, was taken by ambulance to an unspecified hospital in Madrid but the rest of the passengers were allowed to leave the plane as normal, Air France said in a statement.
Reports of the number of passengers on board the plane have varied between 163 and 183. The aircraft was taken to a special area of the airport once all travellers had left.
The spokesperson said the plane was grounded in Madrid so it could be disinfected as a precautionary measure.
Spain's health ministry confirmed the Ebola emergency protocol had been set in motion. A Spanish Health Ministry spokeswoman said authorities were treating it as a suspected Ebola case.
Additional reporting by agencies
Join our new commenting forum
Join thought-provoking conversations, follow other Independent readers and see their replies