Embarrassment for Marine Le Pen as National Front councillor Eric Assad is revealed as killer
Assad spent seven years in mental institutions, at one time escaping for a year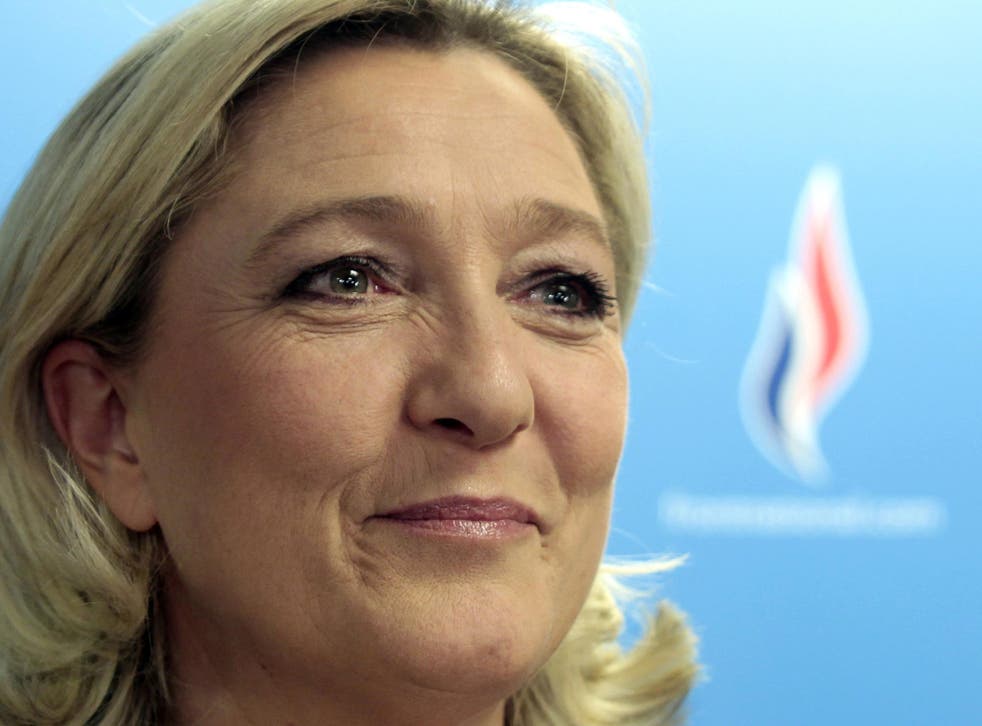 A National Front councillor elected in the central French city of Clermont-Ferrand last month is a killer who spent seven years in psychiatric institutions, it has emerged.
The revelation of the dark past of Eric Assad, 59, is a deep embarrassment for Marine Le Pen, who claims to have professionalised and cleaned up the far-right party since she replaced her father as its president three years ago.
Mr Assad was elected in third place on the NF ticket in Clermont-Ferrand as part of a nationwide surge of support for the anti-immigrant, anti-European party in municipal elections last month.
The local newspaper La Montagne revealed that he shot dead a student and wounded two other people in a random series of attacks in Belle-Île, an island off the south coast of Brittany, in December 1979.
Mr Assad was accused of murder and attempted murder but was never tried because a court decided in 1980 that he was in a "state of dementia" at the time of the attacks. Medical reports said he was "not responsible for his actions" because he was enraged by a failed love affair.
He spent seven years in mental institutions, at one time escaping for a year.
The NF said that Mr Assad had never revealed his past to the party and had no formal criminal record. "If we had known, we would have suggested that he remain in the shadows," said the party's former deputy leader, Bruno Gollnisch.
Local party officials said that Mr Assad had offered to resign and they would consider what action to take. Initially, Cllr Assad claimed to be the victim of mistaken identity. It was pointed out that, just like the Eric Assad who rampaged through Belle-Île in 1979, he was born in Saigon (now Ho Chi Minh City) in Vietnam in 1955.
The revelation is one of a series of embarrassments for the NF since it won control of a dozen small and medium-sized towns in the second round of municipal elections on 30 March. Despite insisting during the campaign that the party would run town halls pragmatically and "non-ideologically", Ms Le Pen announced this week that all NF towns would restore pork to school menus where the meat had been banned for "religious reasons". It later emerged that no town in France had ever introduced such a ban.
The newly elected NF mayor of the depressed northern town of Hénin-Beaumont, Steeve Briois, also announced this week that he was ejecting the local office of the League of Human Rights from a council-owned building.
Some political commentators in France have predicted that the NF's local election successes would explode in the face of Ms Le Pen's cleaned-up party. The veneer of professionalism and moderation, applied by Ms Le Pen since 2011, had already began to peel off during the campaign, they said.
Ms Le Pen has assembled an impressive coterie of intelligent young men as her praetorian guard, but the party's pool of talent – or even potential grass-roots candidates – remains very shallow. Several local candidates were revealed during the campaign to have extreme racist views, contradicting Ms Le Pen's claim to run a nationalist but non-racist party. One elderly candidate in the greater Paris area turned out to be dead.
Like the NF as a whole, Mr Assad campaigned last month on – among other issues – allegations that the Hollande administration and the political establishment generally were "soft" on crime. He also campaigned for the restoration of the death penalty and the mass dismissal of a political class whom he described as voyoux apatrides, or stateless thugs.
Under French law, Mr Assad's criminal record was wiped clean on his release from psychiatric care in 1987. He therefore had a perfect legal right to stand for election.
The NF's lawyer, Wallerand de Saint-Just, said: "There is nothing dishonourable about this case, but he really ought to have told us about it."
Join our new commenting forum
Join thought-provoking conversations, follow other Independent readers and see their replies